In Apex Legends, heirlooms are probably the most sought-after items that players can get through either a good amount of luck or an even better amount of money. They are a prestigious cosmetic to have, and owing one or more of them shows serious dedication to the game. So why would players make the conscious decision to discard them?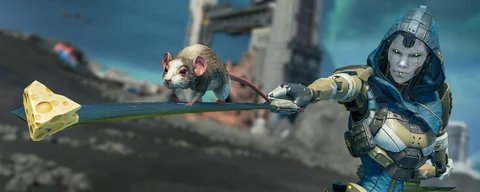 Apex Legends has managed to create some unique designs to embrace many different play styles throughout the game. This applies to both the playable characters and weapons, which are both customizable in either their loadout and looks as well.
In addition, each Legend has the opportunity to equip a special heirloom to fit their character, which can be acquired through opening loot boxes. The hitch in the matter: Heirlooms are quite rare, and you have to be really lucky to get one without spending a good amount of your money on getting just ONE. It goes without saying, but if you finally manage to pull one of them, they better be good-looking, since there is no real gameplay purpose for these cosmetics.
Heirlooms In Apex Legends
Since the release of Apex in 2019, new characters are getting released quite frequently, as of today there are a total of 23. Only 17 of them are having an heirloom at the moment, with Ash's "Strongest Link" being the last addition in Season 16.
Focus. Fight. Win

Lead your squad to victory with Ash and her Heirloom, the Strongest Link. Available now as part of the Sun Squad Collection Event! pic.twitter.com/nnUjpapZXP

— Apex Legends (@PlayApex) March 30, 2023
Heirlooms In Apex Legends:
Ash – Strongest Link
Bangalore – Cold Steel
Bloodhound – Raven's Bite
Caustic – Death Hammer
Crypto – Biwon Blade
Gibraltar – War Club
Lifeline – Shock Sticks
Loba – Garra de Alanza
Mirage – Too Much Witt
Octane – Butterfly Knife
Pathfinder – Boxing Gloves
Rampart – Problem Solver
Revenant – Dead Man's Curve
Seer – Showstoppers
Valkyrie – Suzaku
Wattson – Energy Reader
Wraith – Kunai
Strongest Link – So Pretty, Yet So Noisy
Like mentioned earlier, Ash's "Strongest Link" is the newest cosmetic you can craft at the moment. Not even three weeks old, the pretty nunchaku heirloom is already causing some trouble. Since Ash is one of the sneakiest characters in the game due to her really silent steps, she is great for surprise attacks and overwhelming your opponent before they even know what hit them. At least as long as you play her without her signature weapon, because the thing does not just look really heavy, it sounds even heavier. The difference between her walking with her heirloom is significantly louder than as it would be without, especially when walking or running on stone. But maybe just take a look at it for yourself:
Ash's heirloom is pay to lose atm. Crouch walking steps with heirloom are very loud for enemies and her allies.
by u/LisNieLada in apexlegends
As you can see, not even crouching helps in that case. The loud noise will eventually stop, if you take out your weapon instead of your heirloom. The only disadvantage with said solution is that you do not profit of the movement speed bonus that running or crouching without a weapon would give you normally.
Unfortunately, the only option to circumvent all drawbacks, is to just not equip it at all, which is a pretty sad solution, regarding how hard to get these cosmetics are in the game.