The first Apex Legends Wintertide Collection Event 2022 will launch soon. There will be some new skins and other rewards. Here's everything we know.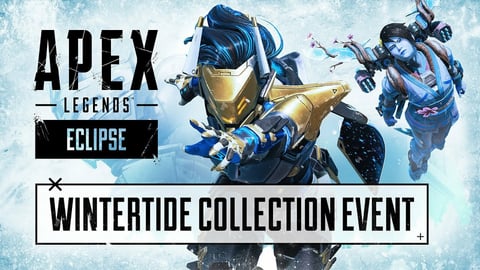 Wintertide Collection Event: It's getting snowy again in Apex Legends. I guess some Legends are going to freeze? Fortunately, we can dive into the winter world from the comfort of home, and experience all the magic. We'll show you what we know so far about the event and what else you can expect.
Apex Legends Wintertide Collection Release Date
The Apex Wintertide Collection event begins on Tuesday, December 6, with the first rotation of the Event Shop and the Rewards Tracker. The event will be available until December 27. There will be different skins each week in the shop, so you will have the opportunity to buy three different sets of items. In addition, there will also be the reward path mentioned above. Let's take a look, which skins you can expect in the path as well as in the shop.
Apex Legends Wintertide Collection Skins & More
Skins
The legends Bangalore, Bloodhound, Valkyrie, Newcastle, Crypto, and Gibraltar are getting a new cosmetic for the collection event, of course, a legendary skin. With each of these there will also be a complementary legendary weapon skin. You can get them with Apex Coins, Crafting Medals or through the limited-edition Wintertide event Apex Packs.
New Mode
The "new" old mode called Winter Express will be back in the game. You have to take control over the Winter Express Train by eliminating the other two squads. Because of the possibility to respawn and pick different weapons, this mode is always a mix of excitement and tension. You definitely have to try it.
Reward Path
If you don't want to spend money or your hard-earned crafting metals, don't worry, respawn has come up with something here too. And that is a reward tracker. All you have to do is complete challenges to earn points. The more points you earn, the better rewards await you, from skins to sprays to emotes. We don't yet know exactly what these rewards will be, but we'll let you know as soon as we have more information.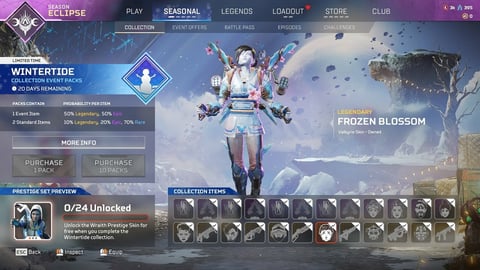 There is also a bonus for those players who collect all 24 items from the collection event. It will be a skin for the legend Wraith!
This all sound pretty cool, we can't wait to get started!