Modern Warfare 2 and Warzone 2 receive regular playlist updates with new modes. Sometimes these are unique, event-based modes, but more often than not it's one of the featured playlists you will have seen before. Here are the playlists available for you this week in Warzone 2 and MW2.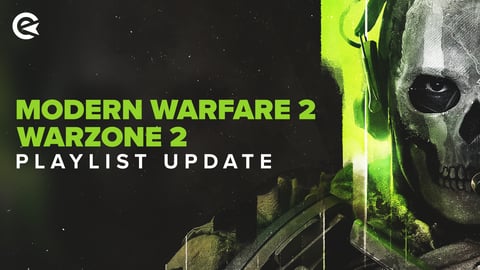 Modern Warfare 2 and Warzone 2 are both live-service games with massive teams behind them. And for this reason you can expect very regular playlist updates for both. Each playlist update will give you a host of new and returning modes to play, and they generally do a good job of keeping the game fresh. So what happened in today's playlist update? And have they given you the modes you love? Let's take a look.

If you're starting to worry about whether you've got the right weapons for the job, perhaps this could be an interesting read for you:

Call of Duty Playlist Update
Modern Warfare 2 Playlist Update
Here are the playlists currently available for you to play in Modern Warfare 2:
| | |
| --- | --- |
| Playlist Type | Modes / Missions |
| Featured | Drop Zone |
| | Close Quarters |
| | Himmelmatt Expo 24/7 |
| | All or Nothing |
| | One in the Chamber |
| | 3rd Person Mosphit |
| Multiplayer | Ground War |
| | Invasion |
| | Hardcore |
| | Private Match |
| Ranked Play | Ranked Play |
| | Career & Rewards |
| | Top 250 |
| | CDL Channel |
| Spec-Ops / Co-Op | Raid Ep. 02 |
| | Raid Ep. 01 |
| | Veteran Raid Ep. 01 |
| | One-In-The-Chamber: Low Profile |
| | Gun Game: Mt. Zaya |
| | High Ground |
| | Low Profile |
| | Denied Area |
| | Defender: Mt. Zaya |
Warzone 2.0 Playlist Update
| | |
| --- | --- |
| Mode | Team Size |
| Battle Royale | Solos, Duos, Quads |
| Mini Royale | Trios |
| Resurgence | Solos, Duos, Trios, Quads |
| DMZ | Trios |
Hopefully you saw what you wanted!
When Can You Expect New Playlist Updates In Warzone 2 & MW2?
Traditionally, the Call of Duty premium title and Warzone will receive new playlist updates every Thursday at 10:00 PT (13:00 ET / 18:00 GMT). But these times are often disrupted by new events and seasonal releases, so treat these times as a general rule rather than an exact schedule.
So far, we haven't seen enough playlist updates in Modern Warfare 2 or Warzone 2 to know exactly when we can expect them. We will continue monitoring the update schedule for both games, and we'll update you as soon as we detect any changes.
Warzone Modes Explained
Battle Royale
Well...yeah, have you played Warzone? Okay, sorry, I sound like a d*ck. This is the standard Warzone mode, usually you can play it in teams of one, two, three, or four, and the aim is to survive in a slowly shrinking area. You don't have respawns, but you do get one opportunity when you die to fight in the gulag, and if you win your fight you can redeploy to the map. Otherwise, one of your teammates can pay for you to respawn at a buy station (if they're still alive).
The only BR map available is called
Al Mazrah
but more will be released eventually.
Modern Warfare 2 Ground War Modes Explained
Ground War
Ground war is a 32 vs 32 mode which is basically a massive game of domination, in which teams compete to capture and hold onto five different objectives. This mode is played on huge maps.
Most of the maps are set on the new Al Mazrah map, but some of them take place in Mexico. This has led to speculation about a Mexican BR map set around Las Almas...
Invasion
Invasion is a 20 v 20 Team Deathmatch, which takes place on the same maps as Ground War. However, in Invasion each team are joined by a force of bots to help them. Here's Invasion in action: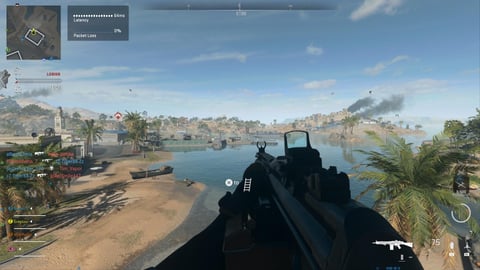 This has been a popular mode so far for lovers of Ground War.
Modern Warfare 2 6v6 Modes Explained
Prison Rescue
Prison Rescue is a no respawn mode, but with revives enabled (like MW2019's Cyber Attack). The aim of the game is to be first to 500 points, and each round you will be either on the attacking side or on the defensive side (which side your team is on alternates every 2 rounds).
To score points each round, the attackers have to recuse hostages and bring them back to their spawn point. Defenders have to stop them doing this. It plays like an SnD-lite, and we're big fans of the mode.
We find that Prison Rescue plays like a more competitive mode, similar to Search and Destroy, so you'll want to use the current meta loadouts to do well:
Knockout

In Knockout you have no respawns, but revives are enabled, just like Prison Rescue. But in this mode teams have to pick up a neutral bag in the middle of the map, which begins a timer, and hold on to the bag until the timer is complete.
It's quite simple, but it doesn't really work as a mode because when you pick up the bag everyone can see where you are, putting you at a massive disadvantage. So it's best for both teams to just ignore the bag and play it like a game of TDM.
3rd Person Moshpit

This is mode is just a collection of respawn modes (Hardpoint, Headquarters, Domination, Kill Confirmed, and Team Deathmatch) but with everyone using a 3rd-person camera. The camera will remain 3rd-person unless you zoom in with a scope of 3x magnification or stronger. It looks pretty dope: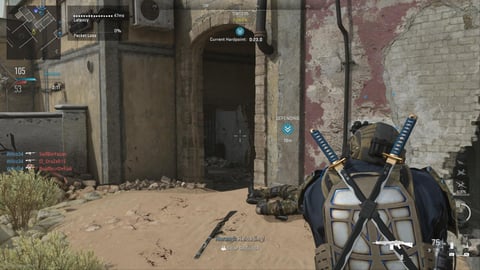 We advise this mode to anyone who's been grinding too long and needs a casual change of pace.
Quickplay / Classic Modes
And, of course, you've got your classic Quickplay, which is all the classic modes in 6v6. You can filter your Quickplay to only include certain game modes.
Here are the classic modes we have to choose from in Quickplay:
Team Deathmatch
Free-For-All
Kill Confirmed
Hardpoint
Headquarters
Domination
Search and Destroy
Prison Rescure
Knockout
Just like the good old days.
And there you have it folks, that was your update on all the modes available to play this week. Was it the playlist update you wanted? Or are you still enjoying the campaign?
This article contains affiliate links which are marked with [shopping symbol]. These links can provide a small commission for us under certain conditions. This never affects the products price for you.