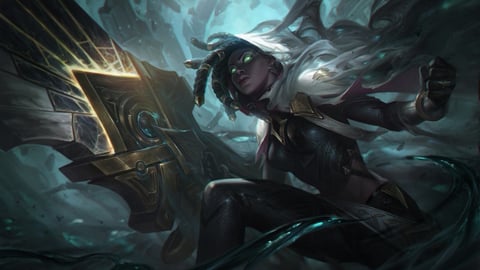 Hoch, höher High Noon – hier kommen die neuen League of Legends Skins für Senna und Irelia. Und sie sind wunderschön.
Die beiden Damen werden nun mit einem eigenen High Noon Skin beschenkt, der schon Lucian so wunderbar steht. Aber schauen wir uns die beiden schicken Cosmetics einzelnd an.
High Noon Senna Skin
Beginnen wir hier mit Senna: Mit ihrem High Noon Skin vereinigt sie sich quasi optisch mit Lucian, der auch einen High Noon Skin hat. Das Powerpärchen ist jetzt nicht mehr aufzuhalten. Zu beachten ist, dass sich Sennas Gewehr in ein mechanisches Höllenpferd verwandelt – und auch der Rückruf macht mit dem Skin ziemlich viel Spaß: wie Senna in den Wind davonreiten... In den Sonnenuntergang... Oder vielmehr in Richtung Kampf gegen ihren Erzfeind High Noon Thresh.
High Noon Irelia Skin
Irelia wurde ebenfalls mit einem High Noon Skin bedacht, eventuell ist der aber nicht ganz so spannend, wie der von Senna. Der vielleicht schönste Teil des Skins ist, wenn Irelia ihr W, Defiant Dance, tanzt, das den Hype vor einem großen Peitschenknall am Ende aufbaut. Howdy!
Und so sehen beide High Noon Skins in Aktion aus:

PBE Preview - High Noon Senna and High Noon Irelia! pic.twitter.com/u56JswYnW8

— League of Legends (@LeagueOfLegends) May 26, 2020
Die High Noon Chromas kommen!
Als ob das noch nicht genug wäre, wurde von Riot Games ein Thread auf Reddit gepostet, in dem eine riesige Menge an High Noon Chroma-Skins vorgestellt wird. Die wandern zum Testen in die öffentliche Beta-Umgebung. Dazu gehören:
High Noon Irelia
Hohe Mittagssenna
High Noon Fiddlesticks
High Noon Jhin
High Noon Lucian
Over the r/LeaguePBE, the feedback thread for upcoming High Noon chromas was posted, including mention of chromas for High Noon Fiddlesticks, Lucian, and Jhin! pic.twitter.com/9GQufdnxzC

— moobeat (@moobeat) May 26, 2020
Senna und Irelia werden jedoch schon bald kommen, da ihre Chroma-Skins mit neuen Texturen kommen. Das bisherige Feedback der Community auf die Ankündigung besteht wie üblich aus Aufregung oder Ärger. Die einen freuen sich ihren Lieblings-Champion in neuem Glanz zu sehen, die anderen sind ungehalten, dass eben nicht ihre Favoriten einen Skin bekommen...
SENNAAAAA WE LOVE TO SEE IT

— alex || HU TAO HAVER (@alexs7802) May 26, 2020
Senna got the same amount of skins as kalista. Funfact: Senns was released 8 months ago, Kalista 6 Years ago

— Angeyo (@BattleAngeyo) May 26, 2020
Man kann es nicht allen recht machen, nicht wahr, Riot? Wir freuen uns auf jeden Fall über jeden hübschen Skin. Und mehr zu League of Legends gibt es wie immer auf EarlyGame, zum Beispiel einen Guide zum League of Legends Mid-Season Streamathon und Details zum Legends of Runeterra Patch 1.2.