The Marvel movies 2023 lineup is official and the MCU Phase 5 titles look a lot more promising than the disappointing Marvel movies from last year. Here are the five Marvel films that will premiere in cinemas this year – the first one has already aired, and honestly, it can only get better now.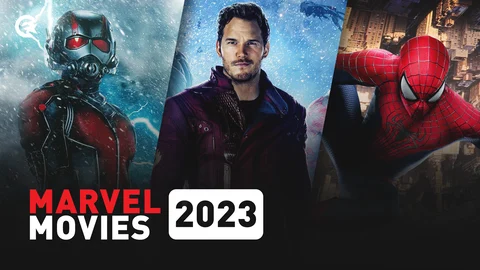 Ever since Tony Stark alias Iron Man launched Phase 1 of the Marvel Cinematic Universe in 2008, we have been subjected to an endless amount of Marvel movies, both good and bad. From the depths of The Incredible Hulk and the first two Thor movies, to the heights of Iron Man and Captain America: Winter Soldier, they never seem to let up, providing us with an endless amount of superhero content both in film form and as television shows.
It is pretty much impossible to keep up the quality with this barrage of movies and series.She-Hulk is the best example for the decline...
Honestly, a lot of these projects are completely unnecessary. Who the hell needs that many Ant-Man movies, is that really something that people want? We can't blame them, though. After all, you're totally going to see the new Spider-Man movie, aren't you?
Marvel Movies 2023: Release Dates, Plot & More
There are a total of five new Marvel movies planned for 2023 and surprise, one of them is an Ant-Man movie...

| | |
| --- | --- |
| Marvel Movie | Release Date |
| Ant-Man And The Wasp: Quantumania | February 15, 2023 |
| Guardians of the Galaxy Vol. 3 | May 5, 2023 |
| Spider-Man: Across the Spider-Verse | June 2, 2023 |
| Kraven The Hunter | August 30, 2023 |
| The Marvels | November 10, 2023 |
So, what can we expect from Marvel in 2023? A bunch of sequels, it seems. We got another Ant-Man movie nobody needs. The Guardians of the Galaxy are back as well, which is okay. Another Spider-Verse movie, now that is something to look forward to. The Marvels? I don't really care. Uh, and we're gonna start with a standalone for Kraven the Hunter! Now that is something I can get on board with.
So let's take a closer look at each of those releases.

Ant-Man And The Wasp: Quantumania (February 17, 2023)
Ant-Man might not be my favorite superhero, but his impact on the MCU has been undeniable. Paul Rudd is pretty great as Scott Lang, it's just that I don't particularly enjoy the plot, villains or superpowers Ant-Man provides.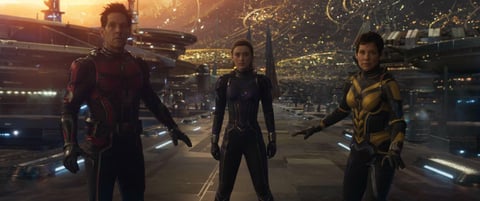 Even though filming wrapped in 2021, the film just released on February 15, 2023, due to scheduling changes. Best thing to come out of the pandemic.

The film was painfully mediocre, not even granting viewers the bliss of laughing about the movie simply being bad.
By far the best thing to come out of this movie was Jonathan Majors' Kang the Conqueror. This time, Kang was wearing his comic book accurate armor of metallic purple and green, and to be honest, it looked pretty great.
Besides Jonathan Major's great performance, though, the movie was just full of bad jokes an unimpressive story and bad CGI.
Still better than the previous Ant-Man and the Wasp, tough.

Guardians of the Galaxy Vol. 3 (May 5, 2023)
Guardians of the Galaxy has always been a fun time with its goofy charm and wild space adventures, this time, though, they hit viewers right into the feels with Rocket's backstory.

Regarding the plot, as we already mentioned, it focuses on Rocket Raccoon's backstory as well as Peter Quill dealing with a version of Gamora who doesn't remember him. So it's actually not all about silly jokes this time.

Chukwudi Iwuji does a great job as the central villain, giving the High Evolutionary a sinister vibe that has been sorely missing in recent Marvel productions.

Spider-Man: Across the Spider-Verse (June 2, 2023)
After watching the original Spider-Verse movie back in 2018 I have been waiting for the sequel. This time, we're following Miles explore various alternate realities together with a returning Gwen Stacy and Oscar Issac as Spider-Man 2099.
The original release date was set for 2022, but it got pushed back into 2023, which might have been a good thing, as it gave the producers time to polish the movie even further. And they did!
The movie lives up to the hype and delivers a worthy sequel to the original. If you haven't seen it yet, you definitely should!

Granted, there were some audio issues when the movie first hit theaters, but that should be fixed by now, so lucky you if you have yet to see the movie.

Meet The Spot, Miles Morales's most formidable foe yet. Voiced by Jason Schwartzman, see him in action in Spider-Man: Across the #SpiderVerse, exclusively in movie theaters June 2, 2023. pic.twitter.com/1aAmMjMcpX

— Spider-Man: Across The Spider-Verse (@SpiderVerse) June 13, 2022
Kraven The Hunter (August 30, 2023)
Following in the Footsteps of Venom and Morbius we get another origin story to an iconic Spider-Man villain. Sadly, this movie has a lot of similarities with Morbius and lacks any uniqueness.

For those of you who don't know, Kraven is a Hunter, and he considers Spidey his prey, so I think we can expect him to show up in a Spider-Man movie soon. The movie will feature Aaron Taylor-Johnson's return to the MCU, even though personally I would have cast Jason Momoa. He previously played Quicksilver in Age of Ultron and was killed off rather quickly. Man, I hope they address this in some kinda way.
The trailer showcased the movie in all his R-rated glory, with Kraven tearing through his enemies like a hot knife through butter. Gotta say, the R-rating really spices things up and offered a great opportunity for something new and special, which they failed to capitalize on.
Kraven's motivation is a little too kind-hearted and doesn't really fit with the original character from the comics. Again, they fail to turn one of their most iconic antagonists into a compelling villain, instead making him out to be a basic anti-hero (like they did with Venom).

The Marvels (November 10, 2023)
So here we have a movie I am totally not excited for. This movie is a sequel to both the Captain Marvel movie and the Ms Marvel Disney+ series. It also features that one girl from WandaVision that got superpowered. None of this really sounds promising to me.

If you want to get your hands on the Spiderverse movie, now's your chance to do so! The first Captain Marvel movie was not that great, the Ms Marvel

Disney+ show was kinda meh and Monica Rambeau was kinda okay, but I don't have any strong feelings about her.

This actually gives the movie some great potential, though. If I have no expectations, it is easy to surpass those. So maybe the movie is not gonna be all that bad.
Looking at how bad the trailer was received, I wouldn't bet on it.
We haven't seen all that much yet, and it all hinges on the writing of the show and the potential villain, played by Zawe Ashton.
This is definitely going to be a woman empowering movie! Whether it's good or bad depends on the writing and your own mindset.
This article contains affiliate links which are marked with [shopping symbol]. These links can provide a small commission for us under certain conditions. This never affects the products price for you.