More than 10 years after the initial movies release, Netflix announced an anime adaptation featuring the original cast.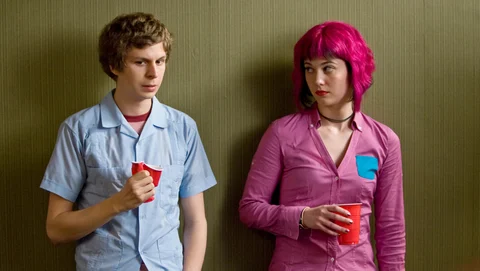 Netflix recently announced an anime adaptation for Scott Pilgrim vs the World, surprising fans of the original all over the world. The best thing, though, is that the full cast of the movie is set to return for the sequel as well.
Scott Pilgrim Will Return On Netflix

When the movie released all the way back in 2010 it pretty much bombed at the box office. Since then, the movie has turned into somewhat of a modern cult classic.

Especially, the cast has gained a lot of popularity since then, with big names like Chris Evans or Brie Larson having starred in the movie.
Well now fans get to experience Scott Pilgrim a second time, for the first time, as an anime adaptation is set to release on Netflix.

It's going to feel a little nostalgic, because all the previous cast members are set to return:

In an interview with Tudum, Wright (who serves as an executive producer on the series) revealed that:

"Over the years, fans had asked if there would be a sequel to the film or some other kind of continuation. I knew that a live-action sequel was unlikely, but I would usually defer by suggesting that perhaps an anime adaptation was an interesting way to go."
It seems like fans have been asking for a sequel for quite some time, but Wright was apparently well aware of the limitations of a live-action adaptation. With this it fits perfectly, that Netflix recently acquired a taste for anime adaptations, with Arcane.
"And then, lo and behold, one day Netflix got in touch to ask about this exact idea. But even better, our brilliant creator Bryan Lee O'Malley had an idea that was way more adventurous than just a straight adaptation of the original books."
Bringing back all the familiar faces will definitely make all of their longtime fans happy. Sadly, there is no release date as of now but if you want to refresh your memory you can rewatch the 2010 movie on Netflix.