The Lord of the Rings: The Rings of Power expanded the LotR franchise into the Second Age of Middle Earth. But what's next for Galadriel? Here's everything we know about The Rings of Power season 2.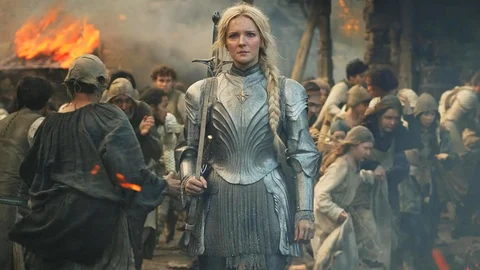 Let's kick things off with some good news first. Thanks to Amazon's commitment, The Rings of Power has already been greenlit for a season 2. With this, fans won't have to worry "if" the show will continue and focus on the "when". Amazon hast truly doubled down on this franchise, already pledging to provide fans with a 5 season journey, before they even announced a release date for Rings of Power season 2!
Peter Jackson's legendary Lord of the Rings trilogy showcased the looming shadow of Sauron, even long past his prime. Now, The Rings of Power provides us with the story of how Sauron rose to power and tricked Middle Earth's races with the forging of Ash Nazg (Yep, that's what the One Ring is called in the Black Speech). Delve deeper into the tales of Middle-earth's Second Age, as we share all we've gathered on The Rings of Power season 2 so far.

The Lord of the Rings: The Rings of Power Season 2 | Release Window
The huge success of the Lord of the Rings spin-off speaks for itself. And considering Jeff Bezos, Amazon's CEO, is a huge LotR fan himself, it doesn't come as a huge surprise that season 2 of Rings of Power is already in the works.
In an interview with Collider however, Vernon Sanders (Amazon Studios Head of Television) gave us some bad news: Rings of Power season 2 is "more unlikely than likely" to release in 2023. Filming still concluded before the SAG-AFTRA strike that turned out to be a huge problem for other productions, so at least that's good news: there probably won't be further delays, meaning that Rings of Power season 2 will most likely air in 2024.

Sanders also shared that filming went much better than in the first season – it didn't take so long and they could learn a lot for season 2, so he's pretty confident it won't take forever for the show to hit the streaming service. But even with a smoother ride in season 2, Sander was careful not to say too much about a possible season 3.

There have been some conversations about Season 3, and we are making some investments to make sure that we are ready for Season 3. [...] I'm confident that we'll be making many more seasons to come, but we'll announce Season 3 when we're ready, even as we continue to put stakes in the ground for that.

Rings of Power Season 2 | Returning Cast
The finale of the first season got us some pretty memorable moments. If you somehow haven't caught up on the show until now: you shall not pass, for there are slight spoilers ahead.
Halbrand has been outed as Sauron in disguise, and so with that cleared up, it's pretty safe to say Charlie Vickers will reprise his role. Same thing with lovely Morfydd Clark – sure, she didn't have the best time lately as Galadriel, but there's no way she won't make Sauron pay.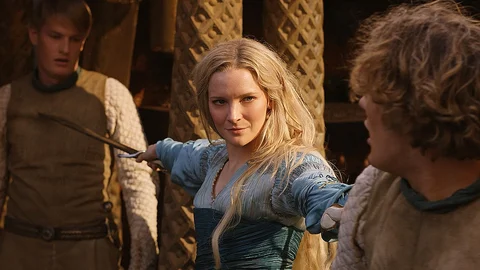 To top it all off, Daniel Weyman as The Stranger has been revealed to be a huge deal. Not having him return for season 2 would be a crime against everything that's good and holy in Middle-earth, so we're pretty confident we'll see him again.
The cast in Rings of Power is obviously really big. Usually, such big productions try their hardest to keep their actors, so it's more likely than not that most of the cast of season 1 will return – if their character was alive at the end of Season 1, of course. The only currently known recast is Orc leader Adar: Joseph Mawle, who will be replaced by Sam Hazeldine.
And as if the cast wasn't already big enough, there will be lots and lots of new faces and characters in season 2, including these fine folks:
Yasen Atour
Ben Daniels
Nicholas Woodeson
Amelia Kenworthy
Nia Towle
Gabriel Akuwudike
Selina Lo
Will Keen
Kevin Eldon
And that's not even all of them. Oliver Alvin-Wilson will be joining, as well as Gavi Singh Chera, William Chubb, Calam Lynch and Stuart Bowman. Such an extensive cast surely is one way to spend the bonkers budget they have for the show and we can't wait to see how it goes!
We'll make sure to keep you posted on all further developments. Rest assured we'll update you as soon as there's a release date, a trailer, or whatever else they may have in store!
Need to pass the time until season 2 hits? Sure you do.
This article contains affiliate links which are marked with [shopping symbol]. These links can provide a small commission for us under certain conditions. This never affects the products price for you.