Jake Paul walked away from the Tyrone Woodley fight with another win, but as he did so, Tommy Fury approached him and their teams had a fracas. Who is Mr Fury, and will he fight Jake Paul?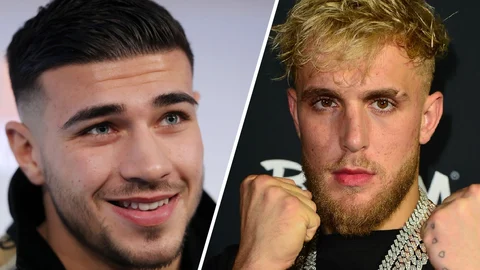 [UPDATE: December 07, 2021: Evan Williams]
Jake Paul and Tommy Fury will likely never square off, with Paul labelling him an "embarrassment". If you haven't been following the story, you should check out the article below from a few months ago, but the most recent round of trash talking has come after Fury pulled out of the fight due to an injury.

Fans of both will be disappointed to hear of this decision, as many were looking forward to the brawl. This excitement was especially apparent due to what seemed like a shoe-in for Tommy Fury, who's older brother Tyson Fury claimed that he could "turn up with broken ribs, a broken left hand, two left feet, his clothes on back to front and with the flu" and win regardless.
Tommy Fury shirtless in a club beating his chest on molly might be the most embarrassing thing I've seen in a while

— Jake Paul (@jakepaul) September 16, 2021
The fight was due to commence on December 18, and it is unknown whether we will see it resurface in the future. What we can say, however, is that it is quite likely that we will see further escalations in the feud between the two. No matter whether they fight or not, we are in for some entertainment...
[ad_placement
[ORIGINAL STORY: August 31, 2021: Jon Ramuz]
Meet Tommy Fury - Jake Paul's Next Opponent
It's easy to hate Jake Paul, he invites the attention, and he's great at trash talk. A lot of fans, therefore, are waiting to see Paul lose, and so his opponents often experience a swell of public support. Will Tommy Fury receive the same love?

Well, he's not as capable of the trash talk as Jake Paul is, so in this department he should just try to remain cool and collected, rather than parry back or try a social media stunt. Tommy is beloved in his home country for being one of the kindest and most gentlemanly contestants on Love Island Season 5, and we can expect many of these heart-warming clips to resurface as we approach the date of his fight with Paul.
Let's get into who Tommy is, and why we think he's going to fight Jake Paul.
Who Is Tommy Fury?
Tommy Fury is a professional boxer and the half-brother to heavyweight champion Tyson Fury, but he's also famous as a reality TV star for his appearance in Love Island Season 5. He's undefeated 7-0 as a professional boxer, so this won't be easy for Jake Paul. And in the court of public appeal? Tommy has remained very popular since staying with his partner on Love Island - Molly Mae.
And why do we think he's going to fight Jake Paul? After the Woodley fight on August 29, this happened backstage:
For those that might have had a hard time hearing, Tommy throws down the gauntlet with a simple "you need to stop running my friend". And that's the kind of challenge we don't expect Jake to ignore.
When Will Jake Paul Fight Tommy Fury?
So far there's no fixed date in the calendar; Jake Paul will surely still be recovering from the Woodley fight (August 29). But as with all such fights, we can expect a slow but steady build-up over social media and probably a few stunts along the way.
Fans should go back and revisit Love Island season 5. The more embarrassing moments from Tommy Fury's appearances on the show will make great ammunition for Jake Paul and his team, and they'll be sure to use it over the coming months.