EA Sports and the world football federation FIFA won't continue their partnership. Instead of FIFA 24, the established publisher will create EA Sports FC for fall 2023 – but according to President Gianni Infantino, the FIFA will develop their own game that should outperform the industry leader. Do they have a plan?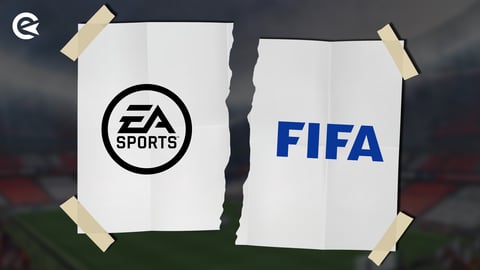 After 30 years, the worldwide beloved FIFA series is coming to an end. The Canadian developers of EA Sports and the Fédération Internationale de Football Association – you might know them as corrupt criminals, or FIFA – are ending their decade-long partnership.

Don't worry, EA won't end their money-making machine called Ultimate Team, which was first included as a DLC in FIFA 09. We definitely will see another football game from Electronic Arts in 2023. But the new name is something we have to get used to first. EA Sports FC will be their new flagship and if you are interested in leaks we always got your back:

What remains exciting, however, is what we can expect from the World Football Federation. None other than President Gianni Infantino is – as we are used to from him – making huge promises and has announced that the FIFA will publish the best football game ever. Say what now?
EA Sports FC Can't Keep Up With FIFA: Infantino Wants To Publish "The Best" Game
The ending between EA's and FIFA's cooperation has been nothing short of a dramatic and long story. But in the end the split probably came down to good old money. In a BBC Interview from May 2022, EA Vice President David Jackson said that the federation created "some restrictions" for developers that kept them from improving "the experience for players" – but he also emphasized that "money plays a critical role in most negotiations".
Well... you don't say. FIFA vs. EA – we can't decide who could be better described by the word "greedy". If you want to read the whole story, you can find it here:

And it is also clear that a self-important guy like Infantino is not going to stay silent about the ending of the naming rights. We could see him sitting in his big fancy office saying things like, "tOdaY I fEel liKe a viDeO gAmE pUbLiSher". The FIFA President also dropped the following statement in May 2022:
I can assure you that the only authentic, real game that has the FIFA name will be the best one available for gamers and football fans. The FIFA name is the only global, original title. FIFA 23, FIFA 24, FIFA 25 and FIFA 26, and so on - the constant is the FIFA name and it will remain forever and remain the best."

So, just like the World Cup in Qatar was the best ever – we know your style, Gianni. But what we don't get is the concrete idea behind the statement. Because the upcoming competitor EA has already secured various licenses for their future.
Not only will stars and clubs remain in EA Sports FC, the Canadians are also breaking new ground when it comes to marketing. The naming rights of the Italian Supercoppa were bought and, on top of that, the Spanish La Liga will be called La Liga EA Sports FC from the 2023/24 season onward.

EA is buying their way into real world football to keep the fans and also to introduce their new name to the masses – and the FIFA? Well you might be surprised but they've already launched their first games.

FIFA 24 Development Remains A Surprise
But the aforementioned are more... mini-games, or rather rough ideas of ​​a football game. Like the World Cup Qatar 2022 in Upland Metaverse, for example – they want to sell "collectibles and items" to users who could then equip and review them in the Upland Metaverse. If you're into that...

Or the totally awesome virtual card game in cooperation with Matchday. Well, as FUT players, who also collect cards in the game, we'll take a break from hating, but come on... If anything, we need to see a simulation in which football can be played. Everything else is nonsense – and safe no competition to EA Sports FC.

Matchday Challenge: FIFA World Cup Qatar 2022. Coming real soon pic.twitter.com/zIT6kcJtpC

— Matchday (@matchday) November 19, 2022
We won't bother you with more of these first test attempts of games. The important thing is: there is still no update from the FIFA in terms of partnerships with developers. And it's already 2023.

Maybe Infantino thinks that with enough money, the game will magically appear by fall (that's almost how it worked out for him in Qatar). But EA Sports is 30 years ahead in terms of experience. We doubt that a new IP can be developed within a few months.

Konami, 2K Games – Or Who Else?
Anyway, the future of the virtual football market will remain exciting. With the Ultimate Football League (UFL), another competitor is ready. This game will even be free-to-play, and certainly not quite as chic and polished as the EA product – but we will be able to play it without any extra costs.

A real coup by FIFA would be to hire EA's old nemesis. With Pro Evolution Soccer, the Japanese studio Konami has created the only viable competitor product to EA for years. However, since PES morphed into eFootball, the brand has pretty much died. Time for something new?
Or can 2K Games (yes, the NBA developers) surprise us all with a new football game? Well, we're drifting off into speculation. Either way, we're sure that the FIFA will need some help in order to develop their new best game. However, it is currently unclear where said help should come from.

This article contains affiliate links which are marked with [shopping symbol]. These links can provide a small commission for us under certain conditions. This never affects the products price for you.