EA Sports FC becomes a new partner of the UEFA Youth League. Of course, this news fuels the rumour mill about the FIFA successor. What does the cooperation mean for the game modes in EA Sports FC?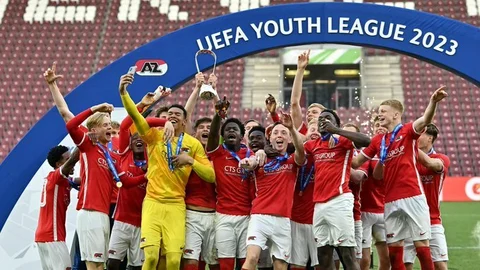 EA Sports has been doing a lot of advertising lately. On their promotional tour, they seem to focus primarily on supporting children and young people in football. For example, they recently opened a new soccer arena in London, which is primarily intended to enable young talents with limited financial resources to play soccer. Now, through the cooperation with the UEFA Youth League, EA has brought off the next coup.
And not only EA and UEFA could benefit from this partnership, but also us as a community.
The world of football has joined the club, make sure you do too. Sign up now: https://t.co/w1dtuLclDp#EASPORTSFC | Ft. @Santandave1 pic.twitter.com/dcaA4q87DT

— EA SPORTS FIFA (@EASPORTSFIFA) April 13, 2023
EA Sports FC: Banner With UEFA Youth League Makes FIFA Fan Hearts Beat Faster.
The partnership between EA Sports FC and the UEFA Youth League has recently been officially confirmed by both sides. For EA, this is undoubtedly another important step in getting their loyal followers excited about the new FIFA game called EA Sports FC.
One thing that has been the talk of the town was a banner combining both brand logo's, which was quickly removed from the UFEA's website. A logical step when you consider that those responsible for EA have recently asserted again and again that all leaks and speculations are 99.9% fabricated.
UEFA may have been a bit overzealous when announcing the cooperation with EA. It was not for nothing that the banner, which also bore the inscription "Join the Club", was immediately removed again. That left the FIFA community unfazed and immediately launched the next wave of speculation.
EA Sports FC: Youth League Also Integrated In The FIFA Successor?
After the end of the FIFA series, EA could secure a nice innovation for EA Sports FC with the addition of the UEFA Youth League. Plenty of ideas have already been collected online as to how integration into the game modes could look like. We have collected the suggestions for you and bring them to the point.
The most boring implementation would be if we "only" got Youth League as a tournament mode in the kick-off menu. Play through the group phase and then fight through to the final… cool. But much more could be possible!
UEFA Youth League In Career Mode
One or the other career mode player should probably have tears in their eyes at this thought. Hardcore fans have long yearned for innovation in their beloved single-player mode. EA has often disappointed them in the past. The cooperation with the UEFA Youth League opens the door to possible innovations.
Youth League as a training institution in career mode
A tiresome topic was the departure of young talents in the club, who, despite great potential, could hardly generate any playing time because they were not yet among the best players in the club. The UEFA Youth League could be the hoped-for solution.
One option would be to pit tomorrow's stars against each other in the UEFA Youth League. Whether this is a pure simulation mode that runs alongside the match days or whether we could also actively play the UEFA Youth League in career mode remains to be seen.
One thing is certain: the extra matches would be outstanding for talents, as they can reach their potential much faster.
UEFA Youth League In Ultimate Team
There is also great potential in Ultimate Team mode, but we currently do not expect to see the youngsters in FUT. Nevertheless, we can think of a few special cards for the Youth League.
For example, they could become the new Silverstars and be added as a FUT promo. Additionally, they could be included as second tier behind the Future Stars in EA Sports FC – as Objectives or cheap SBCs. It's all speculation, but we're hoping for more future talented player in FUT.

As you can see, there are a number of opportunities for EA to capitalize on their association with the UEFA Youth League in EA Sports FC as well. We hope they actually bring the Youth League into play. We remain optimistic and will of course keep you up to date.
Of course, this also applies to the upcoming TOTS event. With us, you don't miss anything.
This article contains affiliate links which are marked with [shopping symbol]. These links can provide a small commission for us under certain conditions. This never affects the products price for you.