EA Sports is no longer tied to FIFA in the future. So the FIFA successor "EA Sports FC" offers new possibilities. One of them would be that you would only have to buy the game once. Maybe the game will even be free to play? EA Sports has not yet denied this. Rather the opposite is the case...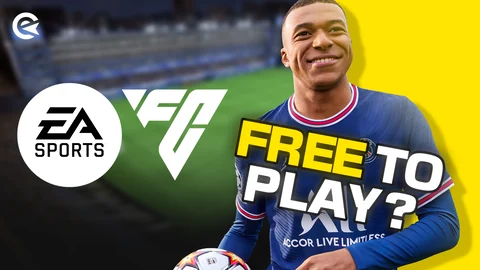 It is well known that EA Sports and FIFA are going their separate ways. But which way it will be for both sides has not yet been decided. There are indications that EA Sports wants to try out a new model with the FIFA successor. The official name of the game "EA Sports FC"—unlike what we were used to with FIFA "23"—does not include a year. Is this a hint that EA Sports is only developing ONE game that will be updated monthly or on a yearly basis in the form of a subscription model?

In this article we take a look at the very interesting statements made by EA's Vice President of Brand Marketing, David Jackson, in an interview with our german partners at kicker eSport. In addition, the rumour mill continues to bubble around the new football simulation from Electronic Arts.
In order not to miss any new leaks, you should always be up to date. The best way to do this is with our EA Sports FC Leaks article.
EA Sports FC: Subscription Concept Based On Free To Play?
Everybody knows it, everybody gets upset about it, but everybody does it again and again: As soon as FIFA was released in September every year, the game was bought directly. Even if you assured your friends that this time it would be the last FIFA you would buy. Yeah sure thing. EA has once again lured money out of your pockets and robbed you of all game progress. Be it in Ultimate Team, the mode that triggers the gaming addiction in many people and makes EA rich. Be it in the career mode, in which you put in days of playing time. Or Pro Clubs, where you have to level up your virtual pro all over again.

All that could come to an end. Rumours are growing that EA Sports wants to try out a new concept. We take a closer look at Jackson's most interesting statements from the kicker interview.
EA has had good experience in how well a free to play model can work. Role models include FIFA Mobile and the online version in Asia, FIFA Online 4. EA has tried and tested "various business models". In addition, according to Jackson, they also want to listen more to the community and their feedback. He also said that football is a seasonal sport and that FIFA games "so far" have been reset annually.

That "so far" is a hint that EA has been committed to a business model for some time. That would also make sense, because the release of EA Sports FC is not too far in the future. So everything points to the fact that we will only get ONE EA Sports FC in the next few years, which will then be further developed through updates.

Currently we still doubt that the game will be entirely free to play. The most likely scenario is that EA Sports FC will be sold at the "normal" market price and the game will then be kept alive by either paid DLCs or free to play updates.

EA Sports FC: Are Seasonal Resets History?

The community would certainly like this subscription model. We already addressed the frustrating resets of all game scores at the beginning of this article, so this could finally change that. Speaking of change: The usual year number in the title will no longer exist. Another indication that EA is planning for the long term with this game.
EA is no longer bound to the partner FIFA, decisions can be made without compromise. Jackson also said that one has the possibility to do everything. A clever sentence to keep all options open.
The only question would be how EA would then make it easier for newcomers to play if they only start with EA Sports FC in 2025. Other players would have a years-long head start in all online modes. The North Americans will surely come up with a business model that still allows players to create an advantage through pay to win. EA Sports FC could be the most extreme free to play but pay to win game of all time.

This article contains affiliate links which are marked with [shopping symbol]. These links can provide a small commission for us under certain conditions. This never affects the products price for you.