Epic Games CEO Tim Sweeney claims on Twitter that Fortnite will return to Apple devices later this year. While this isn't an official confirmation just yet, chances are good that Fortnite will indeed return to iOS and iPadOS.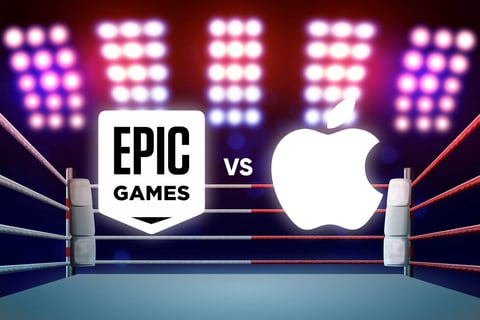 Epic Games CEO Tim Sweeney hinted on Twitter that Fortnite will return to iOS and iPadOS in 2023. There have been rumors in the past about a reconciliation between Apple and Epic. With the appeals process for the big lawsuit still ongoing, it could take some time...

Next year on iOS!

— Tim Sweeney (@TimSweeneyEpic) December 31, 2022
Apple vs. Epic: This has happened so far
For those who didn't notice the controversial dispute between Apple and Epic, a short summary:
Apple revoked Epic's Fortnite developer account in August 2020, blocking distribution of Fortnite on its devices, after Epic intentionally bypassed contractually mandated app store payment mechanisms in its Fortnite iOS app - a move Apple has since dubbed " willful breach of contract". There was a huge back and forth after that. Fortnite even hosted a full "Free Fortnite" campaign against Apple!
You can read the most important things here:
In a December interview, Sweeney stressed that he would fight Apple all the way to the Supreme Court if it took it to win. "We're just going to fight as long as it takes to get what we're asking for," Sweeney said. This demand, which is being exaggerated a bit here, is just that Apple put Fortnite back in the App Store.
In early December, Sweeney continued to rail against Apple and its policies, claiming they were anti-competitive. Sweeney compared Apple's management of the App Store to railroad monopolies preventing oil refineries from using the infrastructure. Yes... you can almost laugh about it.r

Fortnite could really return to the App Store in 2023!
While this all seems pretty ridiculous, Epic's lawsuit against Apple was actually a partial success, because in 2021 it was decided that Apple could no longer ban developers from including links to external payment options - exactly what Fortnite initially did wrong.
However, the judge only upheld Epic on one of the 10 charges against Apple, and Epic still had to pay Apple a lot of money for breaching the contract.
Don't feel like playing Fortnite on your cell phone? Then you better get an Xbox Series S!
Apple also decided that it would not lift its ban on Fortnite and would not reinstate Epic's developer program account until the district court ruling is final, which Sweeney said could take up to five years.

However, reports surfaced on December 13 that Apple was already working on changes to its software and services to comply with the regulations, including allowing third-party app storefronts without using the App Store itself. However, such activities by Apple are likely more of a preliminary step than something they would actually voluntarily implement.

But if it comes to that, Epic and Apple must finally pull together and pull together. Because let's be honest: Both big companies would benefit from it and ultimately it's all nothing more than a childish power game.