With a new season of Fortnite upon us, here's everything you need to know about all weapons that are leaving the island and the ones replacing them.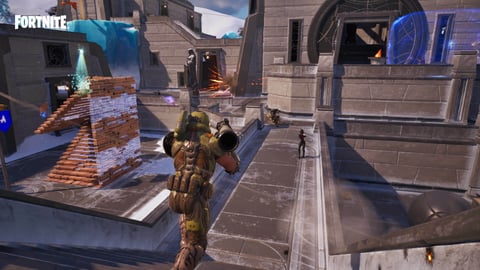 After the island was destroyed in the final live event of Chapter 3, we not only got a completely new map in Chapter 4, Season 1, but of course also tons of new weapons!
As with every new Chapter or Season, Epic Games have removed or, as they like to call it, vaulted a number of weapons - but fear not, new and potentially more interesting weapons have replaced them.
Not all weapons are gone from Chapter 3, Season 4, some fan favorites that were added later have also made it into Fortnite Chapter 4. But let's just take a look at which weapons have disappeared and which have been added in Chapter 4, Season 1.
All the weapons that are vaulted in Fortnite Chapter 4, Season 1
While Epic Games isn't releasing a list of removed weapons, fans and content creators have made it their mission to find out which weapons will no longer be available at the launch of Chapter 4, Season 1.
So far these are:
EvoChrome shotgun
EvoChrome Burst Rifle
Ranger Assault Rifle
Hammer Assault Rifle
Precision Rifle (DMR)
Bolting Hunt rifle
Lever action shotgun
Prime Shotgun
Rapid-Fire Submachine Gun
Silenced Submachine gun
Sidearm Pistol
Explosive Liquid launcher
Fortnite Chapter 4, Season 1: All Unvaulted Weapons
Now comes the fun part. These are all the weapons that returned from the vault in Chapter 4, Season 1:
Assault Rifle (Scar)
Rocket launcher
Mechanical Shockwave Arc
Mechanical Blast Arc
Primordial Stinkbow
Primordial Arc of Flame
Tactical Assault Rifle (part of the "Tactical Armor Augment" reality expansion)
Combat Shotgun (Part of the Tactical Armor Augment reality expansion)
Fortnite Chapter 4, Season 1: Alle neuen Waffen
Of course, there are also a few never-before-seen weapons in this chapter. These are:
Ex-Caliber Rifle
Thunder Shotgun
Maven Auto Shotgun
Red-Eye Assault Rifle
Twin Mag SMG
Tactical Pistol
Shockwave Hammer
A detailed explanation of all new weapons can be found here.
Otherwise that's it! Now it's time to loot what the stuff holds. We wish you a lot of fun with the new chapter!
For more on Fortnite: