LEGO has teamed up with Epic Games to bring a huge crossover to Fortnite. And it's going to be bigger than we expected. We have the details.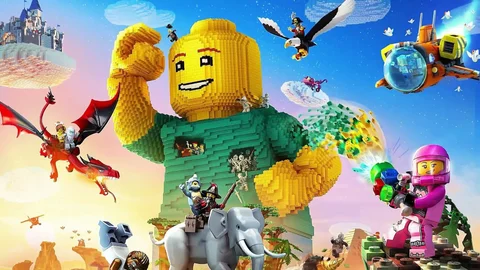 In recent times, Metaverse is the term that describes the vision of a shared online world. It merges the virtual world, augmented reality and the physical world. Users have a wide range of interaction options here. They move with their digital avatar in a common virtual space without internal borders.
Lego and Epic are now planning to bring such a space for children to play, build and communicate with each other to Fortnite as well. And all of this is going to be much bigger than we can imagine.
Fortnite x Lego Crossover: Everything We Know

Considering Lego is one of the most popular brands in the world, including them in Fortnite makes a lot of sense. Both the toy manufacturer and the video game developer would benefit.
The forthcoming collaboration appears to be another Fortnite Creative 2.0 project. According to GMatrixGames, one of the most prominent Fortnite leakers out there, Epic Games has been working on a Lego collaboration for a while. The dataminer found some data about the crossover in January and recently published more information about it.
Update for the LEGO-related thing.

All of the codename "Juno" test servers are on 26.00, so it's most likely that it will release then.

(It's abnormally far, I know) https://t.co/Ux2VMejgcE

— GMatrixGames (@GMatrixGames) February 15, 2023
The leaker claims that Epic Games is working on a Creative 2.0 map for the Fortnite x Lego crossover. HYPEX adds that NPCs/Bosses, Custom UI, Lego Models/World & something called "Adventures" will be available in the mode. Of course, that doesn't preclude cosmetic items from being released for the item shop as well.
Fortnite & Lego are working on a unique mode in Fortnite with Lego NPCs/Bosses, Custom UI, Lego Models/World & and something called "Adventures". (via @GMatrixGames)

It'll most likely be made in UEFN over the upcomings months or year, by LEGO themselves. pic.twitter.com/r4iWOg6neQ

— HYPEX (@HYPEX) May 10, 2023
Details on the design of the virtual world are not yet known. However, it is important to the two companies that their metaverse will be child and family friendly. They aim to create an "immersive, creatively inspiring and engaging digital experience" that people of all ages can enjoy, according to a joint statement.
Fortnite x Lego Crossover Will Be Bigger Than Expected
Fortnite leaker Shiina recently discovered more files that state that the crossover will be coming to the game with patch 27.00. So far, xx.00 updates have always been about a new Fortnite Season. Naturally, this got the rumor mill bubbling, which is why insiders claim that the LEGO collaboration will be so big that it could be considered a new Season.
Epic Games will even soon allow you to log in to Epic Games Services with your LEGO account!
With the Fortnite X LEGO collaboration just around the corner, Epic Games will soon allow you to log into Epic Games Services with your LEGO account

(via @Krowe_moh & @Salehlq) pic.twitter.com/KBeE20RfLp

— Shiina (@ShiinaBR) September 14, 2023
Fortnite x Lego Crossover Announced Through Loserfruit Teaser
In addition, a supposed Fortnite x Lego teaser featuring creator Loserfruit was recently released. For those who don't know the lady, she is probably one of the biggest Fortnite creators out there. So big, in fact, that she was the first female YouTuber to get her own Fortnite skin!
The exciting thing about the trailer is that Loserfruit shows off her own little Lego character wearing the exact outfit that her skin wears in Fortnite. Coincidence? We hardly suspect so. But see for yourself:
Play like @Loserfruit and get comfortable winning. #LEGO pic.twitter.com/7yFijWLkn4

— LEGO (@LEGO_Group) August 28, 2023
Fortnite x Lego Crossover Release Date
There are still no official details on dates, concept, business model and systems. Epic Games has been testing the map on test servers for a few months. If everything goes according to plan, they might even bring the collaboration into the game in Chapter 5. At least we can be sure that the Fortnite x Lego crossover will come to our Battle Royale island this year.

This article contains affiliate links which are marked with [shopping symbol]. These links can provide a small commission for us under certain conditions. This never affects the products price for you.