Fortnite fans are looking forward to the release of Chapter 4 Season 3. We summarize all the news and rumors about changes, start date, live event and the map of the popular Battle Royale here for you.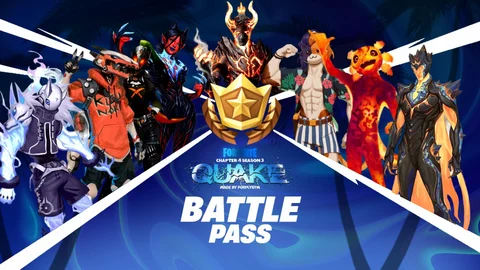 In Fortnite Chapter 4 Season 2, the map changed once again, bringing Mega City to the island. And even if the season still continues for a few more weeks, many players are wondering how Season 3 will expand on it.
Let's not dither and dive into all the leaks, teasers and details we've collected about Fortnite Chapter 4 Season 3 so far. And don't worry, as soon as there is more news, we will of course update this article for you.
Fortnite Chapter 4 Season 3: Start Date

Fortnite Chapter 4 Season 2 ends on Friday, June 9 2023, at 2 AM ET. Depending on how long the downtime will last, Season 3 will then appear on the same day or the following day.

Fortnite Chapter 4 Season 3: News & Leaks

It's still a few weeks before Chapter 4 Season 3 comes out, but you know the Fortnite data miners. They're constantly digging and digging through the codes, pulling out one leak after the next. And we are here for you to collect them.
Fortnite: End Of Season Live Event
So far we don't know if there will be a live event for the Season 2 finale. However, some questions still linger. After the events of the Chapter 3 finale, a new island has emerged. Since then there has been no trace of the Paradigm, the Foundation and the rest of the Seven. Could they be freed from the chrome?
Since we didn't get a live event at the end of season 1, there's a good chance that there might be one this season.

Jungle & Tropis Seasonal Theme
According to the latest leaks, the theme of the new season will be "Jungle & Tropics". With version 24.20 Epic added palm trees and cacti to the files.
In 24.20, Epic added some files for Chapter 4-specific palm trees and cacti.

This combined with the survey skins that we currently know are being worked on, it appears that Chapter 4 Season 3 will have a desert/tropical theme#Fortnite pic.twitter.com/I6gFUk0VTK

— Wenso (@Wensoing) April 17, 2023
In addition to the new plants, the following things were also discovered in the files:
Volcano/jungle rocks, some of which will be indestructible
Mud that affects gameplay and can slow down the player while inside
"JungleFloor" terrain texture and a "JungleMud" material
First Person Mode

According to a tweet from our favorite Fortnite leaker HYPEX, who has always been a reliable source of Fortnite leaks and news in the past, Epic Games has started developing a first-person camera mode.
FIRST-PERSON IS COMING NEXT SEASON

The same source who contacted @HYPEX & me about all the other real leaks also told us about that one! pic.twitter.com/iq2EPbQALe

— Shiina (@ShiinaBR) March 4, 2023
And now more files have been found that clearly indicate a first-person view for the Chapter 4 map. So it's very likely that the feature will come into play as early as Season 3.

Weapon Mods
It was leaked a while ago that Epic Games was working on weapon mods. Unfortunately, they haven't appeared in the game yet. HYPEX speculates that Epic is still working on finding the perfect way for players to use them, though its related tweet has since been deleted. Who knows, maybe weapon mods will finally come into play in Season 3 anyway.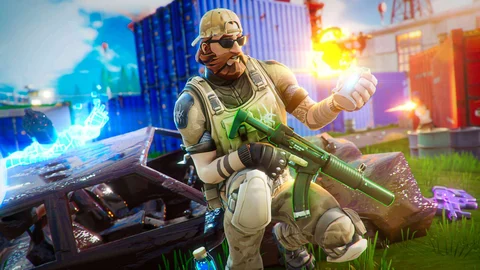 Flying Mounts
A slightly older Twitter post from HYPEX also states that Epic is working on "rideable, flying animals" for Fortnite. Apparently, players will be able to boost the animal for more speed and fly on "idle". Idling would likely mean the mount could hover in the air to allow players to shoot more accurately or throw items. Earlier, an item that looked like a saddle in Fortnite was leaked. Presumably this item could be related to the flying mounts.
Chapter 4 Season 3 Map Changes & New POIs
With Chapter 4 Season 3 we won't get a completely new map this time, but as always there will be some changes on the island.

New Biomes
As mentioned above, the theme of the new season will include tropics, jungle and desert. So we will see new biomes and POI's related to the theme. Unfortunately, names and other details are not yet known.
Fortnite Chapter 4 Season 3 Battle Pass Skin Leaks
GMatrixGames has uncovered some interesting information about the upcoming Battle Pass outfits. While there are no arts accompanying the codenames, there are some ideas as to what players can expect.
According to GMatrixGames and another leaker, Wensoing, some outfits for the next season are in development. While we don't know what these outfits will look like, we can speculate based on the code names and the fact that Chapter 4 Season 3's theme will be desert/tropical.
Here are the options for Chapter 4 Season 3 battle pass cosmetic codenames:

- CinderMax
- CrispRover
- LoudPhoenix
- RippedHarvester
- SilentTempo
- ZirconSweep

— GMatrixGames (@GMatrixGames) April 17, 2023
Six codenames have been confirmed as possible candidates for the Fortnite Chapter 4 Season 3 Battle Pass outfits: CinderMax, CrispRover, LoudPhoenix, RippedHarvester, SilentTempo, ZirconSweep. Of these, four will likely be included in the Battle Pass.
Considering that similar outfits have been offered before, they follow the design and aesthetic trends that Epic Games has maintained in the past. Additionally, Epic Games has added a number of in-game survey skins, and these skins will most likely be included in the Battle Pass.

Will We Get New Weapons & Items?
Hopefully! Or we hope for new, old weapons. Yes, Chapter 4 Season 2 has introduced some nice weapons, including finally a good shotgun! But of course we would still be happy about our good old pump gun.
And that was it for now with the leaks. What would you wish for Chapter 4 Season 3? Please let us know!
We'll update this article as soon as there's more news, so don't forget to check back often.
This article contains affiliate links which are marked with [shopping symbol]. These links can provide a small commission for us under certain conditions. This never affects the products price for you.