The start of Fortnite Chapter 4 Season 2 is nearing – now also the official name of the new season seemingly leaked. We summarize all the news and rumors about changes, release date, start time, live event and the map of the popular Battle Royale here for you.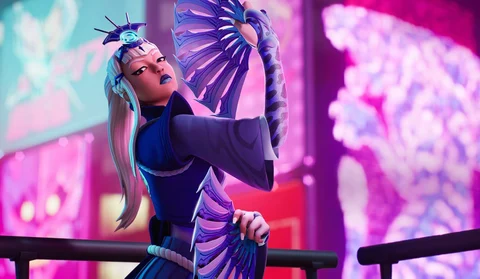 In Fortnite Chapter 4 Season 1, the map completely changed once more, opening the door for more entertaining gameplay. But now Season 2 is just around the corner.
Let's not dither, let's dive into all the leaks, teasers and details we've collected about Fortnite Chapter 4 Season 2 so far. And don't worry, as soon as there is more news, we will of course update this article for you.
Fortnite Chapter 4 Season 2: Start Date & Time

Fortnite Chapter 4, Season 1 ends on March 10, 2023 at 2 AM ET. Depending on the timezone you live in, it could be also March 9 for you.
Even if Chapter 4, Season 1 ends on March 10, depending on the timezone you live in, the new season can also start on the following day. After a possible live event, the servers usually go offline for some hours to prepare the game for the big update.
CONFIRMED: Fortnite MEGA downtime starts on March 10 at 2am ET!

— Shiina (@ShiinaBR) March 7, 2023
Fortnite Chapter 4 Season 2: News And Rumors

So it's not long until Chapter 4 Season 2 comes out and you know the Fortnite data miners. They're constantly digging and digging through the codes, pulling out one leak after the next. And we are here for you to collect them.
Fortnite Chapter 4 Season 2: Name Leaked, Neo-Tokyo as a season theme
When it comes to Fortnite leaks, Twitter user HYPEX is probably the most popular source. He now seemingly revealed the official name of season 2: MEGA. Looking at the screenshots he attached, players can expect a very futuristic setting, which would fit to current leaks, telling that the theme of the new season will be "Neo-Tokyo".

SEASON 2 TEASERS #FortniteMEGA pic.twitter.com/VzMc40wbST

— HYPEX (@HYPEX) March 6, 2023
Leakers Hypex and Shiina received information from an insider who promised that the next season will make a complete 180° turn with a more futuristic setting. With so many anime skins and other Japanese inspired accessories already in the game, the Neo Tokyo theme makes perfect sense. So prepare yourself for big glowing neon signs and a beautiful cyberpunk setting.
Fortnite Live Event For The Season Finale?
So far we don't know if there will be a live event for the Season 1 finale; however, the latest bigger ingame happenings would obviously offer some potential for it. After the events of the finale of Chapter 3, a new island has emerged. Since then there has been no trace of the Paradigm, the Foundation and the rest of the Seven. Could they be freed from the chrome? Maybe we'll find out in a live event at the end of the season.
First person mode

According to a tweet from well known Fortnite leaker HYPEX, who has always been a reliable source of Fortnite leaks and news in the past, Epic Games has started developing a first-person camera mode.

FIRST-PERSON IS COMING NEXT SEASON

The same source who contacted @HYPEX & me about all the other real leaks also told us about that one! pic.twitter.com/iq2EPbQALe

— Shiina (@ShiinaBR) March 4, 2023
Meanwhile, now more files have been found that clearly indicate a first-person view for the Chapter 4 map. So it's quite possible that the function will come into play as early as Season 2.

Futuristic Motorcycles
Chapter 4 Season 1 brought motorcycles to Fortnite for the first time. Although they will not disappear directly in Season 2, they will look different than in the current season. According to Shiina, the old two-wheelers are being replaced with new, futuristic motorcycles that hover a little off the ground.
A few days later, Shiina actually tweeted out a teaser image of the futuristic bike!
FUTURISTIC BIKE TEASER!

(Thanks to @PaarthShahYT for the information!) pic.twitter.com/7wI4bzCFae

— Shiina (@ShiinaBR) March 7, 2023
Flying Mounts
A slightly older Twitter post from HYPEX also states that Epic is working on "rideable, flying animals" for Fortnite. Apparently, players will be able to boost the animal for more speed and fly on "idle". Idling would likely mean the mount could hover in the air to allow players to shoot more accurately or throw items. Earlier, an item that looked like a saddle in Fortnite was leaked. Presumably, this item could be related to the flying mounts.
Creative 2.0
Fortnite Creative 2.0 will also be released at the same time as Season 2, after the release was postponed from December to March 2023. Fortnite Creative 2.0, also known as the Unreal Editor for Fortnite, has been in the works for a long time. Especially after the release of Unreal Engine 5, the community has high expectations for the mode. Fortnite Creative 2.0 will most likely change the way players create their own games and islands.
Chapter 4 Season 2 map changes and new POIs
With Chapter 4 Season 2 we won't be getting a completely new map this time, but as always there will be some changes on the island.
Tilted Towers returns
According to FortTory, a very well-known Fortnite leaker out there, Epic Games added a sound file that has "Tilted Towers" in its name. The image also shows that the file has "Asteria" in its name, which is the codename for Chapter 4's map. As many players have noticed, the ice cave in the snowy area is home to Tilted's well-known clock tower. Despite being partially destroyed, he survived the Shattered event and was brought to the current island by the Zero Point and the Paradigm.
Who knows, when the snow starts to melt, more parts of Tilted Towers might be revealed?

Tilted Towers returning in Chapter 4?!

There is a TEMP POI_AmbientBank sound file added for a POI on the current Island named Titled_Towers..

Would you love to see a return of Tilted Towers? pic.twitter.com/PcbDYJC6mE

— FortTory - Fortnite leaks & news (@FortTory) January 18, 2023
Lucky Landing also returns
And our beloved Lucky Landing should also return in Season 4! Although the place should look a little different and also fit more into the upcoming cyberpunk theme, we are definitely hyped and looking forward to the old POI with Japanese flair!
Neo-Tokyo
There will also be a new main spot, which will probably be called Neo-Tokyo. The map will probably change the most in this place and shine brightly in all colors.
Fortnite Chapter 4 Season 2 Battle Pass Skin Leaks
The Chapter 4 Season 2 Battle Pass was leaked and has these skins ready for us, among other things:
Entire Chapter 4 - Season 2 Battle Pass lineup VIA @ShiinaBR & @HYPEX pic.twitter.com/1wcMystCEC

— iFireMonkey (@iFireMonkey) March 3, 2023
Note, however, that the images are from the first Fortnite concepts and will look slightly different in-game.
Eren Yeager
One of the most blatant Battle Pass surprises is probably this crossover skin. Hypex and Shiina - two of the most famous Fortnite leakers out there confirm that Eren Yeager from Attack on Titan will be the next Fortnite Chapter 4 Season 2 secret Battle Pass skin.

Will we get new weapons and items in Season 2?
Hopefully! Or we hope for new, old weapons. Yes, Chapter 4, Season 1 introduced some nice guns, but I think we can speak for everyone when we say we want a better shotgun - preferably our old pump action!
And we're probably lucky, because according to iFireMonkey, the pump shotgun will indeed return with a new version in Season 2.
The Pump Shotgun will return with a new version in Season 2 (via @iFireMonkey) pic.twitter.com/yBKN0FQBzN

— HYPEX (@HYPEX) March 3, 2023
Also, we will get a katana as a weapon, which will probably serve as a strong melee weapon in the game.
It remains to be seen whether Epic will fulfill the community's wish.
And that was it for now with the leaks. What would you wish for Chapter 4, Season 2? Please let us know!
We'll update this article as soon as there's more news, so don't forget to check back often!

This article contains affiliate links which are marked with [shopping symbol]. These links can provide a small commission for us under certain conditions. This never affects the products price for you.