Along with Chapter 4, Season 1, a bunch of new characters have come to the new Fortnite island. These NPC characters give you access to weapons, quests, and special items like rifts and disguises.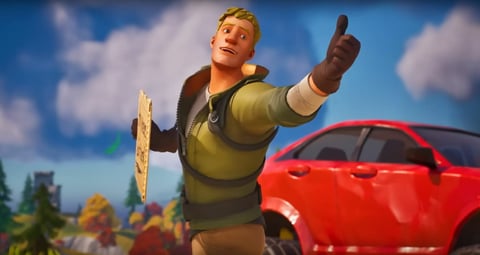 In Fortnite Chapter 4, Season 1 the map has changed completely again!
Perhaps you have already come across one or the other resident of the island on your journey of discovery through the many new places. As always, these characters have some pretty nice stuff for you, sell you cool mythical or exotic weapons, rifts, or let you hire them to fight alongside you on the island.
Why not grab a new headset to enjoy Fortnite at its finest?
Sounds exciting, doesn't it? Of course it does. So here we have compiled a list of all the NPC characters on the island of Fortnite.

Fortnite: All NPC Character Locations on Chapter 4 Map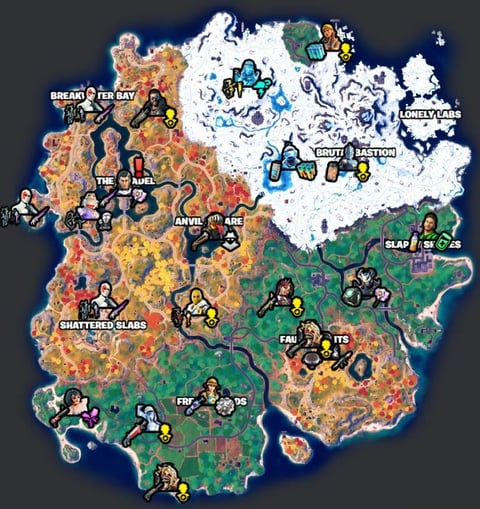 Some characters no longer dwell on their spawn point, instead wandering around on a set path. Also, certain characters have multiple spawn points or share their spawn action.
So if you don't find a certain character, it either didn't spawn, or another player already killed or recruited the NPC. It's best to just start a new round. But let's now turn to the 18 character spawn points.
#1 Aura
Aura is located in the very north of the map at Crude Harbor. She lets you hire her and sells you Splashies.

#2 Evie
You can find Evie at the Shore Shack cabin. This is located in the southwest of Shattered Slabs. She'll sell you a Rift and the Exotic Shadow Deed.
#3 Frozen Fishstick
Of course, a Frozen Fish Stick prefers to be where the water is indeed frozen. On the current Fortnite map, this is at the frozen lake near Brutal Bastion. He'll sell you a shield jar and the popular Chilli Splashies.

#4 Frozen Red Knight
The Icy Red Knight protects the Brutal Bastion castle. She lets you hire her.
#5 Omega Knight
The Omega Knight hangs around northeast of Faulty Splits at "Secluded Spire". He'll sell you a shockwave hammer.
#6 Princess Felicity Fish
Princess Felicity Fish is located at "The Autumnwood", in the southwest of Anvil Suare on the top of the castle. She sells you the exotic gripper bow and you can - for whatever reason - give the bus driver a small tip.

#7 Raptorian The Brave
Raptorian The Brave wanders around Pleasant Passage. This location is south of Anvil Square on the right side of the river. You can hire him and he will sell you a Flaming Bow.
#8 FFC Neymar
FFC Neymar dribbles on the soccer field in the north of Slappy Shores. He will sell you two different healing items.
#9 Scrapknight Jules
Scrapknight Jules collects scrap for her armor in the eastern area of Faulty Splits location. She'll sell you a rocket launcher and a jump pad.
#10 Helsie
Helsie roams the hills at Hidden Henge in northwest Faulty Splits. You can hire her or buy a legendary Thunder shotgun from her.
#11 Joni the Red
And even Joni the Red is on the island! She guards Rowdy Acres, a shack on the outskirts of the map, southwest of Frenzy Fields. You can recruit them too. She will also sell you an Epic Red Dot Assault Rifle.
#12 Snowheart
Snowheart guards the "Cold Cavern" in the snowy area. The cave is huge and is located in the northwest of Brutal Bastion. She reveals the next Stormeye for you and sells you a Stinkbow.
#13 Sunflower
Sunflower, on the other hand, prefers it warm and takes care of the northern fields at Frenzy Fields. She sells you the exotic drinking cannon.
#14 Surrr Burger
Durrr Burger guards the houses in the middle of Anvil Square. He'll sell you the exotic weapon "The Double" and an object transformation.
#15 Wildcard
Wildcard roams north of Shattered Slabs. He'll sell you the ex-caliber rifle and an exotic unstable bow.
#16 Diamon Diva
Diamond Diva is located at the house in the west of Frenzy Fields. You can hire her and she will sell you a Maven Auto Shotgun.
#17 Renegade Shadow
You can find the Renegade Shadow in the east of Breakwater Bay near some houses. He lets you hire him and sells you the heavy shotgun.
#18 The Ageless Champion
He's not strictly an NPC, he's a boss, but for the sake of completeness we wanted to include him in the list. It is located on the bottom level of The Citadel. As soon as he spots you, he will become aggressive and attack you. The Timeless One has extremely high HP and is not exactly easy to eliminate. If you defeat him, however, he will drop you the mythical "The Timeless Ex-Caliber Rifle".
What Do NPCs in Fortnite Do
Every NPC in Fortnite Chapter 4 will sell or drop you some item. Some items require you to pay with gold bars to get the item.
It should also be mentioned that if you ever shoot at an NPC, they will suddenly turn hostile and shoot back at you. In most cases, it's better to just run away, otherwise you risk getting killed by him. And you don't want that, do you? But don't worry, if you've put some distance between you and there's no other player around, he'll calm down after a while too, so it's easy.
And done! Now you know where each NPC is located in Fortnite Chapter 4, Season 1. Hope this is helpful in finding your new Fortnite favorite.
For more on Fortnite:
This article contains affiliate links which are marked with [shopping symbol]. These links can provide a small commission for us under certain conditions. This never affects the products price for you.