So many amazing games make it to market each year. But there are also tons of promising games that never make it through development, games that for one reason or another are cancelled before seeing the light of day. We'll show you the most exciting games that never saw release.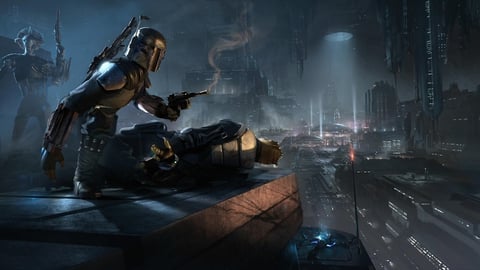 Sometimes it's a good thing that games don't make it to market. I mean, how many times have we been disappointed by games we've been waiting years for? But this time we look at the games that unfortunately weren't released at all. And there are some really cool games in the list. Here's our top 10 never released games.
Top 10 Unreleased Games
10. Star Wars: Battlefront 3
The predecessor, Star Wars Battlefront 2, was a really successful game. It's only logical that the third-person shooter should have a successor. It was almost finished in 2008, but when Lucasfilm Games finished, the project stopped. Instead, we had to accept the reboot Star Wars Battlefront in 2015.
9. Gotham by Gaslight
Flying with Batman through Gotham in 1989 sounds pretty exciting. Unfortunately, it never happened. In 2010, it was discontinued despite already having an Alpha.
8. Internal 7
On the 8th place is a Santa Monica Studios game. Unfortunately, the project has been discontinued. Mainly because of God of War Ragnarök's focus. There was some apparently very risqué sci-fi content to be enjoyed, but we'll never know.
Here you can buy a copy of God of War Ragnarök. A fantastic game in our opinion.
7. Starcraft Ghost
Yes! We were going to get a Starcraft-spinoff game...but it was cancelled. The idea was to play as Agent Nova and infiltrate enemy bases. It was due to be released in 2000 and sounded promising. We'll never know if it was going to live up to expectations.
6. Rockstar Secret Agent Game
In 2007, Rockstar announced their plans for a Cold War secret agent game. The community were delighted; a Rockstar agent game sounded so very promising. But after decades of no communication, it's widely assumed that this has been abandoned.
5. BC
BC was developed by an offshoot of Peter Molyneux's Lionhead studio, but it was discontinued in 2004 for unknown reasons. The game could have been really good: the player was supposed to control a tribe on a prehistoric continent and lead it to the top of the food chain. The Stone Age world was also to be populated by monkey-like enemies, dodos and dinosaurs.
4. Rainbow Six: Patriots
In 2011, Ubisoft Montreal announced the tactical shooter with a trailer. Only to discard the idea in 2014. We would have fought for freedom and independence in the "True Patriots" militia. Destructible items became a problem, but were then implemented on the new console generation in Rainbow Six Siege.
3. Prey 2
The second part of the Prey franchise was already well advanced. Including a trailer, it was presented in 2006. Unfortunately, it was never finished because the studio was dissatisfied with development. For the time period we're talking about, the game looked excellent and we would certainly have played it.
2. Silent Hills
Mastermind Hideo Kojima and director Guillermo del Toro collaborated on this game. But the promising combination was ended by the separation of Kojima and Konami. They would certainly have given the horror series a new shine. Although Kojima and del Toro want to continue working together on a game project, but it will no longer be located in the "Silent Hill" universe.
1. Star Wars 1313
The Book of Boba Fett is currently running on Disney Plus and at the latest the fifth episode will probably thrill many Star Wars fans again. And since The Mandalorian, I'm sure some people have been wondering: Why isn't there a game in which we can wear Beskar armor ourselves and go on a bounty hunt? The answer to that question is Star Wars 1313. The project is on hold at the moment, because of the acquisition by Disney. But we may be able to go on a bounty hunt in the future.
Enough missed opportunities to mourn. Here are the most hyped games coming in 2023:

This article contains affiliate links which are marked with [shopping symbol]. These links can provide a small commission for us under certain conditions. This never affects the products price for you.