We all love a GOG sale. The latest sale will be packed with cheap games and fantastic discounts. Here is the start date, the end date, and the best game deals.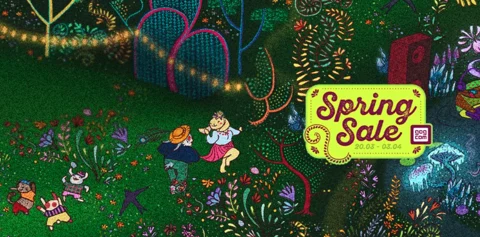 If you're a PC gamer, now is the time to get great deals on some amazing AAA games. The GOG Spring Sale offers thousands of amazing games for insane prices. Here are the start and end dates, and the best deals!
GOG Spring Sale: Start Date & Time
The GOG Spring sale began on Monday, March 20 at 4pm PT (11am ET / 3pm GMT / 4pm CET). Yes, it's already begun. And you have a decent amount of time to hop on and browse the selection of offers.
GOG Spring Sale: End Date
The GOG Spring sale will last for exactly two weeks until Monday, April 3 at 5pm PT (8pm ET / 11pm GMT / 12pm CET). So don't miss out, find yourself some great games and get a bargain!

GOG Spring Sale: Top 10 Deals
There are hundreds of games to choose from, but here are some of the biggest hits:
10. Cyberpunk 2077 (-50% / $30)
We wouldn't feel right recommending Cyberpunk at full price. Despite multiple updates the game is still a shadow of what we were originally promised. But, and this is a big but, we think you will get enough time out of it to justify $30, especially if you like the aesthetic of the game (because there aren't many triple-A games that can scratch that itch).
9. Elder Scrolls V: Skyrim Anniversary Edition (-60% / $20)
Okay, we get it, you've probably already bought Skyrim multiple times in the past. We aren't going to pretend like the Anniversary edition completely changes the game and offers something new either. But if you haven't played this classic in a while, for 20 dollars the few upgrades you do get in the Anniversary edition are probably worth the extra cost.
8. Horizon Zero Dawn (-67% / $17)
This is not the sequel, please don't get too excited. However, the original Horizon game is actually more highly regarded, so if you haven't played Horizon before, it could be the perfect time to jump in.
7. Middle-Earth: Shadow of Mordor - Game of the Year Edition (-75% / $5)
Are you a fan of open world games? Or perhaps you love Lord of the Rings? In either case, you will definitely get more than five dollars of fun out of Shadow of Mordor. It actually doesn't look too dated either.
6. A Plague Tale: Requiem (-35% / $32.50)
We were unsure about whether to include this game because it isn't being offered for a great price compared to everything else on the list. But this game is only a few months old, and it has a fascinating story. We also wanted to include something a little more recent for those that want to enjoy next-gen graphics.
5. Tomb Raider 1+2+3 (-80% / $2)
Three games from the golden age of Tomb Raider for $2. Need we say more? But seriously, Tomb Raider 2 was fantastic. We can all remember how fun it was locking Alfred in the walk-in freezer, and we guarantee it's just as fun in 2023.
4. Kingdom Come: Deliverance Royal Edition (-75% / $10)
Unlike the top three games on our list, Kingdom Come isn't exactly iconic, and it won't be remembered as a legendary RPG. But it is a fairly modern and pretty big game, and it's available for only 10 bucks. We think it's worth watching a few videos of the game to see if it's your thing, but some of you will fall in love with Kingdom Come's hyperrealistic approach to medieval life (you literally can't read when you start the game, and you're absolutely shit compared to even the most basic town guard).
3. Fallout 3: Game of the Year Edition (-67% / $7)
We don't need to explain why Fallout 3 is so good. This is one of the most highly-regarded RPGs ever made. Now, it is going to feel somewhat dated in 2023, but we still wanted to rank this deal quite highly because the price is so good.
2. XCOM 2 (-95% / $2.50)
Okay, XCOM won't be for everyone. But if you are a fan of turn-based strategy games, XCOM 2 is one of the best titles ever made in this genre, and it's packed full of content. Plus, $2.50 is absurdly cheap. You've probably spent more than that on food already today.
1. The Witcher 3: Wild Hunt - Complete Edition (-70% / $15)
The standard version of The Witcher 3 could provide you with hundreds of hours of entertainment by itself, but the complete edition? Forget about it - you will be locked in for weeks. So for $15, this is an absolute bargain. In fact, you will struggle to find a better deal than this in terms of dollars spent to hours of fun enjoyed.

Here's a link to see the full selection of games available in the GOG Spring Sale.
Hopefully you found that helpful, and perhaps you'll even find a few games you want to get in the sale.
Maybe one day one of these games will make it into a GOG sale:
This article contains affiliate links which are marked with [shopping symbol]. These links can provide a small commission for us under certain conditions. This never affects the products price for you.