What a surprise at the Game Awards 2022: Hades, the game that set a new benchmark for rogue-likes, is getting a sequel! Hades 2 (officially: HADES II) is already in development. Here you can find the trailer, all information about the release date and what we can expect this time.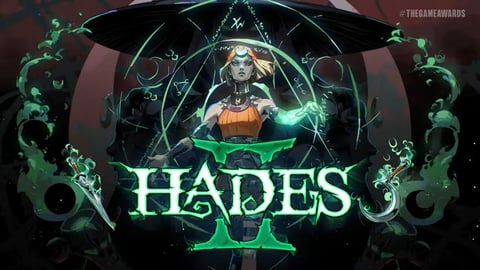 There was cheering when fans of the hit game Hades realized what they were about to see at the Game Awards 2022. The announcement video showed the first gameplay of Hades 2, which will immediately captivate all connoisseurs. The scenes will strongly remind you of part one, in which you had to prove yourself against almost infinite opponents – a true fight of life and death, because the game is one thing above all: unforgivable.
Rogue-like games are the ones where you collect loot that you keep as long as you stay alive. If you die, everything is lost and you have to start over. If you dead you dead, quite simply. A game where you either own or die - often. Perfect combos aren't just nice to have, they're crucial to surviving.

Hades 2: Story And New Main Character Melinoe
There is also a big change coming, because in Hades 2, the main character changes. We will be playing as Melinoe (officially: Melinoë). In similar fashion to its predecessor, Hades 2 will make you explore the mythic underworld of Hades, fighting against monsters from Greek mythology.

The direct sequel is based on the first game, but can also be played, and enjoyed, if you haven't played Hades. However, fans will recognize some story elements.

The first information about Melinoë is already known. The immortal princess of the underworld is the sister of Zagreus, who was the main character in the original game. She is based on an ancient underworld deity who appears to be related to Hades.

Hades 2: Release Window And Early Access
There is no confirmed release date for Hades 2 yet, BUT: we know that we will get more insights in 2023. Also on the Early Access. It will be used again to deliver the game to fans in advance so that it can be perfected before the final release. Developer Supergiant Games promises this in their official announcement.
Enough Explanation, Here Is The Official Hades 2 Trailer
We see a lot of things that reminds us of the first part. Hordes of enemies that will rip us and lots of loot that wants to be secured. With better equipment, it is much easier to fight through the dungeons!
It would be optimistic to say that Hades 2 will be coming in 2023 – we expect we have to wait until 2024. For the full release, at least. We will keep you updated as soon as there is new information.
This article contains affiliate links which are marked with [shopping symbol]. These links can provide a small commission for us under certain conditions. This never affects the products price for you.