Hogwarts Legacy 2 is still not more than a far-away dream. But a higher-up at Warner Bros. Games has recently given a statement that leaves the door very much open to a Hogwarts Legacy sequel.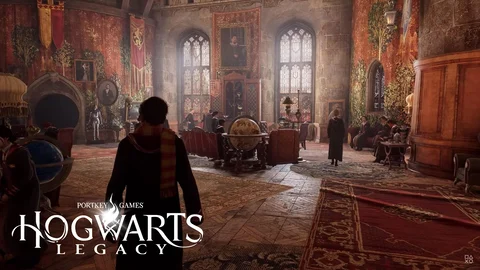 Hogwarts Legacy has been great (especially the mounts), but we want more. Call us insatiable, but we want DLC, we want multiplayer content, and we want a sequel! In this article you can find everything we know right now about Hogwarts Legacy 2. Let's take a look.
Hogwarts Legacy 2: Possibility For A Sequel
We don't have any official confirmation of a sequel. The only thing close to news about a sequel that we have so far is from a statement made by Warner Bros. Games president David Haddad. He recently told Variety that Warner Bros. are feeling very positively towards the launch of Hogwarts Legacy. He also added that Warner Bros. will continue using franchises like Harry Potter for their "future slate of games":

We are very pleased with the initial launch and see a bright future for our other platform launches. Our goal is to continue to utilize our amazing library of Warner Bros. Discovery franchises as we develop our future slate of games.
Now, this all obviously very tentative, but it alsojust makes complete sense from a financial perspective for Warner Bros. to make a sequel givenhow successful Hogwarts Legacy has been. As revealed in a recent earnings call, Hogwarts Legacy surpassed over $850 million in sales and 12 million units sold in its first two weeks.
The story of Hogwarts Legacy, without giving anything away, is also very compatible with a sequel. And with Hogwarts Castle already created, you would have to imagine that even a low-effort sequel would be fairly solid. They could just give us a 6th year.
There is of course one obvious problem for Hogwarts Legacy, and that's J.K. Rowling. Her being attached to the project through the Harry Potter IP has led to boycotting, review-bombing, and even stream raiding. But in all honesty, we're not sure whether this would prevent a sequel.
Despite there being no official confirmation yet, we think a sequel to Hogwarts Legacy is very likely. Warner Bros. probably didn't plan a sequel from the start because they wanted to see how well Avalanche would do, but based on the commercial success of the game alone, you have to imagine the publisher is now happy for the studio to make another one.
Possible Release Window For Hogwarts Legacy 2
If there is a Hogwarts Legacy 2 then we think it's at least three years away, so 2026 at the earliest. We don't have any official word on a release date yet, but Hogwarts Legacy 2 will be an open-world RPG, so it would be naive to expect them to pump one out in a shorter time frame.
That's all we know so far about Hogwarts Legacy 2, but we will keep this article updated if more news comes to light.
Speaking of exciting RPG sequels...
This article contains affiliate links which are marked with [shopping symbol]. These links can provide a small commission for us under certain conditions. This never affects the products price for you.