If you're planning to play Hogwarts Legacy on PS4, Xbox One or Nintendo Switch, you have to show some extra patience. The release date of the Harry Potter game is already set for February 10, but on last-gen consoles Hogwarts Legacy has different release dates. We'll give you an overview about when you'll be able to play the game on old-gen platforms.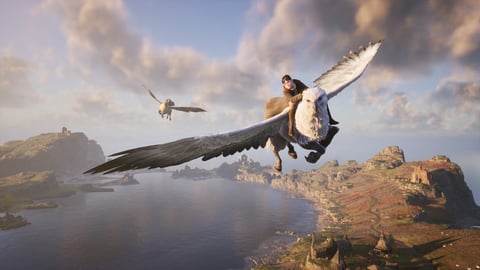 Hogwarts Legacy is going to be released quite soon! We have been waiting for a while as the game has been delayed multiple times. But honestly, we'd rather wait a bit longer and have a well-made, polished game than a Pokémon Scarlet & Violet situation, right?
Publisher WB Games Avalanche has revealed more information on the upcoming Harry Potter RPG. We finally know when which version of the game is going to be made available and playable. Different versions of the game will be ready at different times, so how long will you have to wait for Hogwarts Legacy?
Hogwarts Legacy | Release Date, Latest News & Gameplay
Hogwarts Legacy Release Date: PS4, Xbox One and Nintendo Switch Versions To Start Later
While the game will first release on PC, PS5 and Xbox Series, the old-gen versions will take a bit longer to come out. There is another split here, as PS4 and Xbox One players will get the game on a different date from Switch owners.
Some updates on PS4, Xbox One, & Switch release dates for Hogwarts Legacy. We want to deliver the best possible experience to the entire community, no matter which platform they choose. That said, we're excited to announce the PS5, Xbox Series X|S, and PC versions have gone gold! https://t.co/pForKRZl9p

— WB Games Avalanche (@AvalancheWB) December 13, 2022
Xbox One & PS4 Release Date
Hogwarts Legacy is going to be released on the Xbox One and PS4 on the same date. The game should be ready for April 4, 2023. That's about two months after the initial release for PlayStation 5, Xbox Series X and S, as well as PC.

Nintendo Switch Release Date
Those of you who are looking to play the game on your Nintendo Switch will have to wait a tad longer than the rest. While the time between the PS5 and PS4 version is only around two months, Switch players will have to be patient until July 25, 2023.
You can pre-order Hogwarts Legacy for PS4, Xbox One and Nintendo Switch here!
The developers have explained the reasoning behind the different release dates. They want to make the experience the best they possibly can for every single gamer out there.
We want to deliver the best possible experience to the entire community, no matter which platform they choose
If You're Mad About Hogwarts Legacy, Hold J.K Rowling Accountable
Initially, Hogwarts Legacy was supposed to be released back in 2021, but it has been pushed back on multiple occasions. Now it seems that the dates are set into stone, so there isn't much standing in the way of players finally entering Hogwarts and getting up to some mischief in the grand halls of the world-famous school of witchcraft and wizardry.
Wondering about everything coming in Hogwarts Legacy? Check out the potential magical mounts:


This article contains affiliate links which are marked with [shopping symbol]. These links can provide a small commission for us under certain conditions. This never affects the products price for you.