In Honkai: Star Rail, there are many ways to boost your characters' stats and make them stronger. Since each character has its own weapon equipped right from the start, there is an alternative to common weapons, which are called "Light Cones". How Light Cones work and where you can get them will be explained in this guide.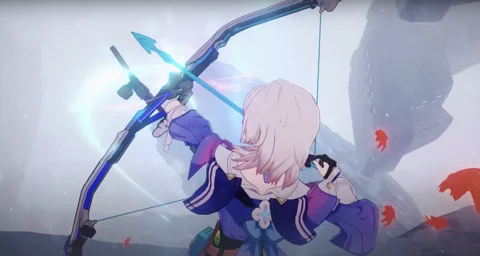 Light Cones are a type of equipment that all Characters can equip. They are the equivalent of weapons in other games and provide stat bonuses to the equipped character. There are a ton of different Light Cones to fit your character type and play style, but since it is a gatcha game, you have to be quite lucky to get the one you desire.
Honkai Star Rail: How Do Light Cones Work
Light Cones have, just like weapons in Genshin Impact, three different rarities: blue (three star), purple (four star) or gold (five star), with blue being quite common and gold being really rare. You can equip Light Cones to your characters like weapons.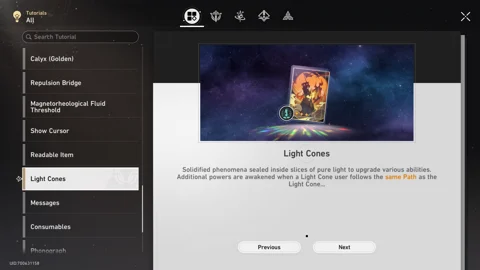 They will provide certain stat buffs, and when matching a character's Path, also can provide powerful abilities.
Find out about the paths in Honkai: Star Rail to ensure you equip the right weapon!
Just like characters, Light Cones can get upgraded and the stat buff that they provide to characters will be increased. So don't forget leveling (1-80) them as well since they are an important part of your unit's kit.
How To Get New Light Cones
Basically, Light Cones work just like normal weapons in other games or even characters. You can pull them on a special Light Cone Banner in the gacha system. You can also receive them on the regular banners when you try to get a specific character.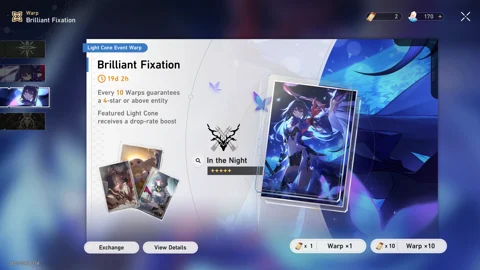 Not only that, but you can unlock Light Cones across Honkai Star Rail through natural progression. You'll get Light Cones from completing quests and casually exploring what Honkai Star Rail's world has to offer.
The best Light Cones are, for obvious reasons, the golden, 5-star Light Cones. Some even fit a specific character, like you can see in the picture. "In the Night" is the 5-Star Light Cone for the current limited character "Seele".
Other 5-Star Characters and their corresponding Light Cones:
Bailu – But the Battle Isn't Over
Bronya – In the Name of the World
Clara – Moment of Victory
Gepard – Night on the Milky Way
Himeko – Sleep like the Dead
Welt – Something Irreplaceable
Yanqing – Time Waits for No One
How Do Light Cones Work
You can equip Light Cones just like weapons.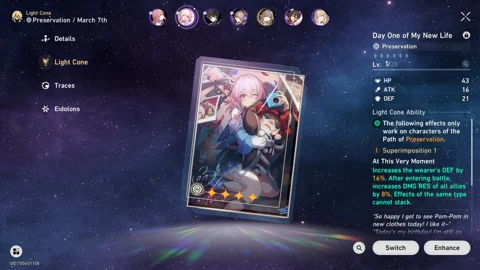 On the right side, you can see, from top to bottom:
The name of the Light Cone,
The path it fits to, in this case it's Preservation
The level that is currently has
The pure stats it provides to your character
The effect, if the paths of your character and your Light Cone matches (it is green if they do fit and gray if you equipped it to a wrong character)
You can also upgrade your Light Cones by fusing two of the same together, making it more powerful. The "Superimposition" shows how may Light Cones you fused together. In this example, it would be just the one.
Still prefer Genshin Impact over Star Rail? Maybe this Ganyu statue to decorate your desk with is right up your alley!
This wraps up all you need to know about Light Cones and how you can equip them. You can check out our Warp banner Guide to learn more about the Light Cone Banner.
We hope you have some great luck with your pulls!
If you are interested in some free games, you should check out the Epic Games Launcher for some goodies!

This article contains affiliate links which are marked with [shopping symbol]. These links can provide a small commission for us under certain conditions. This never affects the products price for you.