In Jedi Survivor, players have the ability to customize Cal Kestis' appearance, his weapons and buddy BD-1, but one iconic element from the first game is sadly missing from the customization options. We explain to you how everything works.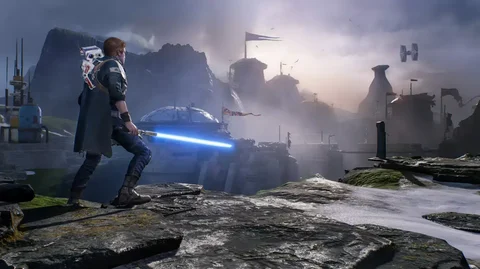 In Jedi: Survivor one of the most exciting new features in the game is the extensive level of customization available to players. From choosing your Jedi's appearance to selecting their lightsaber color and materials, the game allows for a truly personalized experience. These customization options not only add to the immersion of the game, but also provide players with a unique sense of ownership over their character.
Whether you prefer to play as a stoic, traditional Jedi or a more unorthodox, unpredictable fighter, the customization options in Jedi Survivor allow you to create the Jedi you've always dreamed of.
Experience the full range of customization options in Jedi Survivor with the added precision and immersion of a good controller.
Jedi Survivor: All Customization Options
In Jedi Survivor, you can customize the appearance of Cal, his droid BD-1, and his weapons, the blaster and lightsaber. Players can customize Cal Kestis' appearance with various options including hairstyles, beard styles, jackets, shirts, and pants. These can be easily changed by accessing the customization tab in the menu and selecting the corresponding section.
The Survivor jacket is Cal's signature jacket, and there are 22 different jackets to choose from, each with six different color options. There are even different color schemes with trim options available for some shirts and jackets, allowing for even more customization than expected.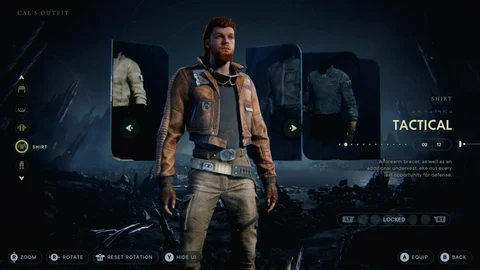 Here are some examples of the available hairstyle and beard customizations:
Some examples of the hairstyle and beard customization options for Cal. pic.twitter.com/gMBv6wDXw8

— Okami Games (@Okami13_) April 3, 2023
With shirts, you also have a wide choice, for example the Tactical shirt. It comes with a forearm bracer and an additional under vest for extra defense. However, these options are purely cosmetic, and there likely won't be any stat implications for wearing different shirts.
I shall end this with stupidity. Here is the B-roll they gave me, put to EXO's "Lightsaber", the group's track for The Force Awakens. #StarWarsJediSurvivorhttps://t.co/aetSS7v379 pic.twitter.com/nrnii8BOPL

— M.H. Williams (@AutomaticZen) April 3, 2023
Moving on to the pants, the standard Survivor pant and belt, with two other pants visible in the background. There are six color options available for the pants as well, emphasizing the fact that no two Cals will look alike in this game. Players can truly make Cal their own, with options to customize their appearance down to mullets, goatees, and leather gloves. One example is Trucker Cal, who has a mullet and a goatee.
Moving on to the lightsaber, there are 19 different lightsabers in the game, and you can mix and match different parts of each to create your own unique lightsaber. The lightsaber has seven components, and you can change the emitter to various options, such as the hunter emitter. You can also change the switch and grip, with various options available for each.
Next, you can change the pommel and grip of the Shoto saber or the shorter second saber of the dual-wield sabers.
Lightsaber customization in Star Wars Jedi: Survivor evolves from Jedi: Fallen Order.

New parts and options such as a polish slider and more! pic.twitter.com/MOZNKV7qWh

— Daily Star Wars Games (@DaiIySWGames) April 3, 2023
There are also nine different blade colors available, including blue, green, purple, yellow, cayenne, magenta, indigo, orange, and white. However, it doesn't appear that you can change the different colors for each blade.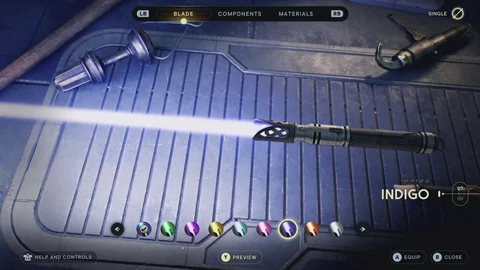 The customization options for BD-1 are also exciting. You can change his photoreceptors, head, and audio sensors, each with about 11 different options. There are also two other categories of parts for BD-1: the chest and the legs. It looks like there are 11 different BD-1s that you can mix and match to get your own unique BD-1. There are also materials for BD-1, but it's unclear if they are separate or if once you've collected a material, you have it unlocked for both the lightsaber and BD-1.
If you like to play games where customization plays a big role, then Elder Scrolls is definitely a good choice for you!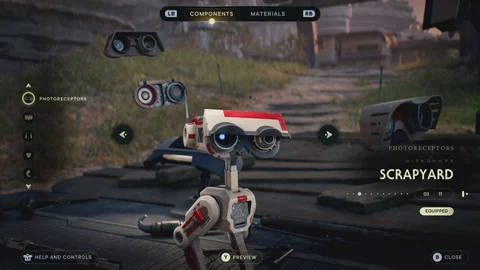 The customization system in Jedi Survivor increases the playtime and replayability of the game. It's not clear how players will unlock all of these different customization options, but we know that we will be able to use priority shards earned throughout the journey of Jedi Survivor to purchase different appearances from Dendra's Antiquities. Overall, the customization options are impressive, allowing players to truly make Cal, his droid, and his lightsaber their own.
Jedi Survivor: Cal Kestis Without Poncho
Following several previews of Jedi: Survivor, many have confirmed that Cal Kestis will have multiple unique cosmetic items to pick from, including a variety of hairstyles and facial hair options. However, one fan-favorite piece of clothing is missing from these choices: the poncho.
Fans of the first game may remember Cal sporting a stylish poncho as a padawan, but it seems that he has outgrown this item now that he is a full-fledged Jedi survivor. According to actor Cameron Monaghan, who voices Cal in the game, he joked that the poncho was a requirement in his contract for returning to the second game. But unfortunately, it seems like he will have to go without it this time.
While some fans may be disappointed that the poncho is not an option for Cal in Jedi: Survivor, others may argue that it's a natural progression for his character. After all, he's no longer a padawan and has presumably developed a more adult sense of style. So, while the poncho may be missed, Cal's new wardrobe options show that he's grown and evolved as a character in the game. Who knows, maybe he'll start a new fashion trend among Jedi survivors.
This article contains affiliate links which are marked with [shopping symbol]. These links can provide a small commission for us under certain conditions. This never affects the products price for you.