An all too familiar tale: the latest triple-A game is going to release with terrible performance on PC. This time it's Jedi Survivor, and the poor PC performance seems to be caused by the way the game renders open worlds.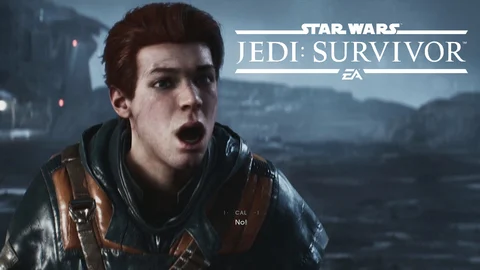 Star Wars Jedi: Survivor has been getting great reviews, with many critiques praising the newly-expanded RPG elements and open-world. We've been playing the game ourselves and we have to agree that Respawn has captured the magic of these environments.
But, there is one giant elephant in the room. The PC port of the game has terrible performance issues, and will need a lot of work to get to a good state.
Despite technical issues, it's an awesome game. So if you haven't already, order Jedi Survivor now!
Jedi: Survivor PC Performance Disappoints
As with so many cross-platform games we've seen recently, Star Wars Jedi: Survivor has clearly been optimized for next-gen consoles, with the PC port feeling like an improperly tested afterthought. Sure, the game is fantastic in every other regard, but graphically it's a let-down on PC.
According to PC Gamer, who did some in-depth testing on the frame-rate, they think the problem lies in the way Respawn are rendering big open spaces:

Using the galaxy map on Cal's ship turned into a slideshow every single time—presumably because it's begun loading the planet I'm about to travel to. Performance in the most open parts of Koboh is pretty bad, too. On an RTX 2080 Super, i9-9900KS 4.00GHz, and 32GB RAM, I was lucky to squeeze a 35 fps average in the semi-open world. Isolated levels ran flawlessly at 80-90 fps, so there's clearly something up with the way Respawn is drawing big spaces. I briefly tried one other machine (RTX 3060, Ryzen 7 5700G, 16GB RAM) and had the same problems.
The issues continued upon launch. As YouTuber Skill Up pointed out, the game got review bombed on Steam due to the disappointing performance:
It begins pic.twitter.com/MvqogJnXlB

— Skill Up (@SkillUpYT) April 28, 2023
If that wasn't enough, there are now also reports about issues surrounding the ridiculously high Jedi Survivor file size. After asking players to download the day one patch, the entire 130 GB have started to re-download for some players. This is an absolute disaster, considering the huge size and other issues surrounding the PC port.
Holy s*** - I preloaded Star Wars: Jedi Survivor (an over 120gb download two days ago).

I just open the EA game launcher and it's says an update is required. Okay...

IT'S 120+gb download again?? WTF? #StarWarsJediSurvivor #JediSurvivor pic.twitter.com/whlxI7cHzi

— Kenji Onozawa (@Kenji_O) April 27, 2023
Hopefully this all gets fixed and we can get an equivalent experience on all platforms, like we had with the previous game, but we're quite sure it will take more than a single day-one patch. We will keep you updated if Respawn responds to the complaints.
Star Wars Jedi: Survivor will be released on Friday, April 28 for PS5, Xbox Series X/S & PC.

If you're a PC player, don't be too disheartened; console players get this kind of treatment as well:
This article contains affiliate links which are marked with [shopping symbol]. These links can provide a small commission for us under certain conditions. This never affects the products price for you.