Yes, mounts are now a thing in Diablo. Here is a guide to mounts in Diablo 4, including how to unlock stables and whether they're available in the beta.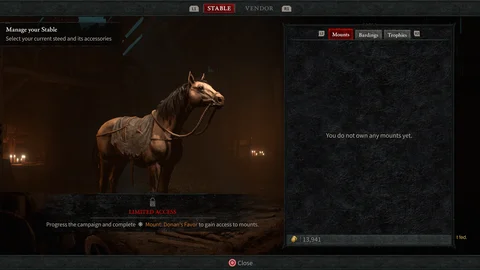 Diablo 4brings many new and wonderful things to the franchise, including mounts. It might seem a bit unnecessary to have mounts in a game like Diablo, but who cares if they're awesome?

In this article, we're just going to go over some of the basics regarding mounts in Diablo. We'll look at how to unlock mounts in Diablo 4

How Do You Unlock Mounts In Diablo 4?
You need to complete the mission "Mount: Donan's Favor" in Diablo 4 to unlock stables, doing so will allow you to store mounts and use the riding mechanic. Once you have unlocked stables, you can either find mounts (or rather mount skins) in the open world (sometimes as loot, other times as specific quest rewards), or you can just buy them.
See, pretty simple.
How Do You Buy & Customize Mounts In Diablo 4?
You need to go to interact with a Stable Master to bring up the Stables menu, and from here you can easily buy and customize mounts. Stable Masters can be found in major settlements.
Here is the first Stable Master you will meet in the game, Oskar: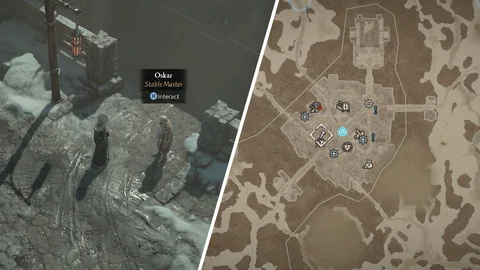 On the right you can see where in Kyovashad you need to meet Oskar. He will be available to talk to right away, even if you haven't completed the quest "Mount: Donan's Favor".
We hope you found that helpful. If playing the beta or our article has made you excited enough to buy the full game, here's a link to get Diablo 4.We suggest checking out this overview of classes before starting the full game.

Diablo 4 is the perfect game for newcomers to the series:

This article contains affiliate links which are marked with [shopping symbol]. These links can provide a small commission for us under certain conditions. This never affects the products price for you.