The Razer BlackShark V2 Pro headset has received a 2023 update and we put the latest version to the test. Let's find out what's new and what you can expect from Razer's esports headset.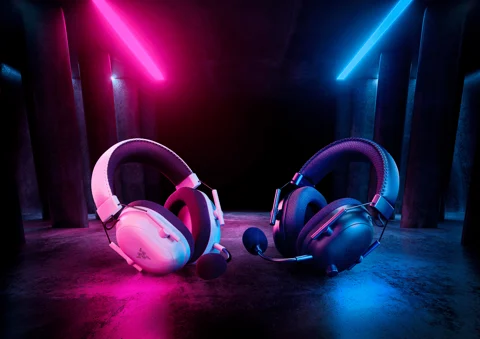 If you don't just want to sit on the couch and play a bit of Mario Kart every once in a while, but take gaming seriously, especially competitive games, you not only have to put in the hours, but also need the right equipment. Most gamers are already familiar with the gaming lifestyle brand Razer, which offers some of the best peripherals on the market, especially in the Esports sector.
We've already taken a look at the Razer Huntsman gaming keyboard in the past, but today we're not talking about your hands, but your ears. The BlackShark V2 Pro headset has received a 2023 update and we talked to Flo Gutierrez, Director Global Esports at Razer, to check out what has improved and why it is the perfect Esports headset.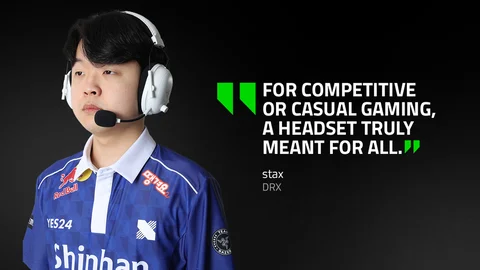 By Esports-Pros For Esports-Pros And Everyone, Who Wants To Become One
The Razer BlackShark V2 Pro was developed in close cooperation with various Esports pros like Shotzzy (Call of Duty), Refsgaard (Fortnite), dexter (CS:GO) and many more. And we're not just talking about the pros saying what they'd like here and there. According to Flo Gutierrez, the company worked closely with them to make this collab happen:
We organize specific testing sessions early in the product development when we bring pros to talk about and review the product. Our esports athletes will also highlight some of the specific needs pros may have so our development teams can evaluate what and where to implement directly into the products.
As competitions heat up and their calendars are blocked with tournaments, we pivot to remote testing, so they play and provide feedback at all stages of product development until the release.
As you can see, Razer is not talking bullshit about their products being among the best of the best, especially in the Esports sector, and the BlackShark V2 Pro is no exception.
What's New About The BlackShark V2 Pro (2023)?
The most important question for all Razer fans and those who are considering upgrading their headset is, of course, what new features the 2023 update has introduced. Here you can see a comparison of the original BS V2 Pro with the new 2023 version:
| | |
| --- | --- |
| BlackShark V2 Pro 2023 | BlackShark V2 Pro 2020 |
| Razer HyperClear Super Wideband Mic | Razer HyperClear SuperCardioid Mic |
| On-Headset Pro-Tuned FPS Profiles | Synapse Audio Profiles |
| Refined Clamping Force, Reinforced Headband, Strengthened Sliders | N/A |
| 2.4 GHz Wireless + Bluetooth 5.2 | 2.4 GHz Wireless |
| Up to 70 hours battery life | Up to 24 hours battery life |
| 15 mins charge for 6 hours of play | N/A |
| USB Type C Charging | Micro USB Charging |
As you can see, the 2023 version has received some really nice upgrades. In the following, we'll take a closer look at the most important ones.
New Microphone For The Best Comms Ever
A good microphone is essential for successful team play in Esports. However, this does not seem to be the standard for wireless headsets just yet, and Razer has addressed the problem.
We noticed that wireless mics today often do not meet the standards of professional esports athletes. To change that, we worked closely with the Razer engineers to introduce the new Razer HyperClear Super Wideband Mic that you'd find available on the headset. It provides crystal clear communications by capturing a wider frequency range of sounds and providing impressive feedback for a wireless mic. We're happy to share that the mic has received universal approval from all our top Team Razer athletes.
We can confirm what Flo promises here. Of course, we could not test the BlackShark V2 Pro in a tournament environment with a live audience, but the voice quality of the detachable microphone was consistently very good in our gaming sessions. No static noises, no popping, and especially not that weird phone-like sound.
The voices actually sound like you're sitting across from your gamer buddies, and all call-outs are clearly intelligible, even when you're speaking in a normal voice. So you don't have to start shouting in the heat of the moment.

The microphone can also be easily muted at any time via the handy little button on the left ear cup. So, if you choke on your energy drink or have to explain to your mom why you can't pause an online game in the middle of a match... one hand is enough to mute you.
Pro-Tuned FPS Audio Profiles For The Best In-Game Sound
Another special feature of the BlackShark V2 Pro (2023) is the pro-tuned on-headset FPS audio profiles, which was created in cooperation with Esports pros in the corresponding games. In total, we get five audio profiles for Call of Duty, Fortnite, Apex Legends, CS:GO and Valorant.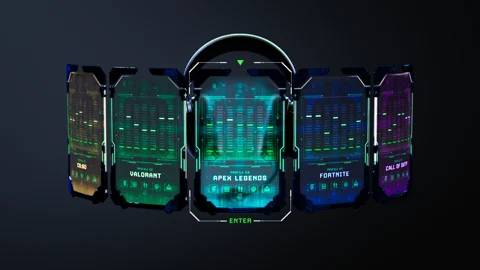 The profiles will deliver the best sound for each shooter, so we get the perfect mix of footstep, reload and ability sounds. The profiles can be easily selected via the Synapse software or the button on the right earcup and also be edited individually. Of course, you can also create and save your own audio profile.
Thanks to the button on the right ear cup, you can also choose between additional presets at any time. Movie, Music, Game and Custom are available here.
In our opinion, the audio profiles created by professionals are a nice addition, as you can easily get a very good sound for some of the most popular competitive shooters. However, we would like to get more profiles in the future via updates or separate downloads. We're thinking of PUBG, Halo, XDefiant, for example; maybe even one for League of Legends or Dota (if custom audio profiles make sense in these games).
Gaming And Listening To Music For Up To 70 Hours
Thanks to the Bluetooth upgrade, the BlackShark V2 Pro (2023) can connect to multiple devices simultaneously via Bluetooth and 2.4 GHz connection. This means that you can connect the headset to your PC with the 2.4 GHz connection and the included stick, and you can also connect to your smartphone via Bluetooth. This way, you can either listen to music via your phone while gaming or even take calls.
Thanks to the refined clamping force of the earpieces and the memory foam earcups, ambient noise is almost completely blocked out. However, if you get a call during a gaming session, you will still hear it thanks to the simultaneous Bluetooth connection.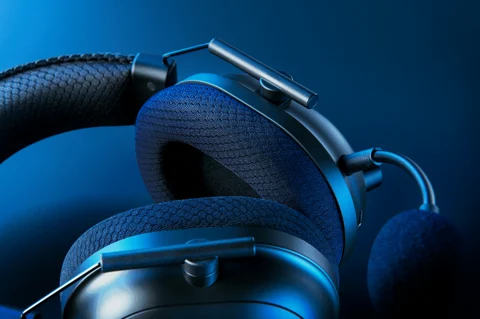 The BlackShark V2 Pro does not offer active noise-cancelling, but this is absolutely no problem, especially for home use. Flo Gutierrez explains the decision as follows:
Active Noise Cancelling (ANC) is something the product team thought about, but ANC is an expensive technology that results in a heavier headset, really only needed on the main stage during competitions.
We wanted to deliver something unique that doesn't compromise on anything. As such, we've worked on ensuring the combination of optimized clamping force and a proper curvature to fit the user's face and ears. This is supported by precisely measured ear cushions to help with passive noise isolation, without the additional weight.
Since the 2023 version also got a battery upgrade, we now get up to 70 hours of battery life according to Razer. Of course, the final runtime depends on various factors, but compared to the 24 hours of the previous version, this is a huge improvement. In addition, the battery can be recharged by a full 6 hours in just 15 minutes with the new USB-C cable. So you should never run out of juice...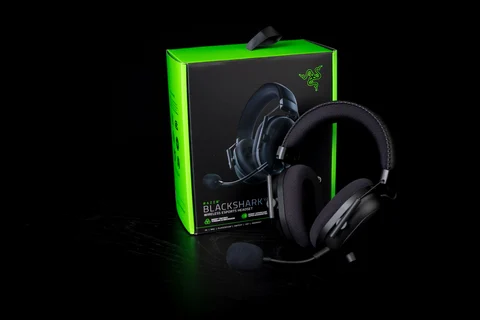 Our Conclusion To The BlackShark V2 Pro (2023)
The BlackShark V2 was impressive from the get-go in our testing, thanks to its high quality microphone and great ergonomics. The microphone delivers an incredibly natural voice quality and thus ensures easy and clear communication – even in hectic matches.

The entire headset is also surprisingly light and the earcups are snug but comfortable. For me personally, the headset's tight fit also felt pretty nice and contributed to great passive noise-cancelling. Those who know they've got a thick skull.... should, however, try on the headset once in a store, because the pressure could get a bit uncomfortable during longer gaming sessions (however, my head is also not the smallest, so the vast majority of gamers should have no problems).
All in all, the BlackShark V2 Pro (2023) delivers what it promises and is an excellent headset for both casual and esports gamers that impresses with its microphone, wearing comfort and battery life, among other things.
It has a hefty price tag of €229.99, but that's definitely worth it for a wireless headset of this quality.