StarCraft 3 may bring back the legendary series with a new sequel. Blizzard's President Mike Ybarra gave us some hints pointing to a possible StarCraft 3. Here is everything we know so far!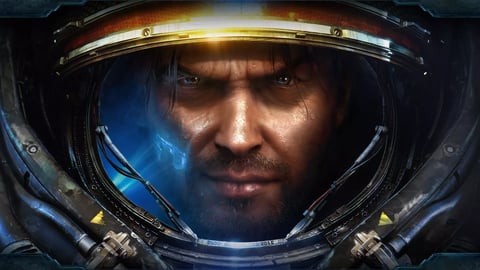 Many fans are wondering if StarCraft 2 will ever get a sequel. Blizzard Entertainment never said anything about a possible StarCraft 3 over the years. At least until now... Blizzard President Mike Ybarra is behaving very suspiciously on social media though, and it seems like he is hinting to the long awaited StarCraft 3.
StarCraft 3 Rumors – Blizzard Is Giving Us Some Hints
In recent months, there have been heaps of rumors about StarCraft 3. The reason for these rumors are Blizzard President Mike Ybarra's Twitter activities. Fans, of course, immediately come up with the wildest theories and put a lot of value into every word that comes out of Blizzard's mouth. But can we actually trust the rumors?
The first time Ybarra hinted towards StarCraft was in January, when Shang-Chi star Simu Liu tweeted "PLEASE SAVE STARCRAFT" and Mike Ybarra answered with a smiley face.
:)

— Mike Ybarra (@Qwik) January 20, 2022
Pretty suspicious right? No?
Then take a look at what he tweeted four months later in April... A photo of an old StarCraft t-shirt. He didn't even add a caption, which is pretty uncommon, right? Maybe he wants us to speculate about what he is trying to say? He can't expect us not to assume something big when he is posting pictures like that. This man definitely knows what he is doing!
April 14, 2022
The print says "My life for Aiur" which refers to a phrase that Zealots would yell before charging into battle in StarCraft.
StarCraft 3: When Can We Expect News From Blizzard?
As Mike Ybarra has announced, Blizzard is trying to bring back the in-person BlizzCon in 2023, which got cancelled in the past years due to the pandemic. The BlizzCon was popular for making big announcements. Although nothing is set in stone yet, we could only hope to get something official about the StarCraft 2 sequel.
Right now, Activision Blizzard have a ton of big projects like Diablo Immortal, Call of Duty: Modern Warfare 2 and Warzone 2, Diablo 4 or Overwatch 2, which will come out soon in October 2022. With that many projects at once, it seems rather unlikely to expect a new StarCraft game anytime soon... But if Blizzard will make the big announcement in 2023, maybe StarCraft 3 will come somewhere around 2026 or 2027?
Either way, we will be writing about it! Feel free to check out all the official game releases this year.