The Action RPG Enshrouded was just revealed and has potential to be the next surprise hit à la Valheim.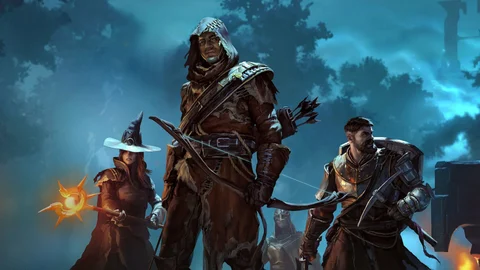 I usually don't like the "X game is Y meets Z" type of formula when describing a new game. But when a developer does it about their own game, it's admittedly pretty funny. So it definitely got my curiosity when Keen Games' co-founder Antony Christoulakis described their new Action RPG Enshrouded as "Valheim meets Zelda".
Will Enshrouded Be 2023's Valheim?
The reveal trailer for Enshrouded is quite overwhelming, but this game immediately looks dope. There's a wild fantasy world, crafting, resource collecting, dungeon crawling, fights against big monsters, a wingsuit? There's a lot going on and while I don't really see the Zelda in this, the Valheim is definitely strong with this game. Check out the trailer here.
Enshrouded will feature a big open-world, which apparently not procedurally generated, but rather hand-crafted. Combat, exploration and building all look really fun and you can play this in co-op with a whopping 16 people. Sounds like the right kind of chaos.
This game definitely looks promising, let's hope they stick the landing. Enshrouded is set to get into Steam early access this year, a concrete release date has unfortunately not been revealed yet. Keep an eye out on this one!