Star Wars Jedi: Survivor has two different editions available for sale, and one of them is much more expensive than the other.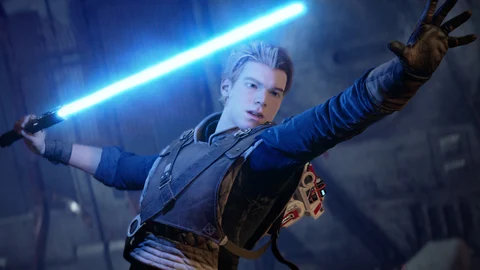 In the modern age of video games, developers and publishers almost always launch a game with multiple editions. This is not only a way to make extra money, but offer players additional content that they otherwise would not have access to.
With Star Wars Jedi: Survivor, the same can be said, as EA and Lucasfilm Games are launching the next saga in the franchise with at least two separate editions. With the release date of the game still over a month away, we could see another, more expensive edition arrive. However, for now, we know of two editions for Star Wars Jedi: Survivor, the Standard Edition and the Deluxe Edition. Read about the differences between each edition in the guide below.
Star Wars Jedi: Survivor Standard Edition
Starting off with the most basic version of the game, there is the Standard Edition of Star Wars Jedi: Survivor. This edition costs the new standard of $70. With the game not releasing for the older-generation consoles, PC players and PlayStation 5/Xbox Series X|S players will have to pay the $70 price tag.
If players pre-order the Standard Edition, they will receive the following in-game items when it launches:
Hermit Cosmetic
Hermit Lightsaber Set
Combustion Blaster Set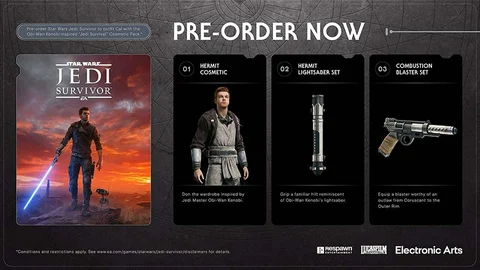 As of right now, that's all that will come with the Standard Edition. If players choose not to pre-order Star Wars Jedi: Survivor, they will just receive the base game and nothing else.
Star Wars Jedi: Survivor Deluxe Edition
Moving on, there is the most expensive edition of the game. The Deluxe Edition of Star Wars Jedi: Survivor costs $90 across PC and console. In addition to the base game, pre-order players will also receive all that was mentioned above. However, players that buy the Deluxe Edition will also receive the following in-game items, regardless of if they pre-order or not:
Scoundrel Cosmetic
Rugged BD-1 Cosmetic
DL-44 Blaster Set
Rebel Hero Cosmetic
BD-ASTRO BD-1 Cosmetic
Rebel Hero Lightsaber Set
It will be up to each individual player to decide whether or not the extra in-game items are worth the additional $20 for the Deluxe Edition compared to the Standard Edition. Star Wars Jedi: Survivor launches on April 28 for PC, PlayStation 5, and Xbox Series X|S.