You got some RP for Christmas and don't know what to spend it on? That's why we've listed the best Christmas skins in League of Legends just for you!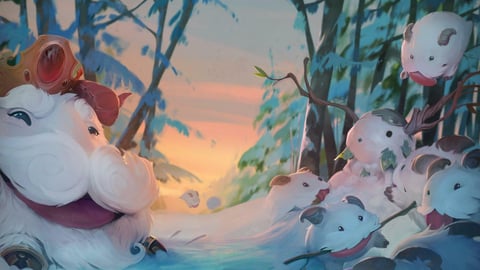 With over 160 champions and over 1,000 skins there is something for everyone in League of Legends. With the temperatures dropping below 0 Celsius (that's 32 Fahrenheit) and snow sprinkling the ground, it's time to check out some Xmas skins in League of Legends.
Christmas is just around the corner, which means it's time to pull out your favorite Christmas skins for your main champions. We've listed some of the best Christmas skins that just get you in the mood to celebrate.
The Best Christmas Skins in League of Legends
5. Festive Maokai
Maokai is a literal tree. Sure, a spooky tree from the Shadow Isles in lore, but still a god-damn tree. So, turning him into a Christmas tree seems completely normal, right? Right. That's why this skin counts as one of the best Christmas skins in League of Legends. Creepy smile included and all.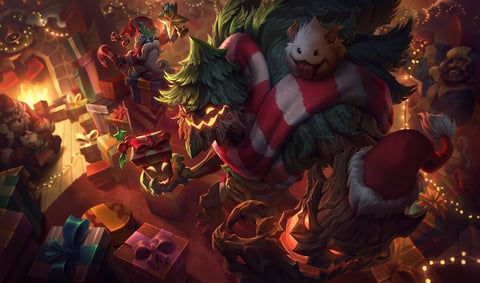 The skin was released all the way back in 2011 and costs 975 RP, but let's be honest it's still a banger skin. It might have aged a bit with more expensive skins having released since then, but overall it's still a skin we love to bring out, especially since his resurgence ever since he was buffed ahead of the 2022 LoL World Championship.
4. Ambitious Elf Jinx
Jinx as a Christmas elf? Yes, that is a thing, and honestly it just works and looks amazing. The in-game model is also pretty nice, her canons have turned into toys and gifts, which give the skin a unique feel. The backing animation is also great making this skin stand out amongst many.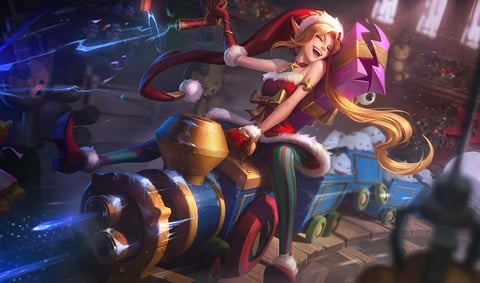 The skin was released back in 2017... can you believe it's been five years already? It's a 1350 RP epic skin, but that's just what this skin deserves since it is a high quality and great Christmas skin with a unique and fun spin on the universe.
3. Re-Gifted Amumu
Not everything is happy smiles on Christmas, right? That's why we have also included the saddest mummy of them all which is none other than Amumu and probably one of the saddest skins he possessed – Re-gifted Amumu. Seriously, this skin might have a sad connotation, but in-game it looks great and is probably even one of the best Amumu skins out there.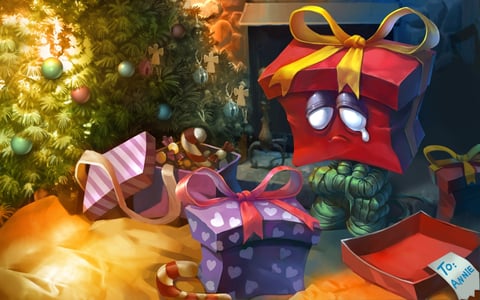 This skin is another older one having been released all the way back in 2010, but it's still a great one. The price tag is also just right at 520 RP. So, let's make Amumu's Christmas a great one and use this skin as we play with our friends to get away from the family drama that follows us around during the Holidays.
2. Snow Day Bard
Now, this might not be a 'Christmas skin' and instead considered a 'Winter skin', but this skin was mentioned so many times by everyone in the office we just had to add it to the list of the best Christmas skins in League of Legends. It gives us Santa feels from an out of space mute alien, and we love it.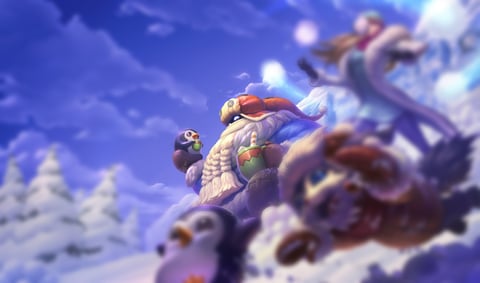 Snow Day Bard was released in 2015 and to this day is one of the best Bard skins out there. You can pick it up in the shop for 1350 RP any time of the year since it isn't a legacy skin! So, what are you waiting for, it's time to get this epic skin!
1. Santa Braum
Just... look at the abs. Do we even have to say anything else? There are quite a lot of Santa skins in League of Legends, Gragas, Draven, Veigar and Zilean getting their own versions of Santa, but let's be real none of those can even compete with Santa Braum!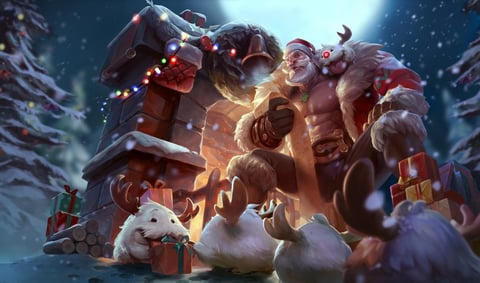 You can get this skin for 1350 RP and since it was released in 2016 it is still a very good and high quality skin. The animations are great, and he rides a sleigh with little Poro-reindeer at the helm in his homeguard. It's just way too cute! Seriously, there is no reason not to use this skin even in July!
These are the top 5 Christmas skins as voted by us here in the EarlyGame office. Do you agree with this list or did we miss your favorite Christmas skin? Let us know in the comments below and Happy Holidays!
This article contains affiliate links which are marked with [shopping symbol]. These links can provide a small commission for us under certain conditions. This never affects the products price for you.