Each summer, Riot holds a huge event. Over the last few years these events have become stale and a grind, but Riot is looking to change things up in 2023 with a brand-new skin line... and some of the information might have been leaked.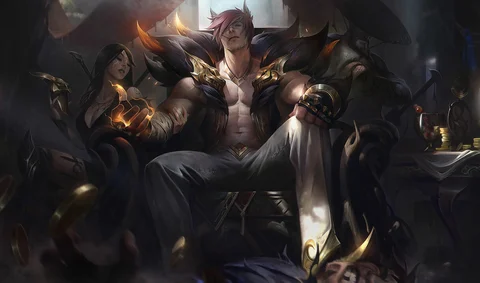 Summer is just around the corner, with the birds chirping, the sun shining and the grass looking nice and green. Instead of going out to touch it though, League of Legends players will spend their time grinding through another event pass in hopes of receiving the prestige skin of their dreams.
Well, if you're a fan of League of Legends and you love their skins, then you should be happy to find out about the upcoming summer event skin theme which has leaked online. Know whether you have to save your precious RP or you can just skip this event and the pass.
LoL: New Skin Line "Soul Fighter" Leaked For Summer 2023
The summer event is a big deal in League of Legends and while the previous years have felt rather repetitive with the visual novel, this year Riot is looking to do something different, which has fans pretty hyped. One of those is the addition of a brand-new skin line.
Recently, League of Legends content creator BigBadBear has revealed the skin line that will be the center piece of the summer event 2023. Of course, this is just a leak and is subject to change, but we're still pretty excited at the prospect of getting these "Soul Fighter" skins.
Soul Fighter Skin Concept
This is a very interesting concept for skins. We've had our fair share of battle skins, but this universe would take it to a whole new level. According to the leaks these skins will encompass a tournament of souls in which participants fight against one another in hopes of receiving the Soul Gem, which can grant a single wish.
The champions participating have to use their own Soul Power to achieve their goals. Doesn't this just sound perfect for champions like Sett or Samira?
Champions Leaked
Two champions have leaked to be getting skins in this universe. Samira, as fans had hoped, as well as Pyke who is going to be getting another new skin in a new skin line.
Samira is also rumoured to be the champion to receive a Legenday+ skin, which would be a new skin tier.
New LoL Skins Introduce New Skin Tier
There have been rumours surrounding a new skin tier. These rumours were likely confirmed recently by Riot Sakaar who explained on Twitter that things like the Winterblessed Diana or Empyrean Pyke pentakill celebration make the skins "more" than a legendary.
These comments have some fans speculating whether a skin tier between Ultimate and Legendary could be in the works and BigBadBear believes that during the summer event 2023, for the Soul Fighter skins, we could see the introduction of this new skin tier.
Expected Release Date For New LoL Skins
These skins are expected to release with the summer event, so obviously, they will be released in the summer. These skins should come out around LoL Patch 13.13, which coincides with previous summer event skin lines as well, so you can expect them on the Public Beta Environment as soon as June 13, 2023.
These leaks look pretty juicy and they come from a reliable source so we're excited to find out about the champions, as well as the looks of these skins. Fingers crossed for a prestige Kog'Maw skin!
This article contains affiliate links which are marked with [shopping symbol]. These links can provide a small commission for us under certain conditions. This never affects the products price for you.