Everybody wants to make millions of coins in FUT. With a filled bank account, you can get every player you want in your squad – and the true ultimate team. TheDanishTrader got some investment tips for you during the TOTS time in FIFA 23.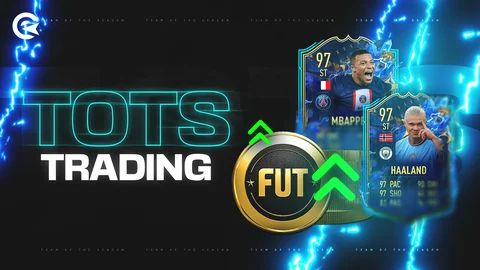 Are you seeking investment opportunities that offer passive profits throughout TOTS, without the burden of risk? Look no further, because you've landed in the right place!
I am TheDanishTrader, the proud owner of thedanishtrader.com and the leader of one of the world's most successful trading groups. With expertise in the world of trading, I'm here to help you make easy coins.
Best Cards To Buy During TOTS In FIFA 23 – Safe FUT Investments
Always make sure to buy and sell at the right moment in FUT. In case of you being completely unfamiliar with how trading works, EarlyGame has put together some basic rules on trading in FUT for you.
Now, let's dive straight into my trading tips during TOTS!
Buy Meta Low Tier Gold Cards
To understand my idea with this investment, I will walk you through a short lesson in supply and demand. But don't worry, it's a simple one – so stay with me here.
In a typical week, we might witness a round of promo packs with relatively stable levels of supply & demand. However, when TOTS rolls around, everything changes. Saved packs, 125K pack lightning rounds and a massive will to pack a TOTS correlates to an insane amount of supply on the market. So what does this mean?
The most packable cards – low tier golds – will take a sharp decline in price. And that's exactly what we'll take advantage of. Because people opening packs with coins will soon be broke and need a team to play with.
When to buy? 2 days after release of Community TOTS (Sunday).
When to sell? Thursday of Community TOTS (1 day prior to PL TOTS).
The best part? You can repeat this during Premier League TOTS as well.
Players That Will Increase In Value During TOTS: My Top 10
Ferland Mendy
Achraf Hakimi
Ousmane Dembélé
Fikayo Tomori
Jules Koundé
Alphonso Davies
Raphaël Varane
Marcos Llorente
Federico Valverde
Presnel Kimpembe
Make Coins With League Upgrade SBCs
Investment: Gold rares from top 5 leagues
Buy price: 700 coins or fewer
The idea here is simple. During TOTS, League Upgrade SBCs tend to gain significant popularity as players clamor for the chance to get the desirable items in packs. Naturally, this increased demand leads to a spike in prices for the required gold rare cards from certain leagues. I recommend that you focus on one league at a time.
Begin by purchasing gold rare cards from the Premier League, and then wait for a week before moving on to the next league. As you purchase the next major league's gold rares, make sure to sell off your existing investments in the current TOTS. By following this approach, you'll be able to stay ahead of the market trends and take advantage of the increased demand for gold rares in each league. What to do now? Stock your clubs with gold rares from the Premier League. Check out the list here.
Sell a day or two after the Upgrade SBCs are released. Note: If EA end up changing the requirements, make sure to have spread your coins on the other investments, so you make profit no matter what happens.
Invest In SBC Fodder
Investment: SBC fodders during mass supply in periods of no popular SBCs
I am unable to provide a specific date for when to buy at this moment, as it largely depends on market conditions during TOTS. However, I can offer some guidance on what to watch out for.
Keep a keen eye out for a week during TOTS when EA doesn't release any noteworthy SBCs. When this happens, it's often an opportune moment to pounce on any player rated fodder that is currently at a 3-month low. In previous years, such an opportunity has arisen around Bundesliga TOTS and La Liga TOTS, but market conditions can vary from year to year.
As such, I will be updating you guys on my Instagram on when to buy and on my website thedanishtrader.com. If you'd like to stay in the loop, feel free to follow along there. All I have left is to encourage you to use these tips. You won't regret it. If you have any questions, feel free to ask. I'm here to help with anything.