Epic Games is working on a first-person view for Fortnite that could completely change the game as we know it. And it will be coming to the game in Chapter 4 Season 2.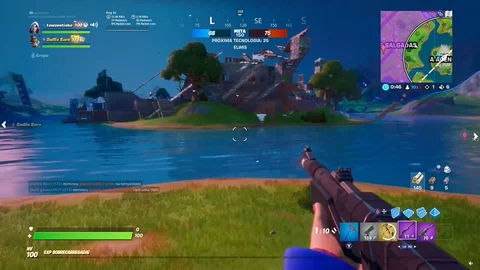 Fortnite has long been known for its third-person perspective, which allows players to see their surroundings and the structures created using the building mechanics. Some time ago, leaks circulated on the internet claiming that Epic was supposedly working on a first-person view. And now these leaks are getting worse! According to the most famous Fortnite leaker out there, Fortnite will join the world of first-person shooters in Chapter 4 Season 2.
Leak: First-person view will come to Fortnite in Chapter 4 Season 2
According to a slightly older tweet from our favorite Fortnite leaker HYPEX, who has historically been a reliable source of Fortnite leaks and news, Epic Games has started developing a first-person camera mode during Chapter 3, Season 3 .

FIRST PERSON CAMERA IN FORTNITE

This update Epic began working on some stuff about first person camera mode but there's no other info about it at the moment as it looks like it's still in early development. Would work REALLY well for the Zero Build Modes pic.twitter.com/PIRRmdLyp0

— HYPEX (@HYPEX) June 7, 2022
At the time he wrote:
In this update, Epic has started working on some things related to the first-person camera mode, but there's no further information on that at the moment as it looks like it's still in early development. This view would work REALLY well for non-build mode.
After that, it became quiet about the supposedly new camera view until this season with Fortnite patch 23.30, when some players suddenly got a bug where they could play the Battle Royale game in first-person view.

First person scar game play #fortniteleaks pic.twitter.com/4YpjaSPo78

— Aurora (@TwIInXD) January 31, 2023
Noted leaker @ShiinaBR commented on the clip, saying, "What you see in this video is obviously a bug, but the final product probably won't look much different".
When running, the camera angle is clearly flawed, and the character model obscures most of the screen. However, if you aim in that direction, you see a real first-person perspective!
Leaker iFireMonkey also found files in the last update that clearly indicate a first-person view for Fortnite:
The glitch causing players to be able to enable First Person mode in Battle Royale VIA changing a setting in STW is due to Epic Games adding a lot of First Person files for Battle Royale this update relating to first person for different gun types. pic.twitter.com/KxzOxcnTP1

— iFireMonkey (@iFireMonkey) February 2, 2023
We think we all realize that a first-person view in just normal build mode would be pretty crappy. After all, building and editing is hard enough as it is. However, as HYPEX also mentions, the first-person camera mode could be specifically suited to Fortnite's no-build mode, since players don't need to see their structures there.
However, some fans were concerned that the lack of visibility of your skins could reduce the value of cosmetics in the game. And after all, it's also Epic's biggest source of revenue. Perhaps, with a first-person shooter view, they could also work on new and badass weapon skins, similar to Valorant's. At least we think that the lack of skin visibility is by far the smallest issue here.
Here's how you can try Fortnite first-person view right now
In fact, with a little trick, you can try out the first-person perspective in Fortnite right now. Unfortunately only if you own the paid save the world mode. If that's the case, do the following:
Log into Fortnite and open the main lobby
Go to the Battle Royale tab on the left side of the main screen
From the main menu, select the Save the World tab
Click the Options button and go to Settings
Click on the Game tab
Under the Extra Game option, turn on the first-person camera and click Apply
Go back to the Battle Royale and choose a creative island
Load the game and press the Build button
This will enable first-person view in Fortnite and allow you to play the game in first-person view. This video explains the procedure step by step:
When will first-person view be available for Fortnite?
An insider has confirmed to Hypex and Shiina that the new first-person shooter view is indeed coming to the game in Chapter 4 Season 2.
FIRST-PERSON IS COMING NEXT SEASON

The same source who contacted @HYPEX & me about all the other real leaks also told us about that one! pic.twitter.com/iq2EPbQALe

— Shiina (@ShiinaBR) March 4, 2023
That means we'll find out what the first-person view looks like in Fortnite in just a few days, so stay tuned!
This article contains affiliate links which are marked with [shopping symbol]. These links can provide a small commission for us under certain conditions. This never affects the products price for you.