Apex Legends Mobile is far easier to play when you have a bigger screen and a controller, or a keyboard and mouse. So, how do you go about playing Apex Legends Mobile on PC? And will an emulator work?
Apex Legends Mobile has launched with great success, and fans around the world are getting to enjoy the action of the games on the small screen. But after you've had a few practice games, the obvious question becomes: how can you get keep (or start) winning? And the answer is by using a controller, or playing on PC.

In this article, we're going to show you how to play Apex Legends Mobile on PC.
Can You Play Apex Legends Mobile On PC?
Yes, but you need to install an Android mobile emulator on to your PC before you can play Apex Legends Mobile. An emulator basically creates a virtual mobile device on your computer, which allows us to trick the Apex servers into thinking we're playing on a mobile, but really, it's just an application on a PC.
Apex Legends Mobile can run on iOS or Android, but there are no good, free emulators for iOS. However, there are some great alternatives for Android.
Which Android Emulator Should You Use For Apex Legends Mobile?
We suggest using Bluestacks as an Android emulator if you want to play Apex Legends Mobile on PC. There are other options out there, but Bluestacks is well-supported, easy to install, and it works seamlessly on either Mac or Windows. Compared to the other options out there, Bluestacks is clearly the best option.
How Do You Install Bluestacks?
1. Download Bluestacks
You can download Bluestacks for free on either Mac or Windows by following this link. You don't need to provide any payment details or even create an account to download Bluestacks, and the system requirements are so low that pretty much any computer from the last 10 years should have no problem running it.
Once you have it downloaded, you can open either the .dmg file on Mac or the .exe file on Windows. Don't worry, it's safe.
2. Install Bluestacks
When you open the Bluestacks folder, it should automatically begin installing for you. The only issue that can occur is when it's being blocked from installing, and we actually had it require us to run the installer as an administrator. If this security error is stopping you from installing Bluestacks, here is how you run the app as an administrator:
Locate the Bluestacks .exe file and right-click it, select "Properties".
From this window go to the "Compatibility" tab.
Check the box marked "Run this program as an administrator".
Open the installer.
Now it should begin installing.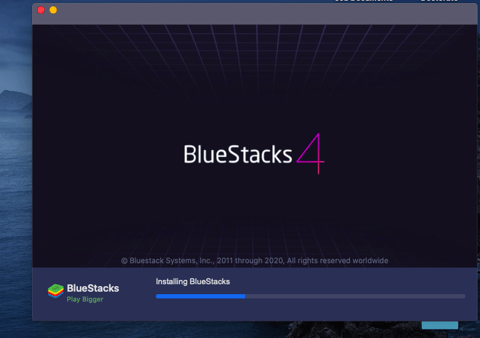 3. Sign-in With Facebook, Google or Discord
To use Bluestacks you need to sign in with Google, Discord or Facebook. That's just the world we live in now, there's nothing you can do as a "guest" anymore.
Click on the gray man in the top right corner to bring up the sign-in page. We're sure you all have at least one of these accounts and don't need to be told how to enter your password.

Now you're signed in you can use Bluestacks with full functionality.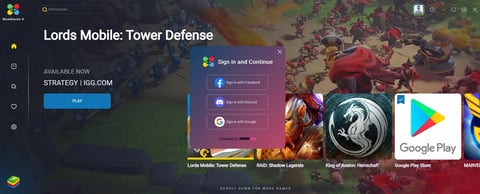 4. Install Apex Legends Mobile
Search for Apex Legends Mobile using the search bar, then click install on the app, and it will install to your game center (which you can select from the menu on the left-hand side of the screen). And you've done it, you've installed Apex Legends Mobile on PC. Congratulations!
Note: At the time of writing (May 20, 2022) Apex Legends Mobile is temporarily not discoverable on Bluestacks. But as the Bluestacks devs advertise on their own site, the app supports Apex Legends Mobile, and so you can expect them to fix this very soon.
That's all there is to know about playing Apex Legends Mobile on PC. We will, of course, update you as soon as Bluestacks deploy a patch to allow the game to be installed. Until then, you can still gain a huge advantage simply by playing on a phone, but using a controller.