Along with Chapter 4 Season 2 a bunch of new characters have come to the new Fortnite island. These NPCs give you access to weapons, quests, and special items like rifts and disguises, so knowing their exact location is important. Here's a quick and easy overview about all NPC spawn locations in Fortnite Chapter 4 Season 2 and where to find them on Fortnite island.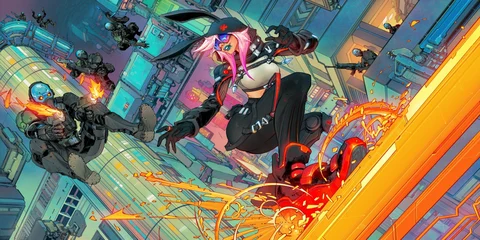 With Fortnite Chapter 4, Season 2 the map has changed again!
Perhaps you have already encountered one or the other resident of the island on your journey of discovery through the new places. As always, these characters have some pretty nice stuff for you, sell you cool mythical or exotic weapons, rifts, or let you hire them to fight alongside you on the island.

Sounds exciting, doesn't it? Of course it does. So here we have compiled a list of all the NPC characters and their locations on the island of Fortnite.
Fortnite Characters: NPC Locations On Chapter 4 Map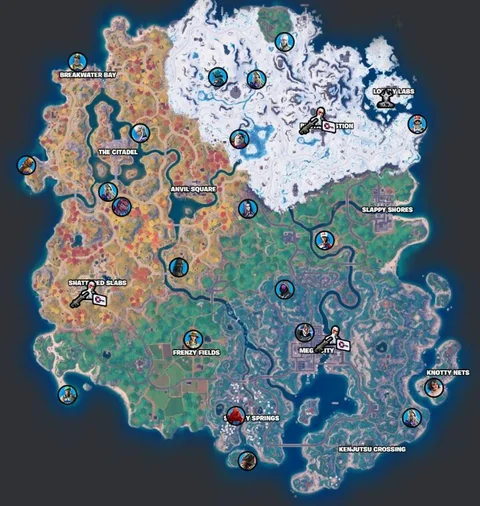 Some characters no longer dwell on their spawn point, instead wandering around on a set path. Also, certain characters have multiple spawn points or share their spawn area.
So if you don't find a certain character, it either didn't spawn, or another player already killed or recruited the NPC. It's best to just start a new round. With all that said, let's take a look at the 21 NPC's thar are available on the map.
#1 CRZ-8
CRZ-8 is located in the new biome northwest of the Mega City at the Bamboo Circle. You can challenge him or buy a key from him.
#2 Evie
You can find Evie at Knnotty Nets in the south of the island. She'll sell you a crack and a tactical pistol.
#3 Garrison
Garrison is on the headland in the southwest of the map at the water station. You can recruit him and he will sell you the Maven Auto Shotgun.

#4 Longshot
Longshot is located west of The Citadel by the Royal Ruins. He predicts the next storm for you and lets you hire him.
#5 Mizuki

Omega Knight roams northeast of The Citadel. She'll sell you the Kinetic Blade and Chug Splash.
#6 P33ly
P33ly is wandering around "Secured Area". This location is in the east of Shattered Slabs. He sells a big shield potion and a Combat Shotgun.
#7 Polar Patroller
Of course, Polar Patroller is where it's cold. More specifically, he wanders around the west of the Ice Islands. He sells you the Combat Shotgun and lets you hire him.
#8 Remedy
Remedy is at the Far Fortress in southwest Slappy Shores. She'll sell you a medkit and let you hire her.

#9 Stray
Stray can be found in the northwesternmost building in Mega City. He'll sell you a Heavy Sniper and a Shield Fish.
#10 Sunflower
Sunflower likes it warm and takes care of the northern fields at Frenzy Fields. She sells you a Havoc pump action shotgun and you can - for whatever reason - leave a tip for the bus driver.
#11 Thunder
Thunder hangs out on the beach at Lotus Overlook Island in southern Steamy Springs. He will sell you a shield keg and a Red-Eye Assault Rifle.
#12 Triarch Nox
Triarch Nox can be found in two locations. She can either be found in the southernmost building in Lonely Labs, or in the eastern part of Mega City in the southernmost building of the Windcatcher Pond. She is a bonus NPC and will likely become an important character later in the Season 2 story.
#13 Highcard
Strictly speaking, he is not an NPC, but a boss that spawns in different places on the map. He is quite strong and is accompanied by 2 other NPCs. If you defeat him, however, he will drop you a key card that gives you access to the Fortnite vaults.

#14 Triage Trooper
Triage Trooper is south of Lonely Labs and east on the edge of the island. She lets you hire her and sells you a healing spray.
#15 Sludge
Sludge will let you hire him and sell you a Havoc shotgun. It is located in the southwest of Steamy Springs.
#15 Munitions Expert
Munitions Expert can also be hired by you. She sells you a Havoc assault rifle and is located in the far north of Breakwater Bay.
#16 Insight
Insight walks around the ice cave north of Snowshrine. He uncovers the next storm for you and lets you recruit him.
#17 Imani
Imani is in a small house southwest of Anvil Square. She sells you minis and a submachine gun.
What Do NPCs Do In Fortnite?
Every NPC in Fortnite Chapter 4 will sell or drop you some item. Some items require you to pay with gold bars to get the item.
It should also be mentioned that if you ever shoot at an NPC, they will suddenly turn hostile and shoot back at you. In most cases, it's better to just run away, otherwise you risk getting killed by them. And you don't want that, do you? But don't worry, if you've put some distance between you and those hostile NPC's and there's no other player around, they'll calm down after a while too, so it's easy.
And done! Now you know where each NPC is located in Fortnite Chapter 4, Season 2. Hope this is helpful in finding your new Fortnite favorite.