Here you can find all information you need to know about the new Warzone map, including its release date. So if you're interested in the next Battle Royale map coming to Call of Duty, keep reading.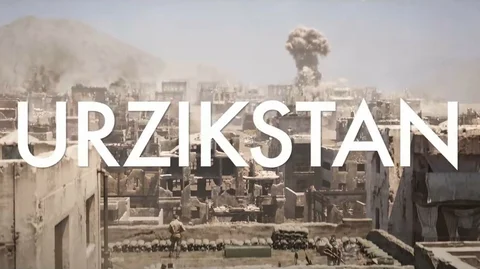 The biggest form of new content we get in Warzone is the new BR map each year. We get one of these maps with every mainline game, and we think we now know what the big map coming with MW3 will be.
In this article, you can check out all the info we've found about the next Warzone map. Check back regularly if you don't want to miss anything.
Excited by the changes coming with MW3? Here's a link to buy it on Xbox, although we advise getting it on PS5 if you have both consoles because the first weekend of the MW3 beta is a PlayStation exclusive.

Next Warzone Map: Current Rumors Suggest Urzikstan Location
We can say with 100% certainty that we are getting a new Battle Royale-sized map one month after the release of Modern Warfare 3, when MW3 Season 1 begins. We also have heard a leak concerning the location of that map. Apparently the new Warzone map coming in MW3 Season 1 will be set in Urzikstan. This is a fictional country in Call of Duty.
Here is the leak:
The MWIII Warzone map is set in Urzikstan.
(Zombies too)
Featuring some old school maps on it (Countdown from COD4 is one of them)

— Alaix (@HeyImAlaix) September 19, 2023
Alaix, the leaker, has been correct about almost all of their claims so far this year, so we trust the info (they recently leaked the MW3 Zombies beta).

New Warzone Map: Urzikstan | Release Date
We think the new Warzone map set in Urzikstan will be released on Wednesday, December 13 at 9 am PT (12 pm ET / 5 pm GMT / 6 pm CET). This is when Modern Warfare 3 Season 1 is expected to begin, and we usually get the new big map each year with the first season of the new game.
There is a small chance they launch Season 1 exactly one week early, but that's the only alternative to this data and time that we can imagine.

If you want to be prepared for the launch of Modern Warfare 3, check out the Xbox Series Elite 2 Controller or the PS5 DualSense Edge Controller
New Warzone Map: Urzikstan | Known Details
The fictional country of Urzikstan is located where Georgia is in real life, east of the Black Sea and just south of Russia. However, the creatives behind the Call of Duty story have been very liberal with their portrayal of Urzikstan; sometimes it really does feel like a country neighboring Russia, but in a lot of missions they're clearly using Urzikstan as an analogue for Syria. They use it for whatever they need at the time.

"Warzone 1 Sniping Is Back – As Crazy As The Kar98k Days" MW3 Leaker Reveals Popular Changes Coming With Next Integration
So, even though we have seen Urzikstan portrayed in Call of Duty in the past, we can't use those portrayals to exactly predict what the new Warzone map will look like. We can only really say that it will look like a place that it exists somewhere between Damascus and Moscow. Sorry we can't narrow it down further.
Some have speculated that this clip from the MW3 reveal event is the new Warzone map:
Some people think this was the worlds first look at the new Warzone map for Modern Warfare 3 pic.twitter.com/EwISxi23d2

— ModernWarzone (@ModernWarzone) September 10, 2023
It could be Urzikstan, although we really don't have anything to corroborate it.
This is all the current info we have about the next Warzone map. We hope you found it helpful.
This article contains affiliate links which are marked with [shopping symbol]. These links can provide a small commission for us under certain conditions. This never affects the products price for you.