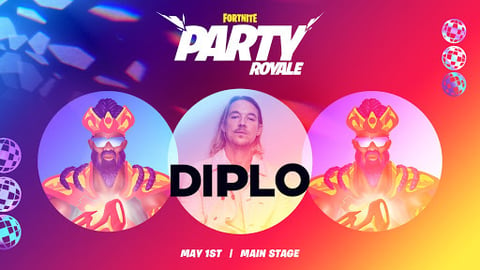 Fortnite veranstaltete einen Live-DJ-Act im neuen Party Royale Modus, welchen viele Spieler angesichts der kurzen Zeitspanne zwischen der Ankündigung und der eigentlichen Show verpasst haben dürften. Doch keine Sorge. EarlyGame hat eine vollständige Zusammenfassung, die Tracklist und mehr!

Erst vor Kurzem durften wir ein Konzert von Travis Scott in Fortnite erleben, welches Rekorde brach! Nun trat Diplo mit Major Lazer live in der Nacht von Freitag auf Samstag um 3:00 Uhr im neuen Party Royale Modus auf. Moderiert wurde der Act von dem Schauspieler Jordan Fisher direkt aus seinem Wohnzimmer.
watch it all live on twitch: https://t.co/glEdOmsQ60 https://t.co/WvqE1rr9kh

— diplo (@diplo) May 2, 2020
Für diejenigen, die nicht wissen, was Major Lazer ist: Major Lazer ist ein jamaikanisch-amerikanisches elektronisches Musikprojekt mit Hits wie "Lean on" und "Light it up". Jordan Fisher ist ein amerikanischer Sänger, Tänzer und Schauspieler.
Wie sah der Event aus?
Vor dem Fortnite-Update 12.50 schickte Epic Games eine E-Mail an ausgewählte Content Creator, in der diese einen Einblick in das Update bekamen. Epic kündigte in der E-Mail an, dass es ein brandneues Feature namens Fortnite Party Royale geben wird. Sie erklärten dann, dass sie am 1. Mai, einige Funktionen testen würden.
Die Veranstaltung von Fortnite Party Royale wurde am Freitag um 20.20 Uhr EDT über den Twitter-Account von Fortnite angekündigt, nur 40 Minuten vor Konzertbeginn um 21.00 Uhr EDT und 03:00 Uhr deutsche Zeit.
Nice night for a party

In 30 mins join @Jordan_Fisher and @Diplo, performing his Major Lazer set, LIVE at the Fortnite Party Royale Main Stage!

You won't want to miss it pic.twitter.com/oQlNndrgh8

— Fortnite (@FortniteGame) May 2, 2020
Sobald die Zeit gekommen war, drängten sich die Spieler in die Party Royale Lobby und begaben sich zum Hauptbühnenbereich, um eine Botschaft des Schauspielers und Fortnite-Fans Jordan Fisher zu verfolgen.
Welche Lieder wurden gespielt?
Nach einer kurzen Erklärung betrat Diplo für etwa 20 Minuten die virtuelle Bühne, um die folgenden Lieder zu spielen:
"King Of The Party" Major Lazer - ft. Mr. Killa
"Rave de Favela" MC Lan - ft. Major Lazer & Anitta
"Que Calor (Remixes)" Major Lazer - ft. J Balvin & El Alfa
"Blow That Smoke vs. Default Vibe (Mashup)" Major Lazer - ft. Tove Lo
"Lean On" Major Lazer - ft. MØ & DJ Snake
"Light It Up (Remix)" Major Lazer - ft. Nyla & Fuse ODG
"Light It Up (Quintino Remix)" Major Lazer - ft. Nyla
"Believer" Major Lazer - ft. Showtek
"Lay Your Head On Me" Major Lazer - ft. Marcus Mumford
"Lay Your Head On Me (Lost Frequencies Remix)" Major Lazer - ft. Marcus Munford
Hier kann man das Event nochmal Revue passieren lassen:
Belohnungen für die Teilnahme
Zum Abschluss der Veranstaltung erhielten die Spieler für ihre Teilnahme den Neon Wings Back Bling. Der Major Lazer Skin wurde ebenfalls im Item Shop für 1.500 V-Bucks verkauft.
Epic Games hat nun mit drei verschiedenen Musikkünstlern zusammengearbeitet, darunter Major Lazer, Marshmello und die jüngste Zusammenarbeit mit Travis Scott. EIne solche umfassten offenbar immer eine Live-Veranstaltung, Belohnungen, Items, die im Fortnite Item Shop erworben werden können. Bei den zwei Letzten Kandidaten gab es sogar Herausforderungen, die abgeschlossen werden konnten.
Major Lazer im Shop, Major Lazer im Stream von Dr. Lupo? Zufall? Party Royale Event kommt :D pic.twitter.com/2l3FoJO22L

— Hey Stan (@HeyStani) May 2, 2020
Dies ist erst der Beginn
Zum Ende des Events teilte Fisher mit, dass das Event von Major Lazer erst der Beginn des Party Royale ist und dass wir noch einiges mehr erwarten können. Das lässt darauf schließen, dass wir wohl in Zukunft noch einige Musiker erleben dürfen, welche uns ein virtuelles Musik-Feuerwerk bescheren werden. Wir sind gespannt, mit welchen Künstlern sich Epic Games in Zukunft zusammenschließen wird.
Und jetzt die schlechte Nachricht: der Fortnite World Cup wurde leider abgesagt, jedoch können wir uns bereits auf die FNCS Invitational vorbereiten oder iMidas Herausforderungen abschließen. Wo seine goldenen Rohrzangen versteckt sind, verraten wir hier.
Sponsored by