In wenigen Tagen startet Fortnite Chapter 4 Season 3 und wie es scheint, werden wir zum Beginn der neuen Season ein großes Einzelspieler-Event erhalten! Hier kommen die Details.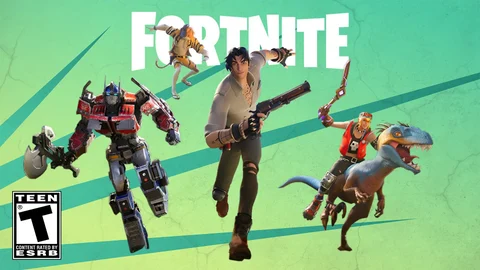 Fortnite Chapter 4 Season 3 steht vor der Tür und die Spieler warten gespannt, was passieren wird. Während bereits krasse Details wie der Battle Pass und das Thema der Season geleakt wurden, sind wir uns noch immer nicht sicher, ob es zum Ende der jetzigen Season ein Live-Event geben wird.

Jedoch verrät uns jetzt ein weiterer Leak, dass ein Einzelspieler-Event stattfinden soll, sobald die neue Season beginnt.
Fortnite Season 3 startet mit Einzelspieler-Event
Während wir meist zum Ende einer Season ein Live-Event erhalten haben, in dem die Story von Fortnite fortgesetzt wird, gab es auch schon die ein oder andere Season, die mit einem kleinen Einzelspieler-Event gestartet ist.

Und genau dieses Konzept soll, wie es scheint, auch in Chapter 4 Season 3 stattfinden.
Fortnite Leaker NotJulesDev hat Folgendes auf Twitter geteilt:
CH4S3 will launch with a special EventFlag codenamed "AloeCrouton"
might be our first look at next season's skins or something else completely only time will tell#Fortnite #FortniteLeaks

— not YLS-Dev trust (@NotJulesDev) May 13, 2023
CH4S3 wird mit einem speziellen EventFlag mit dem Codenamen "AloeCrouton" starten.
Das könnte uns einen ersten Blick auf die Skins der nächsten Season, oder etwas ganz anderes gewähren. Das wird die Zeit zeigen.
Der Unterschied zu einem Einzelspieler-Event am Anfang einer Season ist, dass es sich hier um kein Live-Event handelt, sodass niemand es verpassen kann. Du kannst als Spieler immer daran teilnehmen, sobald du das Spiel das erste Mal in der neuen Season startest.

Bisher weiß noch niemand, was der Codename "AloeCrouton" bedeuten soll, falls wir aber mehr über das kommende Event erfahren, werden wir diesen Artikel natürlich für dich aktualisieren.

An dieser Stelle mal ein dickes DANKE an unsere Partner von Euronics. Ohne die große Unterstützung würde unsere deutsche Fortnite-Kategorie nur halb so cool aussehen!
Powered by
Mit dem Einkaufswagen-Symbol markierte Links sind sogenannte Affiliate-Links, über die wir unter bestimmten Umständen eine Provision erhalten. Für dich entstehen dabei keinerlei Mehrkosten.