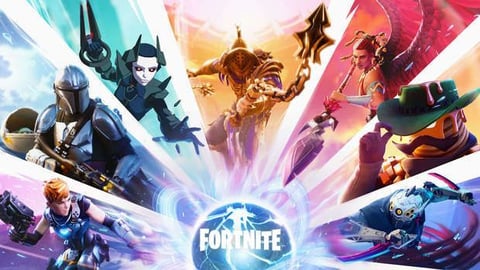 Fortnite Season 5 ist hier und wir lieben es! Die neue Season des Battle-Royale-Giganten steckt voller neuer Spielmechaniken und Goodies. Eine der wichtigsten und coolsten Neuerungen sind die NPCs, die überall auf der Karte verteilt sind. Hier seht ihr, wo ihr die bunten Charaktere finden könnt!
Ihr habt es wahrscheinlich auch so oder so ähnlich erlebt: ihr droppt irgendwo auf Battle Island, lootet alles, was nicht bei drei auf dem Baum ist, und versucht euch, vor eventuellen Feinden zu verstecken. Dann hört ihr auf einmal Schritte; da ist jemand! Ihr macht euch auf dem Weg zu den Geräuschen, seht eine Figur und wollt gleich los schießen. Aber stopp! Die Figur hat eine Sprechblase über dem Kopf! Ihr könnt mit ihr reden! WAAAASS? Ja, Fortnite Season 5 hat NPCs hinzugefügt, mit denen ihr reden könnt, die euch Quests und Bountys geben – und euch (für die neue Goldbarren Währung) teils auch seltene Items verkaufen!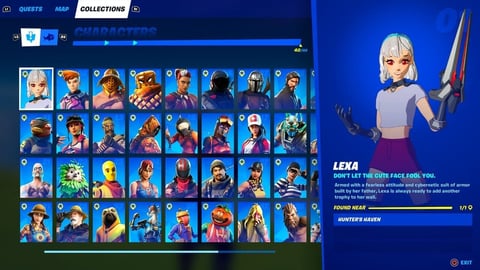 In Fortnite Season 5 gibt es 40 NPCs! Ihr fragt euch sicher, wo ihr die alle finden könnt? Dann seid ihr hier genau richtig! Wir zeigen euch, wo sich die NPCs aufhalten.
Zuerst zeigen wir euch einen hilfreichen Tweet von @meetlootlama, der eine Karte mit allen NPC Standorten gepostet hat. Darunter werdet ihr eine Liste mit allen NPCs und deren Standorten finden. Ganz am Ende dieses Artikels werden wir noch ein Video verlinken, wo ihr jeden einzelnen NPC Standort nachschauen könnt. Wir wollen ja auch wirklich sicher gehen, dass ihr die alle findet! Denkt dran, dass ihr manche NPCs an mehreren Orten finden könnt und auch solltet, um das Charakter-Menü vollständig auszufüllen. Nun bleibt nichts mehr übrig, als auch eine erfolgreiche Jagd und viel Erfolg für euren nächsten Victory Royale zu wünschen!
ALL 40 NPC locations in Season 5!

Doggo, Burnout, Blaze & Kyle have 2 possible spawns. pic.twitter.com/AFJtJb1KmV

— MLL (@meetlootllama) December 3, 2020
Alle 40 NPCs in Fortnite Season 5 und wo ihr sie finden könnt
Lexa: Hunter's Haven
Reese: Dirty Docks
Menace: Colossal Coliseum
Mancake: Butter Barn
Mave: Shipwreck Cove
Kondor: Misty Meadows
Der Mandalorianer: Razor Crest, südlich von Colossal Coliseum
Reaper: südwestlich von Sweaty Sands
Brutus: Dirty Docks
Deadfire: The Sheriff's Office
Triggerfish: Crashed Cargo, westlich von Sweaty Sands
Bullseye: Steamy Stacks
Bandolier: Flushed Building
Longshot: Misty Meadows
Splode: Lighthouse
Blaze: Pristine Point und Timber Point
Remedy: Hilltop House und Craggy Cliffs
Big Chuggus: Slurpy Swamp und Shanty Town
Kyle: Weeping Woods und Lumber Lodge
Cole: Retail Row und Shipwreck Cove
Ragnarok: Holly Hedges (Viking Vessel)
Bushranger: Salty Towers und Rapid's Rest
Dummy: Pleasant Park und Compact Cars
Sparkplug: Weeping Woods und Slurpy Swamp
Burnout: Sweaty Sands und Steamy Stacks
Turk: Lazy Lake Island und Lake Canoe
Outcast: Sweaty Sands und Flopper Pond
Rapscallion: Holly Hedges und Lazy Lake
Sleuth: Sweaty Sands und Retail Row
Grimbles: Fort Crumpet
Sunflower: The Orchard
Farmer Steel: Steem Farm, östlich von Colossal Coliseum
Doggo: Pleasant Park und Retail Row
Kit: Catty Corner
Beef Boss: The Durr Burger und Durr Burger Food Truck
Tomato Head: The Pizza Pit und Pizza Pete's Food Truck
Bunker Jonesy: Camp Cod und Shipwreck Cove
Bigfoot: Weeping Woods
Ruckus: Hydro 16
Fishstick: Coral Castle und Craggy Cliffs
Für mehr Fortnite News, bleibt bei uns auf EarlyGame.
Powered by