Laut aktueller Leaks bringt Fortnite Chapter 4 Season 2 ein weiteres Star Wars-Event nach Fortnite, welches dir ermöglichen wird, die "Macht" zu benutzen. Wir haben die Details für dich.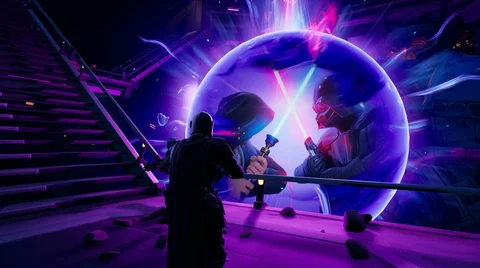 Fortnite Chapter 4 Season 2steht unmittelbar bevor und uns erwarten absolut nice Sachen. Neben neuen POIs und einem neuen Battle Pass erwartet uns laut der neusten Leaks sogar ein neues Star Wars-Event!
Es gab in der Vergangenheit schon mehrere große Star Wars-Crossover-Events, die sich sogar direkt auf die Geschichte von The Rise of Skywalker auswirkten und es scheint, dass auch das nächste Event ziemlich groß sein wird.
Neue Star Wars -Skins und "Die Macht" in Fortnite
Die Leaks stammen wie so oft von unserem guten alten Freund iFireMonkey, der in der Vergangenheit mit seinen Behauptungen fast immer richtig lag.
Er schreibt, dass die Spieler im nächsten Star Wars-Event in der Lage sein werden, die Kräfte der Macht einzusetzen. In früheren Events konnten wir bereits Lichtschwerter und Blaster benutzen und sogar als ikonische Star Wars-Charaktere auf der Insel herumlaufen, aber es bleibt abzuwarten, wie die Mächte funktionieren werden.
Die Macht ist in der Star Wars-Lehre sehr... breit gefächert. Sie kann dazu verwendet werden, riesige Schiffe zum Absturz zu bringen, Gedanken zu manipulieren, Menschen zu erwürgen, Gegenständige in der Luft herumzuwirbeln und so weiter.
Laut iFireMonkey werden wir folgende Machtkräfte in Fortnite benutzen können:
Macht-Heben
Machtsprung
Macht-Blitz
Macht-Ziehen
Macht-Schub
Macht Riss
Macht Schrift
Macht Vakuum
We will have a new Star Wars x Fortnite collaboration in Chapter 4 - Season 2 featuring not ONLY Light Sabers returning but Force Powers such as:

- Force Lift
- Force Jump
- Force Lightning
- Force Pull
- Force Push
- Force Rip
- Force Script
- Force Vacuum

— iFireMonkey (@iFireMonkey) March 3, 2023
Anscheinend sollen auch die Lichtschwerter nach Fortnite zurückkehren sowie zwei neue Star Wars-Skins im Spiel erscheinen.
Mehr ist leider zu dem kommenden Star Wars Event noch nicht bekannt. Sobald wir aber mehr erfahren, werden wir diesen Artikel natürlich für euch aktualisieren!
Sponsored by
Mit dem Einkaufswagen-Symbol markierte Links sind sogenannte Affiliate-Links, über die wir unter bestimmten Umständen eine Provision erhalten. Für dich entstehen dabei keinerlei Mehrkosten.