Bald erscheint das Fortnite Update 19.30 und bringt unter anderem ein neues, riesiges Crossover mit sich! Hier kommen die Details.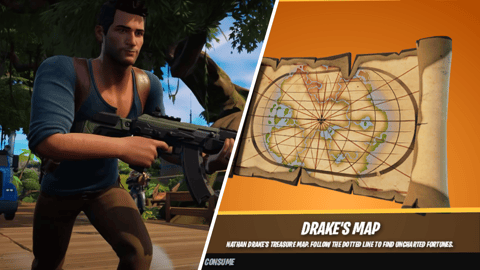 Obwohl die Spieler von Fortnite bereits gespannt sind, was Epic Games mit Chapter 3, Season 2 vorhat, erwarten uns in Season 1 noch große Dinge! Nach der Einführung des Silk Sonic-Pakets wird Epic mit dem Update 19.30 Tom Hollands Nathan Drake auf die Insel bringen.

Wir haben die Downtime und alles, was du über das Update 19.30 für Fortnite Chapter 3, Season 1 wissen musst, für dich.
Fortnite Patch 19.30 Downtime
Das Fortnite Update 19.30 startet parallel zu Fortnites Server-Ausfallzeit am Dienstag, dem 15. Februar 2022 um 10:00 Uhr. Es wird erwartet, dass die Server nicht länger als 2 Stunden ausfallen, wobei alle Spielmodi in dieser Zeit nicht spielbar sein werden. Danach kannst du dich wie gewohnt ins Spiel stürzen.
Fortnite Update 19.20 Patch Notes
Mit jedem Patch kommen neue Dinge auf die Fortnite Insel. Und auch wenn es keine offiziellen Patch Notes gibt, verraten uns einige Leaks, was mit Fortnite Update 19.30 Neues ins Spiel kommen könnte.
Uncharted Crossover
Fortnite wird am 17. Februar ein neues Crossover mit Uncharted auf die Insel bringen und Skins für Tom Hollands Nathan Drake und Sophia Alis Chloe Frazer dem Spiel hinzufügen.
Außerdem glauben einige Leaker, dass der Revolver ins Spiel zurückkehren wird. Doch das Coolste kommt erst noch...
Schatzkarte
Und yay, passend zum Uncharted Crossover können wir bald wieder Pirat spielen! Die Schatzkarten wurden schon vor einiger Zeit geteasert, doch nun sollen sie wirklich zurückkommen! Vermutlich werden sie ähnlich funktionieren wie früher und dir durch eine rote Markierung anzeigen, wo du nach dem Schatz graben musst. Dieser Schatz kann dann die folgenden Dinge beinhalten:
100 Gold
Mats & Munition
2x Heilung: Minis (50%), Großer Schildtrank (40%), Medkit (10%)
2 Legendäre Waffen (Jede Waffe hat eine 14%ige Spawn-Chance)
Here's the lootpool of the upcoming new version of treasure maps that i talked about last month, codenamed "Rover"

- 100 Gold
- Mats & Ammo
- 2 Heals with these chances: Minis (50%), Big Shield (40%), Medkit (10%)
- 2 Legendary chapter 3 weapons, every weapon has a 14% chance pic.twitter.com/54zqiSRSZB

— HYPEX (@HYPEX) January 22, 2022
Ansonsten wird es wie bei jedem Patch wieder einige Fehlerbehebungen geben. Wenn's dich interessiert, kannst du diese auf dem offiziellen Trello-Board von Fortnite nachlesen.
Sponsored by