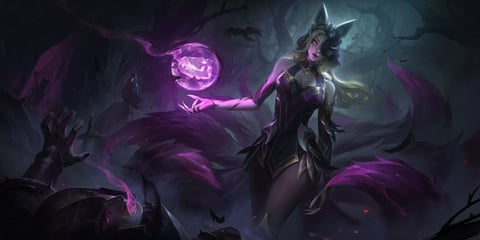 Jeder liebt Hexenzirkel Skins. Die Skin Reihe ist eine von diesen, die einfach beliebt sind. Mit Patch 11.16 bekommen 7 Champions einen neuen Look. Einer davon ist sogar eine Presige Variante. Kommt mit und begleitet uns auf der düsteren Reise und erfahrt alles hier: Welche Champions, Release-Datum und wer den Legendary Skin bekommt.
Natürlich lag unser Fokus in den letzten Wochen nur auf dem Sentinels-Event und den Skins, die damit veröffentlicht wurden. Aber jetzt hat Riot kurzerhand unsere Aufmerksamkeit auf eine andere sehr geliebte Skin Reihe gelenkt: Die Hexenzirkel Skins.
#PBE Preview Coven Edition!

Coven Ashe, Cassiopeia, Ahri, Evelynn, Malphite & Warwick! pic.twitter.com/UxhZ0Axv8E

— League of Legends // UK, IE & Nordics (@LoLUKN) July 20, 2021
Ihr könnt es dem Tweet oben zwar schon sehen, aber um es noch einmal zusammenzufassen:
Diese Champions bekommen einen Hexenzirkel Skin
Das sind unsere 7 Champions in neuem Hexenzirkel Look.

Ashe
Cassiopeia
Ahri
Evelynn (Legendary)
Malphite
Warwick
LeBlanc (Prestige)
Der bereits existierende Hexenzirkel Skin von LeBlanc wird in einen Prestige-Coven-Skin umgewandelt und der von Evelynn wird ein legendärer Skin mit neuen Voice Lines.
Coven Evelynn Demon Shade turnarounds! pic.twitter.com/Dv48yhXWhb

— katey (@moonstonesxo) July 20, 2021
Wie viel werden die neuen Hexenzirkel Skins kosten?
Wie immer werden die epischen Skins wohl 1350 RP und der Legendäre 1820RP kosten. Das wurde zwar noch nicht bestätigt, aber Riot wird wohl keine Ausnahme bei so schicken Hexenzirkel Skins machen. Vor allem, weil sie wissen, dass wir sie ohnehin kaufen werden.

Wann erscheinen die neuen Hexenzirkel Skins?
Die Skins werden mit Patch 11.16 am 11. August 2021 erscheinen. Falls ihr sie jetzt schon testen wollt, müsst ihr einfach auf den PBE Server gehen. Dort steht euch alles gratis zur Verfügung. Bis zum finalen Release werden wir weiter unsere neuen Skins aus dem Sentinel & Ruination Event nutzen und sehnsüchtig auf die Neuankömmlinge im Hexenzirkel waren.
Coven Girls pic.twitter.com/rWgwSQLXSN

— League of Legends // UK, IE & Nordics (@LoLUKN) July 20, 2021
Welche Champions haben mit Patch 11.16 Hexenzirkel Skins?
Ahri
Ashe
Camille
Cassiopeia
Evelynn
Lissandra
LeBlanc
Malphite
Morgana
Warwick
Zyra
Wie ihr sehen könnt, ist die Skin Reihe mittlerweile ganz schön umfangreich. Leblanc als Prestige-Version und Evelynn mit ihrem neuen Legendary können sich auf jeden Fall sehen lassen und machen den Hexenzirkel zu einer der besten Reihen auf dem Riot-Markt.
Die Guides, Videos und Lore - auf Earlygame haben wir einfach alles!