Nach dem Release von Arcane und dem damit verbundenen massiven Erfolg hat Riot bereits bestätigt, dass sie auch in Zukunft an noch mehr League of Legends Cinematics arbeiten werden.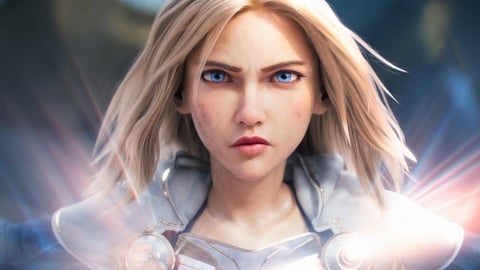 Hast du Arcane geschaut? Nein? Wow, wie kannst du dich überhaupt LoL Fan nennen... du zockst bestimmt auch Yuumi.
Naja egal, du musst Arcane auch gar nicht gesehen haben, damit du den heftigen Impact der Serie auf die Entertainment Branche realisierst. Wirklich jeder hat in den letzten Tagen über "diese eine LoL-Serie" geredet und Riot hat aber mal so richtig mit dem Marketing Budget geflext. Ich mein, schau dir doch die Anzahl an Trailern und Spezialprojekte... wie einer Fenty Beauty Kollaboration an. Wie?

Riot spielt einfach 4D Schach mit den Big Brain Moves überhaupt und sie wissen, dass sie eine Goldgrube in den Händen halten. Jetzt haben sie bereits bestätigt, dass sich die nächsten League of Legends Shows in der Mache befinden, und sie denken tatsächlich über einen Live-Action Film nach.
Shauna Spenley, Global President of Entertainment bei Riot Games, wurde kürzlich von der LA Times interviewt, wo sie folgendes sagte:

Ich glaube, dass ein Großteil von Hollywood nicht realisiert, wie groß das ist. Wir haben eine großartige Möglichkeit, fantastische und organische Geschichten in [Runeterra] zu erzählen und es heimlich zu der IP aufzubauen, die eine Generation prägen wird. Es braucht ein bisschen Zeit.

Du müsstest schon Lee Sin sein, damit du dieses vorhandene Potenzial nicht siehst. Wie ich bereits gesagt habe, ist Riot ein schlaues Unternehmen und baut gerade etwas Ähnliches wie das MCU auf. Na klar, bis jetzt besteht das MCU aus Filmen und Arcane ist eine TV Show. Wir werden also sehen, ob sie ihre Fühler in verschiedene Universen über Comics, TV und Filmen ausstrecken oder alles in einem Megaverse vereinen. Egal was davon zutrifft, haben sie auf jeden Fall die Welt dazu, die Fans dazu und natürlich auch das Budget dazu.
Arcane war der erste Versuch, der offensichtlich funktioniert hat - und immer noch funktioniert. Daher bezweifeln wir, dass es lange dauert, bevor wir vom nächsten Riot Projekt, hinsichtlich einer weiteren Show oder sogar einem Film, hören werden.
Achso und Riot, wenn euch jemals die Ideen für einen Live-Action Film ausgehen sollten, ruft mich an. Ezreal und Lux könnten einer der besten Lovestories der Geschichte haben.

Sponsored by