Riot Forger und Tequila Works haben sich zusammengetan, um mit Song of Nunu der eisigen Welt von Freljord Leben einzuhauchen. Jetzt ist wohl das Erscheinungsdatum durchgesickert.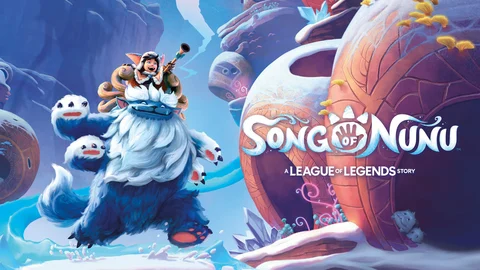 Ruined King: A League of Legends Story und Hextech Mayhem: A League of Legends Story waren seit ihrem Release Ende 2021 ziemlich erfolgreich. Die Spiele sind online und auch für die Nintendo Switch verfügbar, allerdings sind das nicht die einzigen Spiele, an denen Riot Forge arbeitet.
Wir wissen auch, dass sie an einem Spiel rund um Nunu und Willump sowie einem, das auf Ekko basiert, arbeiten. Nun sind Leaks ans Tageslicht gekommen, die besagen, dass Song of Nunu: A League of Legends Story früher als erwartet erscheinen könnte.

Wann wird Song of Nunu erscheinen?
Einem bekannten Leaker zufolge erscheint das Spiel Ende März. Song of Nunu wurde auf der Nintendo Showcase angekündigt, ebenso wie weitere Spiele, die Riot Forge bereits erwähnt hat. Dank dieser Leaks können wir uns nun auf den Release des Spiels freuen.
In denselben Leaks ist auch die Rede davon, dass mit dem nächsten PBE Update dank des bald erscheinenden Riot Forge Spiels eine kleine Überraschung auf uns wartet. Da morgen der nächste League of Legends Patch erscheint, sollten die neuen PBE Inhalte auch am 2. oder 3. März 2022 verfügbar sein.

Worum geht es bei Song of Nunu?
Dem Spieletrailer nach zu urteilen ist Song of Nunu: A League of Legends Story ein von Erzählungen begleitetes Einzelspieler-Adventure. Ihr spielt als Nunu – ein kleiner Notai-Junge der nach seiner Mutter sucht – und Willump, einem Yeti, dem er auf seinem Abenteuer begegnet ist.
Die Handlung findet im Freljord statt, ihr werdet eine Welt erkunden und währenddessen magische Kreaturen bekämpfen, die die frostigen Landschaften bewohnen. Alles, während ihr langsam eine Verbindung zu Willump aufbaut.
Das klingt nach einer liebenswürdigen Geschichte und Tequila Works hat gemeinsam mit Riot Forge großartige Arbeit dabei geleistet, den Freljord in diesem magischen Abenteuer zum Leben zu erwecken. Also, wer wird sich das Spiel noch holen, sobald es erscheint?

Sponsored by