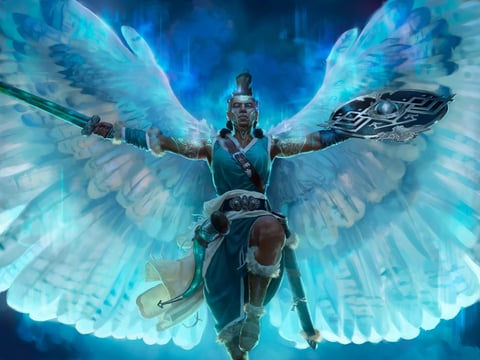 Suchst du nach einem neuen Deck, mit dem du MTG Arena dominieren kannst? Nun, wir haben die Top 3 genau hier! Unabhängig von deinem Spielstil, der Größe deiner Sammlung oder deinem Budget wirst du mindestens eines dieser Decks perfekt für deine Bedürfnisse finden. Wie auch immer du dich entscheidest, du wirst einen Haufen Spiele gewinnen. Lass uns gleich eintauchen!
Wir haben eine Kollektion von einem älteren, einem ausgewogenen und einem neueren Deck für dich! Leg einfach deine Finger auf die Copy-Paste Tasten und du kannst sie dir sogleich in den Deck-Builder von MTG Arena kopieren. Gern geschehen!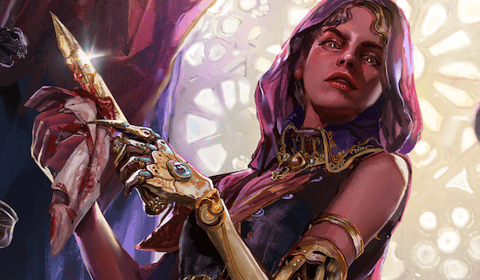 Dimir Rogues
3 Thieves' Guild Enforcer
4 Merfolk Windrobber
4 Ruin Crab
4 Soaring Thought-Thief
1 Into the Story
2 Anticognition
2 Essence Scatter
2 Didn't Say Please
4 Drown in the Loch
4 Heartless Act
1 Lullmage's Domination
1 Extinction Event
2 Call of the Death-Dweller
2 Of One Mind
2 Bloodchief's Thirst
1 Clearwater Pathway
1 Temple of Deceit
4 Evolving Wilds
4 Dismal Backwater
5 Swamp
7 Island
1 Lurrus of the Dream-Den
1 Cling to Dust
2 Bloodchief's Thirst
2 Pharika's Libation
2 Essence Scatter
3 Eliminate
4 Negate
Keine neuen Karten? Kein Problem! Budget-Spieler haben Glück: eines der Top-Decks im Moment ist das gute alte Dimir Rogues und du musst es nicht einmal ändern, um weiterhin zu gewinnen. Wir singen ein Loblied für dieses Build, seit es zum ersten Mal aufgetaucht ist und das aus gutem Grund – es erledigt einfach den Job.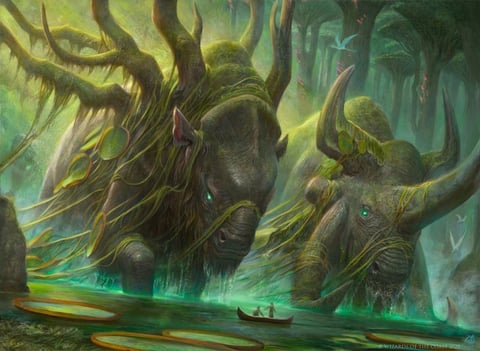 Sultai Ultimatum
1 Brazen Borrower
1 Vorinclex, Monstrous Raider
1 Tangled Florahedron
1 Polukranos, Unchained
2 Valki, God of Lies
4 Beanstalk Giant
4 Edgewall Innkeeper
4 Lovestruck Beast
4 Fae of Wishes
1 The Great Henge
1 Extinction Event
1 Alrund's Epiphany
1 Shadows' Verdict
3 Emergent Ultimatum
3 Cultivate
1 Kiora Bests the Sea God
1 Vivien, Monsters' Advocate
1 Mountain
1 Fabled Passage
2 Swamp
2 Island
4 Darkbore Pathway
4 Barkchannel Pathway
4 Forest
4 Zagoth Triome
4 Clearwater Pathway
1 Cling to Dust
1 Ugin, the Spirit Dragon
1 Soul Shatter
1 Shadows' Verdict
1 Epic Downfall
1 Duress
1 Emergent Ultimatum
1 Heartless Act
2 Chainweb Aracnir
2 Negate
3 Mystical Dispute
Ah, ein echtes Kaldheim-Deck! Götter, Planeswalker, Sagas, Phyrexianer – dieses nice Deck hat alles! Wenn du ein Gefühl für das neue Metagame bekommen willst, ist dies ein ausgezeichnetes Deck zum Ausprobieren. Verwalte nur dein Mana richtig, ansonsten wird es schwierig!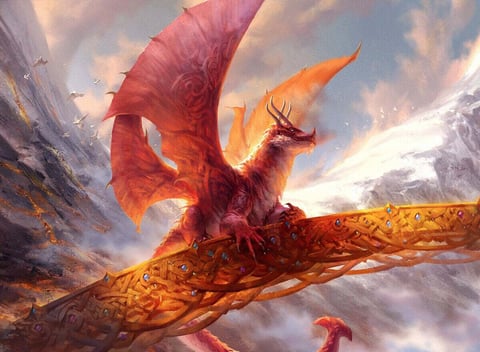 Gruul Adventure (Eigentlich Naya Aggro)
1 Scavenging Ooze
4 Edgewall Innkeeper
4 Bonecrusher Giant
4 Selfless Savior
4 Giant Killer
4 Goldspan Dragon
4 Shepherd of the Flock
4 Lovestruck Beast
2 Embercleave
1 Shatterskull Smashing
4 Showdown of the Skalds
1 Vivien, Monsters' Advocate
2 Plains
2 Mountain
4 Forest
4 Branchloft Pathway
4 Cragcrown Pathway
4 Fabled Passage
4 Needleverge Pathway
1 Scavenging Ooze
2 Embereth Shieldbreaker
2 Plains
3 Reidane, God of the Worthy
3 Ox of Agonas
4 Glass Casket
Im Grunde genommen ist dies ein Gruul-Abenteuer. Viele der alten Karten und Strategien sind immer noch da. Hinzu kommt "Showdown of the Skalds" und "Reidane, God of the Worthy" für mehr Flexibilität und "Goldspan Dragon", weil er einfach großartig ist.
MEHR LESEN:
Probiere diese Decks einfach mal aus! Sie sind wirklich gut, du musst uns nur vertrauen!
Eine andere Sache, die ziemlich gut ist, ist MyEarlyGame. Schau mal vorbei, passe deine Seite an und habe die Chance bei coolen Gewinnspielen mitzumachen!