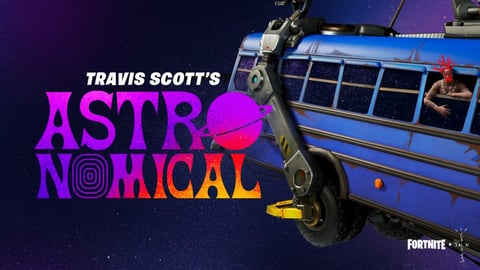 Die Fortnite-Fans jubelten am Wochenende, als der amerikanische Rapper Travis Scott seine Musik auf spektakuläre Weise in Fortnite präsentierte – astronomisch, mit unglaublicher Optik, um ein einzigartiges Erlebnis für Fans auf der ganzen Welt zu schaffen.

Zweifellos konnte man einfach nicht genug bekommen! Wer am Wochenende an der Veranstaltung teilgenommen hat, wird sich sicher daran erinnern, wie unglaublich es für Spieler und Musikliebhaber gleichermaßen war. Außerdem waren die blanken Zahlen für Epic Games und Travis Scott enorm. Wir wissen jetzt von Epic Games, dass über 12,3 Millionen Spieler gleichzeitig live am Travis Scotts Astronomical Event teilgenommen haben. Das war ein Rekord für den Shooter, der es unter anderem wegen der Saisonverzögerung schwer hatte, die Fans zu begeistern:
Over 12.3 million concurrent players participated live in Travis Scott's Astronomical, an all-time record!

Catch an encore performance before the tour ends: https://t.co/D7cfd2Vxcc

— Fortnite (@FortniteGame) April 24, 2020
Astronomische Zahlen
Zweifellos sind diese Zahlen, so beliebt Fortnite auch ist, nicht von schlechten Eltern. Das letzte Ereignis, das die Spieler-Herzen im Sturm eroberte, war die zweitägige Unterbrechung von Fortnite vor der Saisonankündigung, die von 7 Millionen Zuschauern gesehen wurde. Trotz des damaligen Erfolgs, ist das mit dem Travis Scott Konzert nicht zu vergleichen:
Fortnite's 'The End' event will go down as the most watched gaming event in history for western audiences

4.5M+ on YouTube
1.5M+ on Twitch
1M+ on Twitter
and 37 people on Mixer

just incredible

— Rod Breslau (@Slasher) October 13, 2019
Eine Vernunftehe
Der Grund hinter der Beliebtheit dieses Konzert lässt sich an den jüngsten Restriktionen und Gesetzen ablesen, die mehr Menschen bewegten, zu Hause und online zu sein, anstatt unterwegs. Dies würde natürlich die Zuschauerzahlen erklären, welche für Epic Games und Travis Scott eine Win-Win-Situation waren. Einerseits hatten Fortnite-Spieler eher die Zeit, online zu sein, andererseits aber auch Fans von Travis Scott, die nicht Fortnite spielen.
Mit den Zahlen, die uns von Epic Games zur Verfügung gestellt wurden, ist klar, dass Fortnite nicht so viel zu kämpfen hat, wie die Community gerne denkt. Mit knapp 11 Millionen Spielern, die sich damals für das Marshmellow-Konzert im Spiel angemeldet haben, beweist dieser Rekord, dass Fortnite viel mehr zu bieten hat. Was zum Beispiel, zeigen wir hier:
Powered by