Fortnite has more skins and cosmetics than you have dollars in your wallet to spend! But those of you looking to gift a friend some V-Bucks or Items, we have written up a helpful guide and tell you how to gift V-Bucks on PC, Xbox, PlayStation, Android, and the Nintendo Switch.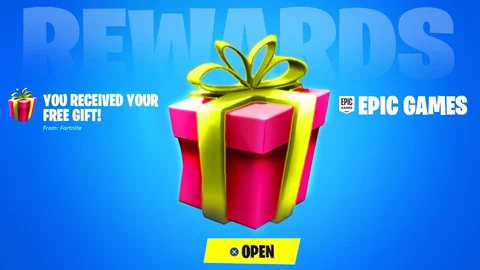 Before you ask, just know it is not possible to send V-Bucks on your account to another player on another account. Epic Games prevents this because it would just lead to some kind 3rd party V-Bucks reseller or to esports betting.

Let's take a look at the legit ways to gift V-Bucks in Fortnite.
Different Ways to Purchase V-Bucks Online/Offline
Head to pretty much any supermarket or big-box retailer, and you should find every platform's gift card at the checkout. Just scratch free the code on the back of those cards. Then simply tell your friend the code for that given gift card and they'll be able to redeem it on the Epic Games website. But if you do not want to leave the comfort of your home, you can always try to buy a gift card from Amazon or another 3rd party site that specializes in CD-Keys sales. Your next option would be to check each platform's eShop, to see if they sell gift card codes.
Where to Purchase a Gift Card from the Platform's eShop
PlayStation: If they play on PlayStation, a PlayStation Store gift card will do the trick.
Xbox: Xbox players will need, you guessed it, an Xbox Gift Card.
Switch: For Switch players, you'll need to grab a Nintendo eShop gift card.
PC: There isn't a specific store for PC gamers to buy Fortnite stuff from, but you can get them a generic pre-paid Visa to use towards the in-game currency as one possibility.
Android: The same goes for Android players—since the game uses Epic's own launcher (like the PC version), a pre-paid credit card is the way to go.

As of now, there's also the possibility to purchase V-Bucks cards online and have the code sent to you by mail. These are some providers that offer such services:
Buy an Item From the Fortnite Shop and Send It To a Friend
Well, not exactly V-Bucks, you can always just purchase a single cosmetic or bundle from the Fortnite Item Shop and gift the thing to a friend all in-game. This might just be the best way to gift something to someone in Fortnite and not have to leave the comfort of your home or even the game menu. There are a few restrictions to keep in mind, and the process of gifting someone in-game does take some amount of forethought.
To Gift in-game Items follow these simple steps:
Activate Two-Factor Authentication on your Fortnite/Epic Games account before you start to purchase something.
You will need to add the friend to your Epic Game's friend list before you can send them a gift, and they must be a friend for at least 48 hours.
You need to be level 2 in Fortnite and this means you need to play 1-2 lobbies to get enough XP before you can gift a friend.
Load up your Fortnite account with V-Bucks and make sure to buy the item as a gift. You will see this option once you click on any item in the Item Shop.
For some reason, there is a 5 gift limit per day per Fortnite account, so keep that in mind if you are gifting a lot.
Keep in mind, some items in the Fortnite Item Shop can only be purchased with actual currency and not V-Bucks. You will see the price tag listing your region's currency instead. However, you cannot give away these items.
Items rotate on the Fortnite Item Shop quite fast, and in some cases, you will only have 24 hours to purchase it before it disappears. However, the high ticket items like collaboration skins or special bundles stay on the Item Shop for much longer.
If you want to know what is currently in the Fortnite Item Shop, we update it daily, so you don't have to log in and check! This is pretty much everything you need to know about gifting items in Fortnite, and always remember to use a creator code at check out to support your favorite content creator.
Welcome to EarlyGame, your one-stop-shop for everything Esports and Gaming. Check out MyEarlyGame for an exclusive and customizable experience, and to become part of the EarlyGame family. Get engaged on Twitter and Facebook.