Are you unable to connect to the EA Servers? What should you do if the Madden NFL 23 Servers are down? We have all the answers below!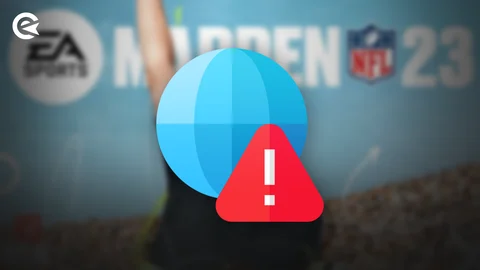 Madden NFL 23 is the official video game of American Football and is developed by EA Tiburon and published by Electronic Arts. Even though the Madden gameplay is a lot of fun, there are server connection errors now and then.
We reluctantly remember back in December 2022, when several million online franchises crashed. The save state only survived in a few cases, which meant that many Madden players had to delete their progress and start all over again. That's really annoying, but unfortunately it often happens with EA games.
In this article we will keep you up to date with all the latest server connection errors and explain how to log back in if you receive an error message.
Madden NFL 23: Server Connection Error
Currently, the servers are running smoothly, but this can change quickly. There are various error messages from EA, which you have to classify correctly.

EA Sports takes small maintenance breaks several times a week to make hotfixes or to correct small bugs. You will not notice these maintenance breaks because they are dealt at times when you should not be sitting at the console.

During maintenance breaks, for example for MUT, you get the following error message: Sorry, we're renovating.

There is no need to worry. These are planned routine works on the different modes, the servers are not accessible during this time. You will not be able to access MUT, but you can play other modes like Franchise or Head to Head as usual. The maintenance work is usually announced via Twitter, we have linked the official Madden NFL 23 Twitter account of EA Sports here.

It only becomes problematic when no maintenance work has been announced. Then the servers have unpredictably crashed and are unavailable until further notice. This also means that you cannot play any online mode. "Connect to EA Servers" is then no longer possible.
How To Fix Madden NFL 23 Server Connection Error

Server connection errors cannot usually be fixed. Patience is required, in most cases you have to wait until EA Sports has fixed the problem. What you can do, however, is to rule out the possibility that your internet or console is the cause of the problem.

On the website downdetector you can check if other Madden players have problems with the servers at the moment and even report your problems yourself so that it can be shown to other players.
If you don't find any information about server errors on Twitter or downdetector, but still can't get into Madden, it could also be due to your internet. Then you should try it out:

For PC players: Check if Madden NFL 23 is possibly blacklisted in your antivirus software or firewall.
Restart your router
Restart Madden NFL 23
Restart your console
If you are using a VPN, turn it off and see if it works then
Unfortunately, that's all you can do when the Madden NFL 23 servers are down. Hopefully EA can fix all connection errors as soon as possible!
This article contains affiliate links which are marked with [shopping symbol]. These links can provide a small commission for us under certain conditions. This never affects the products price for you.