Riot revealed the Faerie court skins earlier this year when they announced a new skin for Kalista, but now the LoL skins will be making their way onto the rift alongside the newest LoL Champion Milio!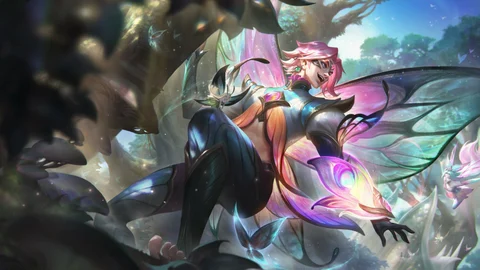 Riot is bringing us into a world of fae and magic with their newest skin line. This is a cute and enchanting skin line and after the dark and brooding world of Broken Covenant it's a breath of fresh air to see these skins on the rift.
Kalista had already been announced for this skin line and rumours had been going around that Milio, the newest League of Legends champion, would also be a part of the skins and now they're finally here!
LoL Faerie Court Skins: Champions
Seven champions are going to be getting Faerie Court skins. This was a skin line introduced at the start of the 2023 League of Legends season so we knew these skins would be released, but some of the champions revealed in the skin line are pretty surprising.
These are all the champions getting Faerie Court skins:
Faerie Court Karma
Faerie Court Kalista
Faerie Court Ezreal
Faerie Court Seraphine
Faerie Court Fiora
Faerie Court Katarina
Faerie Court Milio
Katarina and Fiora receiving skins in this skin line has many players quite confused since most believed either Taliyah or Lillia to be a better fit with the direction of the skin line and narrative.
But imagine K'Sante with a Faerie Court skin...
Faerie Court Prestige Skin
We are also getting a prestige skin for none other than Faerie Court Katarina, something most would not have thought of. This skin will likely be part of a bigger event since the Broken Covenant skins only received a Skin Showcase event.
Faerie Court Skins: Cost
Karma will be receiving a legendary skin in the Faerie Court skin line, meaning her skin is going to be the most expensive at 1820 RP. The other skins are all epic tier skins, so you can pick them up for 1350 RP in the League of Legends client a day after the patch drops
Katarina is going to be getting a prestige skin as well, which can likely be picked up for tokens in an event shop if there is a Faerie Court event, or it will be available for mythic essence.
Will Faerie Court Get An Event?
The new Broken Covenant skins received a skin showcase and Faerie Court is going to be getting their own big in-client event. This means you'll be able to pick up the new skins through the event and earn tokens to get that sweet Katarina prestige skin.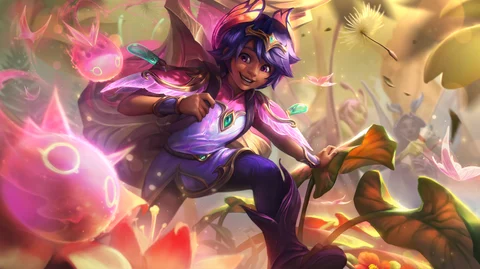 When Will the Faerie Court Skins Release?
The Faerie Court skins are going to be releasing in LoL Patch 13.6. This is the debut skin for Milio, who is the newest face on Summoner's Rift and it's going to be the first time we get these skins in League of Legends as well.
With Milio's release imminent, it's time to look ahead at the champion after him. Naafiri, the newest Darkin champion is also set to release soon, and the community is already pretty hyped for this unique new mid lane assassin.
This article contains affiliate links which are marked with [shopping symbol]. These links can provide a small commission for us under certain conditions. This never affects the products price for you.