Gamers8: The Land of Heroes, the world's biggest gaming and esports festival, will conclude its summer concert series on Friday night with an all-women line up.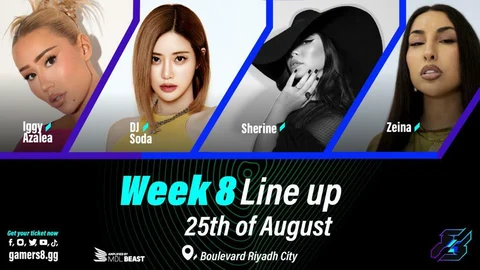 Featuring headliner Iggy Azalea, the Australian rapper and songwriter, South Korea's DJ Soda, Egyptian singer Sherine, and Lebanese-Egyptian singer-songwriter Zeina, the final night brings the curtain down on an incredible summer of live music in Riyadh courtesy of Gamers8.
Gamers8 Final Weekend Concerts
Azalea, whose chart-topping hit songs include 'Fancy' and 'Black Widow', said: "I am delighted to be making my debut performance in Saudi Arabia at Gamers8 and thrilled to be headlining an all-women line up. Providing inspiration for women across the globe is hugely important to me, and something I am immensely proud to have done through my music. Performing live provides incredible opportunities to meet new people and experience new cultures, and I look forward so much to seeing all my fans in Riyadh on Friday for what will be an amazing night."
Friday's all-women line up is another initiative from the Saudi Esports Federation, the organizers of Gamers8, to ensure that women are represented and inspired across all facets of the esports ecosystem – including the entertainment, business, and technology sectors.
Women encompass 48% of the estimated 23.5 million gaming enthusiasts in Saudi Arabia.
Reaam Alkhudairi, Corporate Communications & PR Team Lead for the Saudi Esports Federation, said:
"We are delighted to have an all-women line up concluding the phenomenally successful Gamers8 concerts this summer, and have no doubt Friday will provide the perfect ending to eight weeks of electrifying performances from more than 30 artists.
"Major initiatives include an all-women tournament at Gamers Without Borders, the largest charitable esports event worldwide, numerous educational platforms to provide viable career options for women across the esports ecosystem, and, of course, Friday's Gamers8 concert line up."
Global music stars who have performed at Gamers8 this summer include: Imagine Dragons, Macklemore, Tyga, Ava Max, R3HAB, Steve Angello, Steve Aoki, Alan Walker, DJ Snake, Afrojack, and Tiwa Savage.
They have been joined at the Mohammed Abdu Arena at Boulevard Riyadh City for incredible concert nights each Friday during July and August by regional and local heroes such as: Rabeh Saqer, Cheb Khaled, Ahmed Saad, Myriam Fares, Hamaki, Mohamed Ramadan, DJ Sharkk, and Cosmicat.
How To Get Tickets

Tickets for Friday night's line up are still available but going fast – so get yours now! General Admission is already sold out, but Gamers Pit tickets are available with a 'Last Dance Discount' for SAR127. Golden Circle tickets with a 'Last Dance Discount' are available for SAR304, while VIP tickets with a 'Last Dance Discount' are available for SAR577. Tickets are available here: Week 8 Concert (gamers8.gg).
Powered by